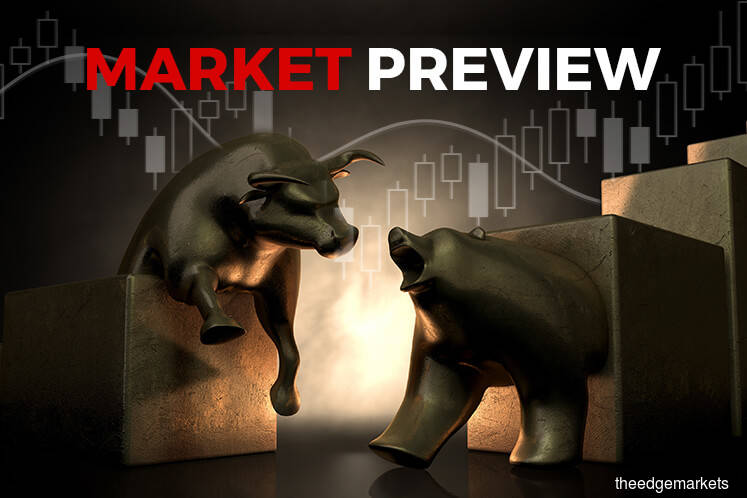 KUALA LUMPUR (July 26): The FBM KLCI is expected to edge higher today in line with the extended rally at most global markets, with immediate support at 1,745.
Global stocks extended their rally into a fourth consecutive day on Wednesday after U.S. President Donald Trump and the European Union reached an agreement that investors hope will avert a trade war, according to Reuters.
Trump and the European Commission's chief, Jean Claude-Juncker, agreed to work to lower industrial tariffs on both sides and to increase European imports of liquefied natural gas and soybeans from the United States, among other measures, the U.S. president said in a news conference, it said.
The Dow Jones Industrial Average rose 172.16 points, or 0.68 percent, to 25,414.1, the S&P 500 gained 25.67 points, or 0.91 percent, to 2,846.07 and the Nasdaq Composite added 91.47 points, or 1.17 percent, to 7,932.24, said Reuters.
AllianceDBS Research in its evening edition Wednesday said that led by the up close in the preceding day, the FBM KLCI had on July 25 traded higher to 1,766.05 as market participants continued to play on the buying side in anticipation of a higher market.
It said under the persistent buying interest, the benchmark index was in the green throughout most of the trading sessions before settling at 1,763.78 (up 0.85 points or 0.05%).
"In the broader market, gainers outnumbered losers with 543 stocks ending higher and 386 stocks finishing lower. That gave a market breadth of 1.40 indicating the bulls were in better control," it said.
AllianceDBS Research said the market saw follow through buying interest on July 25, but the benchmark index did not go far up.
"This can be seen from the day's high of 1,766.05 which was merely 1.48 points higher than the previous day's high of 1,764.57.
"This marginal higher high suggested that the real buying power was not strong.
"Market participants with winning trades were seen taking advantage of the market rise to lock in a portion of their profit which had capped the market advance.
"Of course, the market could still trade higher if buying demand exceeds the selling supply," it said.
The research house said a study of the way this market carried itself found that the market setup was pointing to a higher risk and lower reward trading environment, because the market was not moving much in the last 2 days with supply and demand appeared to be in balance.
It said following the up close on July 25, there should be buying attempt with immediate support at 1,745.
"The analysis of overall market action on July 25 revealed that buying power was stronger than selling pressure.
"As such, the FBM KLCI would likely trade above the 1,766.05 level on July 26," said AllianceDBS Research.
Based on corporate announcements and news flow yesterday, companies that may be in focus today may include the following: Westports Holdings Bhd, Star Media Group Bhd, JAKS Resources Bhd, Cuscapi Bhd, Uzma Bhd, Marine & General Bhd, Vizione Holdings Bhd, D'nonce Technology Bhd, Capitaland Malaysia Mall Trust, Gadang Holdings Bhd, M-Mode Bhd and Mega First Corporation Bhd.