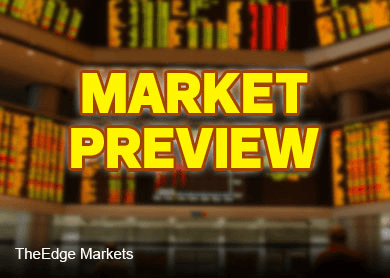 KUALA LUMPUR (June 17): The FBM KLCI is expected to trend marginally higher in line with global markets that mostly rose overnight, but gains are seen limited give the lack of local catalysts.
The euro fell on Tuesday as it appeared more likely that debt-stricken Greece would default or have to leave the single currency, while the U.S. dollar rose at the start of a two-day meeting by the Federal Reserve, according to Reuters.
Stocks mostly rose on the day, with shares in both Europe and the United States rebounding after a two-day decline, though investors continued to closely monitor the situation with Greece. Wall Street stocks were also supported by potential deal activity in the healthcare space, it said.
AllianceDBS Research in its evening edition Tuesday said that dampened by the day's low closing in the preceding day, the FBM KLCI had on June 16 traded lower to 1,718.44 after the opening bell as market participants continued to play on the selling side in anticipation of a lower market.
The research house however said that weak follow through selling pressure in the area of 1,718.44 prompted risk buying interest.
It said this lifted the benchmark index to 1,726.78 before settling at 1,722.24 (+0.08, 0.0%).
"In the broader market, losers outnumbered gainers with 500 stocks ending lower and 334 stocks finishing higher. That gave a market breadth of 0.66 indicating the bears were in control," it said.
AllianceDBS Research said that the market made a lower low again on June 16, but the benchmark index did not go far down as sellers were seen not playing an aggressive selling game in the area of 1,718.
The research house said the inability of the benchmark index to go below the 1,718 level saw some market participants taking the chance to establish some stock positions, since the sell down on June 15 was supposed to lead to a stronger selling pressure in the next day (June 16).
It said that in the eyes of certain market participants, the supportive game play at 1,718 has rendered the trading opportunity of low risk and high probability of seeing a technical rebound to 1,732.
It said a fall below 1,718 could send the benchmark index down to the subsequent support zone, 1700 – 1,706.
The research house said that indicator wise, the MACD was below the 9-day moving average line.
"The analysis of overall market action on June 16 revealed that buying power was stronger than selling pressure.
"As such, the FBM KLCI would likely trade above the 1,726.78 level on June 17," said AllianceDBS Research.