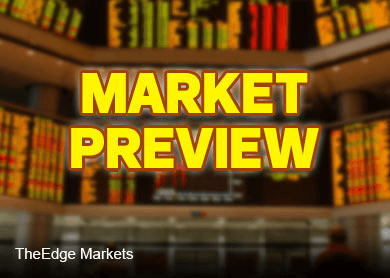 KUALA LUMPUR (May 26): The FBM KLCI could consolidate further as market sentiment turned bearish yesterday while global markets fell overnight.
However, some bargain hunting opportunities may emerge at the local bourse after the heavy selldown on Monday.
European shares fell in thin trade on Monday while the dollar powered ahead after U.S. Federal Reserve Chair Janet Yellen indicated that the central bank was poised to raise interest rates this year, according to Reuters.
Investor concerns about Greece's debt problems and a poor regional and local election result by Spain's ruling People's Party also weighed on the euro and European shares, it said.
AllianceDBS Research in its evening edition Monday said that following last Friday's down close, the FBM KLCI had on May 25 fallen further as market participants continued to play on the selling side in anticipation of a lower market.
The research house said that under the persistent selling pressure, the benchmark index broke the 1,770 level to reach the lowest low of 1,764.63 since Jan 23 before settling near the day's low at 1,767.38 (- 20.12 , - 1.13%).
"In the broader market, losers outnumbered gainers with 807 stocks ending lower and 129 stocks finishing higher. That gave a market breadth of 0.15 indicating the bears were in control," it said.
AllianceDBS Research said that having broken the 1,795 support on May 22, the benchmark index extended its fall in the subsequent day (May 25) as market participants continued to liquidate another portion of their stock positions in an attempt to cut the losses short.
It said sellers were again overwhelming with buyers still seen unwilling to lend a supportive hand for fear of further decline.
"Following the downside violation of the 1,770 support, the market sentiment is believed to have turned weak.
"The benchmark index is thus expected to test lower level again with immediate support zone pegged between 1,745 and 1,750," it said.
AllianceDBS Research said that indicator wise, the MACD was below the 9-day moving average line.
"The analysis of overall market action on May 25 revealed that buying power was weaker than selling pressure.
"As such, the FBM KLCI would likely trade below the 1,764.63 level on May 26," said AllianceDBS Research.