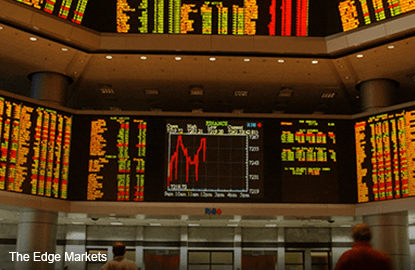 KUALA LUMPUR (Feb 6): The FBM KLCI is expected to extend its gains next week as domestic sentiment improves in post Chinese New Year trade despite the slump at most global markets last Friday.
Global stock markets slumped and the U.S. dollar rallied on Friday after a key U.S. jobs report painted a mixed picture of the labor market and left investors with a muddled view on interest rate hike prospects.
Oil prices dipped, ending the week lower after two weeks of gains.
Wall Street ended lower, led by plunging technology shares after poor results from data company Tableau Software and networking platform LinkedIn. The S&P 500 information technology sector fell 3.4 percent, while the Nasdaq Composite Index slumped to its lowest close since October 2014.
AffinHwang IB vice president and head of retail research Datuk Dr Nazri Khan said despite the early outbreak of Zika virus and holiday shortened session, he expects the Bursa FBM KLCI to trend higher driven by the positive impact from recalibrated budget 2016, improved ringgit, Chinese New Year festive season, rising oil and growing conviction on absence of Federal Reserve interest rate hikes in the near term.
"We must admit that Bursa Malaysia started 2016 with jittery market sentiment, which saw major sectors tumbling heavily in the early part of January due to Chinese fears of its economy slowing down while Crude oil prices dived briefly below USD30/bbl, the lowest in more than a decade and Ringgit depreciated to a new recent low of 4.50 per USD in mid-Jan.
"We however noted that the decline has stabilised and sentiment has recovered.
"Having said, the monthly decline in the FBM KLCI of 1.46% in January was not as bad as compared to the China Shanghai plunge of 22.65% and China Shenzen of 25.83%, Hong Kong Hang Seng of 11.1%, Nikkei of 7.96%, Dow Jones of 5.70% as well as Singapore Strait Times of 9.48%," he said.
Nazri, who is also the president of the Malaysian Association of Technical Analysts, said that on the technical front, the FBM KLCI has reduced losses significantly to close flat, after weighed down by persistent sluggish external sentiment, volatile Crude oil prices and China's economic slowdown.
He said despite the recent workers levy hike by the government, the local sentiment jump led by plantation sector although trading volume looks tepid as the Chinese New Year holiday come.
He said as the FBM KLCI staged a rally above 20 and 50 day moving average, momentum oscillators such as RSI and Stochastic continue trending higher, indicating the increase of buying momentum on the local bourse.
"Overall, we reiterate our view that the local bourse will trend higher on reduced concerns over the slowdown in China, absence of interest rate hike and rising crude oil prices.
"With the underlying trends of strengthening Ringgit and Crude oil prices, we sense a good buy investment strategy now especially on emerging trading interest in Plantation and Oil & Gas stocks.
Nazri hence said he prefered a short-term rebound play on Plantation & Oil & Gas counters, especially those trading near trough valuations and having improved technical momentum such as SapuraKencana Petroleum Bhd, Alam Maritim Resources Bhd, Coastal Contracts Bhd, Perisai Petroleum Teknologi Bhd, Kuala Lumpur Kepong Bhd, IOI Corporation Bhd, Kulim (M) Bhd, Genting Plantations Bhd and Batu Kawan Bhd.