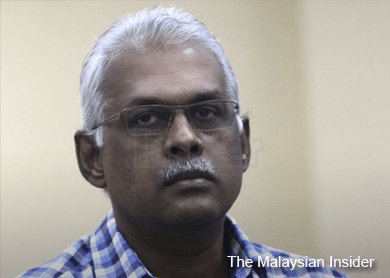 KUALA LUMPUR: Charles Santiago (DAP-Klang) was ejected from the Dewan Rakyat yesterday for describing Speaker Tan Sri Pandikar Amin Mulia's decision to reject his motion on dengue as "not making sense". 
"I do not understand why you rejected my motion. Your decision does not make sense," he told Pandikar right after question time. This angered Pandikar who ordered the lawmaker to apologise for what he had said.
"You saying that my decision does not make sense is equivalent to insulting the Speaker. I want you to apologise, if not I want you to get out. Retract your statement," Pandikar told Charles. When the opposition lawmaker repeatedly questioned Pandikar, the Speaker lost his patience and instructed the House's sergeant-at-arms to escort the two-term MP out.
Pandikar said the standing orders clearly state that decisions made by the Speaker in his office could not be raised again in the Dewan Rakyat to compel a review.
"When an MP brings this up, it means he disagreed with the decision and wanted me to review it when I clearly cannot do that," he said. He rejected Charles' motion, he said,  as the relevant ministries had stated continuous efforts were being made to tackle the menace. "Even if I allowed the motion, can the dengue problem be solved? The answer is no. It requires continuous efforts, as long as there are drains and dirty sites, there will be dengue."
At the parliament lobby later, Charles accused Pandikar of practising double standards by constantly shooting down motions brought by the opposition.
He added that to date, 144 people have died from dengue, a 100% increase from 72 deaths over the same period last year. "Is this the way for the Speaker to make a decision? If the right to live cannot be discussed in Parliament, where else can we discuss it? The Speaker obviously does not want to discuss public health." — The Malaysian Insider
This article first appeared in The Edge Financial Daily, on June 19, 2015.