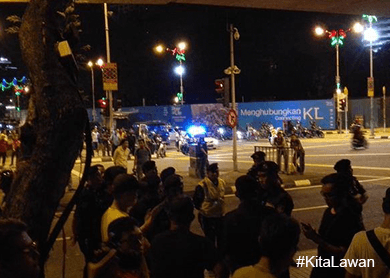 PROTEST movement #KitaLawan said its sit-in protest at Dataran Merdeka last night where six people were arrested had been peaceful until police and Kuala Lumpur City Hall (DBKL) officers broke it up in a rough and violent manner.
The group's secretariat refuted claims by Inspector-General of Police Tan Sri Khalid Abu Bakar that it had used force on enforcement officers, and instead said policemen, including plainclothes officers, had beaten and pulled protesters roughly.
There are videos of the incident, posted online, which proved police and DBKL officers had made the first move, a statement by the #KitaLawan secretariat said today.
"This clearly shows that the IGP is lying and trying to instigate people on Twitter that the youth of #KitaLawan behaved violently.
"Evidence at the incident clearly shows that the youth had gathered peacefully but were roughed up," the secretariat said.
Khalid, using his Twitter account, had said "@PDRMsia malam tadi telah tangkap 6 Ahli Kump Haram KitaLawan di DM yg telah mengganas dgn membelasah P'kuasa DBKL. Ini kah p'himpunan Aman?"
(@PDRMsia last night arrested six members of the illegal group KitaLawan at DM which had acted violently by beating up DPKL enforcement. Is this a peaceful assembly?)
The secretariat said today Khalid's declaration of #KitaLawan as an illegal group was aimed at covering up his abuse of power and to silence dissent.
"The IGP should be fired immediately to protect the good name and honour of the police force."
In one of the videos of the sit-in last night, a protester was seen asking a man, believed to be a plainclothes officer, to produce his police identity card.
The secretariat claimed the officers had punched Teja assemblyman Chan Lih Kang, and also acted roughly towards others who tried to protect Chang and another lawmaker, Tan Kar Hing, who is the Simpang Pulai assemblyman.
The two assemblymen were among six arrested. The others were activists Michael Tamil, Yong Ming Chong, Gan Zhi Mou and Chee Chu Sang.
The #KitaLawan secretariat said Chee had to be brought to the Kuala Lumpur Hospital for treatment over injuries sustained when police cleared the protest before he was brought to the lock-up for the night.
The six will have their remand hearing this afternoon at the Jalan Duta Court complex in Kuala Lumpur.
#KitaLawan, which is spearheaded by PKR Youth, will hold another street demonstration tomorrow in the heart of the capital, marching from three points before converging at the Sogo shopping complex.
Similar to the last protest on March 7, they will call for the release of Datuk Seri Anwar Ibrahim, the opposition leader, from jail where he is serving time for sodomy, and for Prime Minister Datuk Seri Najib Razak's resignation.
They are also including in tomorrow's rally a rejection of the goods and service tax (GST), which kicks in on April 1. – March 27, 2015.