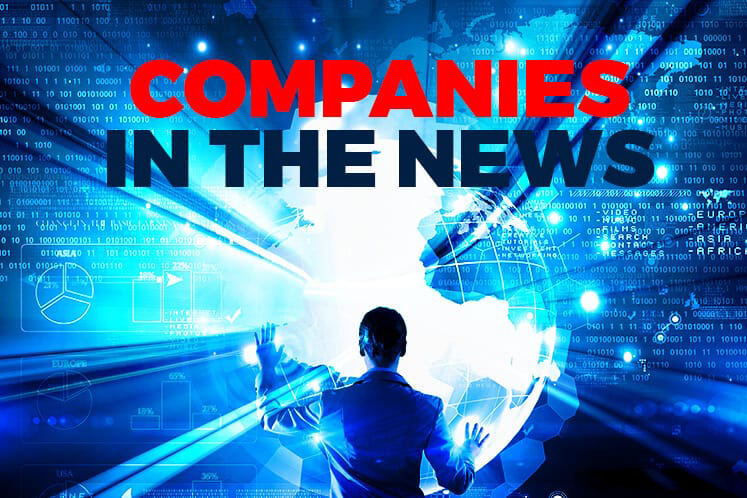 KUALA LUMPUR (Jan 15): Based on corporate announcements and news flow today, stocks in focus on Tuesday (Jan 16) may include: Kinsteel Bhd, T7 Global Bhd, Malaysia Airports Holdings Bhd, CIMB Group Holdings Bhd, Hubline Bhd, Ajiya Bhd, Amtek Holdings Bhd, Perisai Petroleum Teknologi Bhd, Vizione Holdings Bhd, Amcorp Group Bhd, Sanichi Technology Bhd, MNC Wireless Bhd, Tasco Bhd and Efficient E-Solutions Bhd.
PN17 Kinsteel Bhd's new regularisation plan involves proposing a debt restructuring scheme for its RM800 million outstanding borrowings to bankers, while courting new investors to inject fresh funds into the group.
According to Kinsteel CEO Datuk Henry Pheng Chin Guan, the group has submitted its regularisation plan to Bursa Malaysia, which is pending approval.
Shareholders of T7 Global Bhd gave the green light for the oil and gas (O&G) outfit to dispose of its property in the UK for a cash consideration of £5.75 million (RM31.45 million), as the group refocuses on its core operations and new ventures.
T7 chairman Datuk Seri Dr Nik Norzul Thani Hassan said proceeds from the disposal will be used to fund some of its ongoing projects.
Moody's Investors Service lifted its ratings outlook on Malaysia Airports Holdings Bhd (MAHB) to stable from negative, saying the change reflects the strengthening of the airport operator's credit profile due to stabilisation in its overseas operations and continued resilience in its domestic market.
It also retained MAHB's A3 issuer rating and said its expectation of continued robust traffic growth in Malaysia supports its stable outlook.
CIMB Group Holdings Bhd launched a new insurance product dubbed Sun Income Secure today. It is a retirement planning scheme which enables its customers to enjoy protection, investment and a guaranteed yearly income in a single plan.
The premium investment-linked insurance and savings plan is the thirteenth addition CIMB has developed in partnership with its five-year bancassurance partner, Sun Life Malaysia Assurance Bhd.
Hubline Bhd has inked a preliminary agreement with Petronas Chemical Marketing (Labuan) Ltd (PCML) aimed at providing a framework of cooperation for any future term arrangement between them for dry bulk and liquid chemicals logistic services.
"The parties agree to cooperate and collaborate into looking at Hubline's five-year plan for Hubline to develop its chemical vessel technical capability for PCML logistic requirements," the group said.
Ajiya Bhd was publicly reprimanded by Bursa Malaysia today over a material difference in the group's unaudited and audited financial statements for the financial year ended Nov 30, 2016 (FY16).
A difference of RM4.22 million, or a 22.54% variance, was reported in between its unaudited and audited profit after tax and minority interest for FY16.
Amtek Holdings Bhd, which recently sold off its core business, fell into PN17 status yesterday after its shareholders' equity on a consolidated basis fell to below RM40 million and is not more than 25% of its issued and paid-up capital.
Perisai Petroleum Teknologi Bhd, which is in a dispute with Emas Offshore Ltd (EOL), demanded that EOL sells its 49% stake in Emas Victoria (L) Bhd to Perisai for US$1.
This is because EOL's restructuring exercise in 2017 allowed Perisai to terminate a 2013 shareholders' agreement between the two parties, the group said, having served notice to Emas Victoria today.
Vizione Holdings Bhd saw its net profit for the second quarter ended Nov 30, 2017 (2QFY18) jump about 46 times to RM6.55 million from RM141,000 in the same quarter a year ago, due mainly to the maiden contribution of its newly acquired construction subsidiary, Wira Syukur Sdn Bhd (WSSB).
Quarterly revenue leapt almost 15 times to RM147.3 million from RM9.84 million, according to its filing to Bursa Malaysia today.
Amcorp Group Bhd today acquired 13.65 million units or a 2.92% stake in AmFIRST Real Estate Investment Trust (AmFIRST REIT) for RM9.44 million from Jadeline Capital Sdn Bhd.
The transaction was done at 69.1 sen per unit in direct transaction, which was a 1.1 sen or 1.62% premium to today's closing price of AmFIRST REIT units of 68 sen.
Sanichi Technology Bhd and MNC Wireless Bhd teamed up today to put 120 units of luxury service apartments at Sanichi's Marina Point development in Klebang, Melaka up for online leasing.
Under the Memorandum of Understanding inked between Sanichi's unit Sanichi Property Sdn Bhd and MNC, the latter will be responsible for creating and operating an online community marketplace for the public to book luxury homestays at the 120 units.
Tasco Bhd has sold a warehouse and industrial land in Port Klang, Selangor to Onostatic Sdn Bhd for RM17.5 million, with an expected one-off gain of RM5.48 million for the group.
"After the disposal, we will terminate the tenancy agreement with (our wholly-owned unit) Titian Pelangi Sdn Bhd and move its warehousing business elsewhere," Tasco said.
Efficient E-Solutions Bhd intends to rope in two other companies, Portcullis Technologies Pte Ltd and Mr Secure Pte Ltd, to jointly promote and market its managed security business in the Indochinese market.
Its wholly-owned subsidiary, Efficient Technology Solutions Sdn Bhd (ETS), now renamed Vigilant Asia Group Sdn Bhd, issued two letters of intent to the companies today.