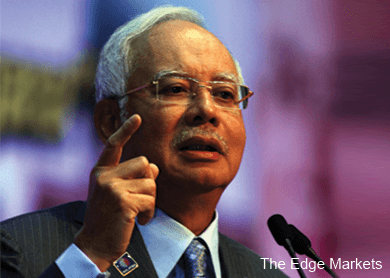 KUALA LUMPUR (Mar 9): Yang di-Pertuan Agong Tuanku Abdul Halim Mu'azam Shah commended Prime Minister Datuk Seri Najib Tun Razak for taking proactive measures to sustain the Malaysian economy amid a challenging global environment.
Tuanku Abdul Halim said the government under Najib's leadership had streamlined key economic policies and consolidated fiscal measures to tackle the impact of lower crude oil prices and weaker ringgit.
"We are thankful that the economy is still expanding amid the challenging global environment such as the plunging prices of crude oil and commodities as well as a fluctuating currency.
"This is because our government has put in place clear strategies and measures to ensure that economic and fiscal fundamentals remain strong and resilient to sustain national development and the well-being of the people," Tuanku Abdul Halim said in his speech in conjunction with the start of the new parliament session today.
He said although the government's revenue would decrease, economic development would remain balanced, inclusive and sustainable.
The King also expressed optimism that the implementation of the goods and services tax (GST) would strengthen the country's fiscal position.
The GST will be implemented beginning April 1 this year.
Tuanku Abdul Halim appealed to the people to make the GST initiative a successful one and reap its long-term benefits as the tax had been implemented in many countries.