This article first appeared in The Edge Malaysia Weekly, on September 2, 2019 - September 08, 2019.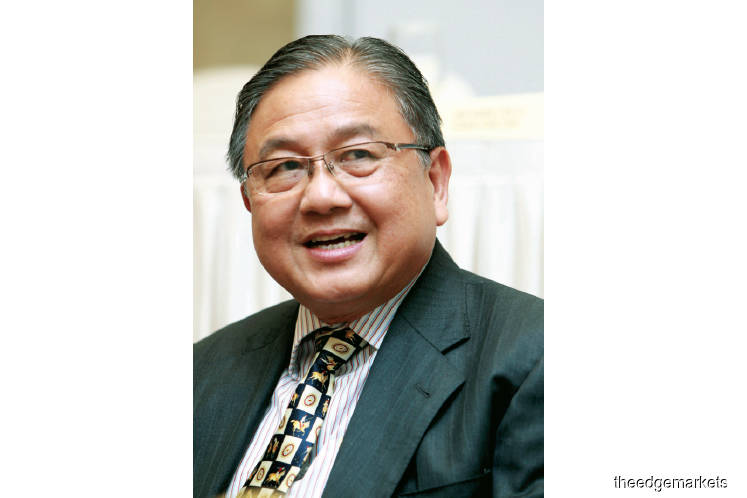 Sim: As a businessman, I would not be optimistic [about a recovery] if the government continues to tighten its belt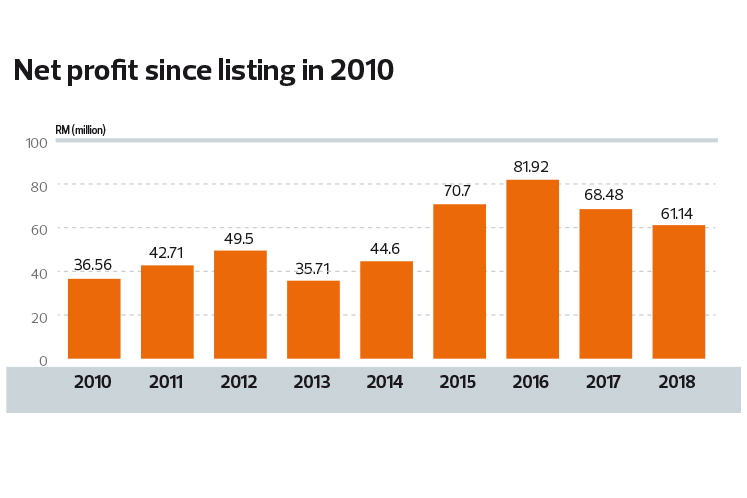 CONSTRUCTION companies such as Kimlun Corp Bhd are waiting with bated breath to see what goodies will be announced in the upcoming Budget 2020 and are hoping the government will pump-prime the economy with public infrastructure projects which, in turn, could help turn their fortunes around.
"A recovery in the construction sector next year will depend on the upcoming Budget 2020 — what the government has in mind to boost the sector. If the government does not do anything, the country may sink into recession. As a businessman, I would not be optimistic [about a recovery] if the government continues to tighten its belt," Kimlun CEO and executive director Sim Tian Liang tells The Edge in an interview.
The national budget for next year will be tabled in Parliament on Oct 11.
On its part, Kimlun — which has seen its earnings tumble for two straight years since the financial year ended Dec 31, 2017 (FY2017) — does not expect the declining trend to reverse course in the current financial year given the slowdown in construction projects.
Sim, 64, says net profit for FY2019 is likely to be flat or lower than last year's on fewer construction jobs.
This is despite the group posting a 30.6% year-on-year increase in net profit to RM29.38 million for the first half ended June 30, 2019 (1HFY2019). Revenue rose 46.7% y-o-y to RM643.72 million, it said in a bourse filing last Thursday. The improved 1HFY2019 performance was mainly due to higher revenue achieved by the construction and manufacturing and trading (M&T) divisions.
Sim's cautious outlook stems from his view that the worst is not over for the construction sector. He notes a turnaround is only expected in two to three years. The construction segment is the main contributor to the group's revenue.
He says the recovery of the property market, meanwhile, will depend on how fast unsold properties that have been built are absorbed, although he expects that sector to take longer to rebound than the construction industry.
"The slowdown in the market is deterring a lot of developers from launching new properties. However, property development constitutes a small portion of our overall revenue. Our main business is still construction," he adds.
Kimlun saw a 16% y-o-y drop in net profit to RM68.48 million in FY2017, which fell further by 11% y-o-y to RM61.14 million in FY2018.
However, revenue rose 2.7% y-o-y to RM1.01 billion in FY2018. Of the sum, the construction segment contributed 79.16%, the M&T business accounted for 20.38% and only 0.46% came from the property development segment.
The group has an outstanding order book of RM2 billion as at June 30, which provides earnings visibility for the next two years, says Sim. Of this, RM1.7 billion is from construction contracts and RM300 million from the manufacturing segment.
This year, the construction projects that will contribute to the group's results include the Pan Borneo Highway Sarawak Project (Serian Roundabout to Pantu Junction); office complex for Majlis Bandaraya Johor Baru; condominiums and ancillary buildings at Mukim Petaling, Selangor, for the Kuok Brothers Sdn Bhd group; and building works for one block of commercial building and one block of apartments at Medini Iskandar, Johor, for Sunway Iskandar Sdn Bhd.
Sim says the group has set a lower order book replenishment target for FY2019 of RM500 million, of which RM400 million is expected to come from construction and RM100 million from manufacturing. Year to date, Kimlun has secured construction jobs worth RM250 million and new manufacturing sales orders of RM40 million.
"This year's target is lower than our previous years' targets of between RM600 million and RM800 million, taking into account current market conditions," he adds.
Kimlun is one of 1,321 construction firms nationwide that are reported to have submitted their interest to participate in the RM44 billion East Coast Rail Link project during the pre-qualification exercise on May 29 and 30.
Sim says the group is also eyeing opportunities in projects such as the Johor Baru-Singapore Rapid Transit System Link; the Ministry of Housing and Local Government's plan to build 100,000 affordable homes per year; the Penang Transport Master Plan, which envisions a series of highways and light rail transit lines; the construction of the Kulim International Airport; upgrading works on the North-South Highway; the second phase of the Pan Borneo Highway construction works; the Sarawak coastal highway; and the second phase of the Klang Valley Double Track rehabilitation works.
Meanwhile, Kimlun expects the precast concrete product manufacturing segment to bring in stable income for the group, through its subsidiary SPC Industries Sdn Bhd, going forward.
SPC has a strong track record in supplying precast concrete components to various projects in Singapore since 2006, including mass rapid transit, underground cable tunnel and sewerage system projects, and is well positioned to compete for potential sales orders from the expansion of the rail network in the city state.
"The advantage of SPC is that it has another market in Singapore, which should provide more consistent jobs than Malaysia [amid the current slowdown in the construction sector]. The Singapore market should sustain SPC's [premix production] operations in Johor," says Sim.
Still, he points out that sales orders from Singapore only contribute about 10% to 15% to the group's profit.
Sim says the group has no plan to make any cash call until the market improves, adding that if it were to raise capital from the market, it would be used for property development.
Kimlun's cash balance stood at RM56.8 million as at June 30 while total borrowings were at RM351.5 million, resulting in net debt of RM294.7 million.
Nevertheless, Sim says the group is in no hurry to develop its existing land bank, totalling 204 acres, and is not planning any new launches until sentiment in the property market improves.
While Kimlun does not have a dividend policy, Sim says the group aims to pay out yearly dividends to shareholders as long as it makes money. It has had an average dividend payout ratio of 24.9% since its listing in 2010.
Bloomberg data shows that of the six analysts covering Kimlun, two rated it a "buy", three, a "hold" and one, a "sell". Their average target price is RM1.52 over the next 12 months. The stock closed at RM1.26 last Thursday, giving the company a market capitalisation of RM428.17 million. Year to date, its share price has risen 12% from RM1.13.