This article first appeared in The Edge Financial Daily, on June 14, 2017.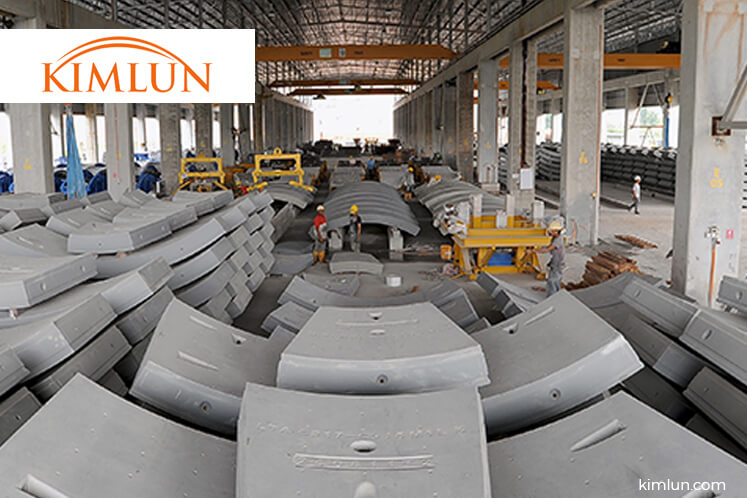 KUALA LUMPUR: Kimlun Corp Bhd is expecting a flattish earnings performance for the financial year ending Dec 31, 2017 (FY17).
Its chief executive officer Sim Tian Liang explained that the little earnings growth is because of the completion of some larger construction projects in FY17. Furthermore, the supply of the tunnel link segment and the segmental box girders for Klang Valley mass rapid transit line 2 project is expected to only pick up in the later part of FY17.
For the first quarter ended March 31, 2017 (1QFY17), the company registered a lower net profit of RM15.38 million from RM17.1 million in 1QFY16. Quarterly revenue also fell 27.5% to RM170.18 million against RM234.8 million last year.
Speaking to reporters after its annual general meeting yesterday, Sim said the construction outlook remains positive. "According to the CIDB (Construction Industry Development Board) report, we are still growing in double digit and this year's orders will be more than last year's," said Sim.
Furthermore, Sim said the company has an annual target for replenishment of new construction orders of between RM600 million and RM800 million.
Kimlun has won about RM500 million worth of contracts so far this year and the company is hoping to see an increase of contracts for the second half of the year (2H17), according to Sim.
With the new contracts, Kimlun currently has an outstanding order book of about RM1.9 billion, with about RM1.6 billion from the construction business, while the remaining RM300 million from the manufacturing business. "For 2H17, we will see some affordable housing projects, see some Kuala Lumpur developers launching some projects and LRT (light rail transit)," said Sim.
For the bungalow development in Shah Alam U10, with a land bank area of 3.58ha, Sim said the company is still preparing its bidding plan for submissions and is expecting the project to start next year.
With 41 lots, Sim said the estimated gross development value for this project should be about RM73.8 million.
"For the manufacturing segment, on the Singapore side, we don't foresee it to be very material because the deep tunnel sewerage system — the mega project in Singapore — the award will likely be at the beginning of next year. For this year, certainly, I think Malaysia is going to overshadow Singapore in terms of order replenishment," said Sim.
In terms of new orders for the manufacturing segment for FY17, Sim said Kimlun is looking to see about RM80 million to RM120 million driven by its existing Malaysia project and some orders from Singapore.