This article first appeared in The Edge Malaysia Weekly, on October 19, 2020 - October 25, 2020.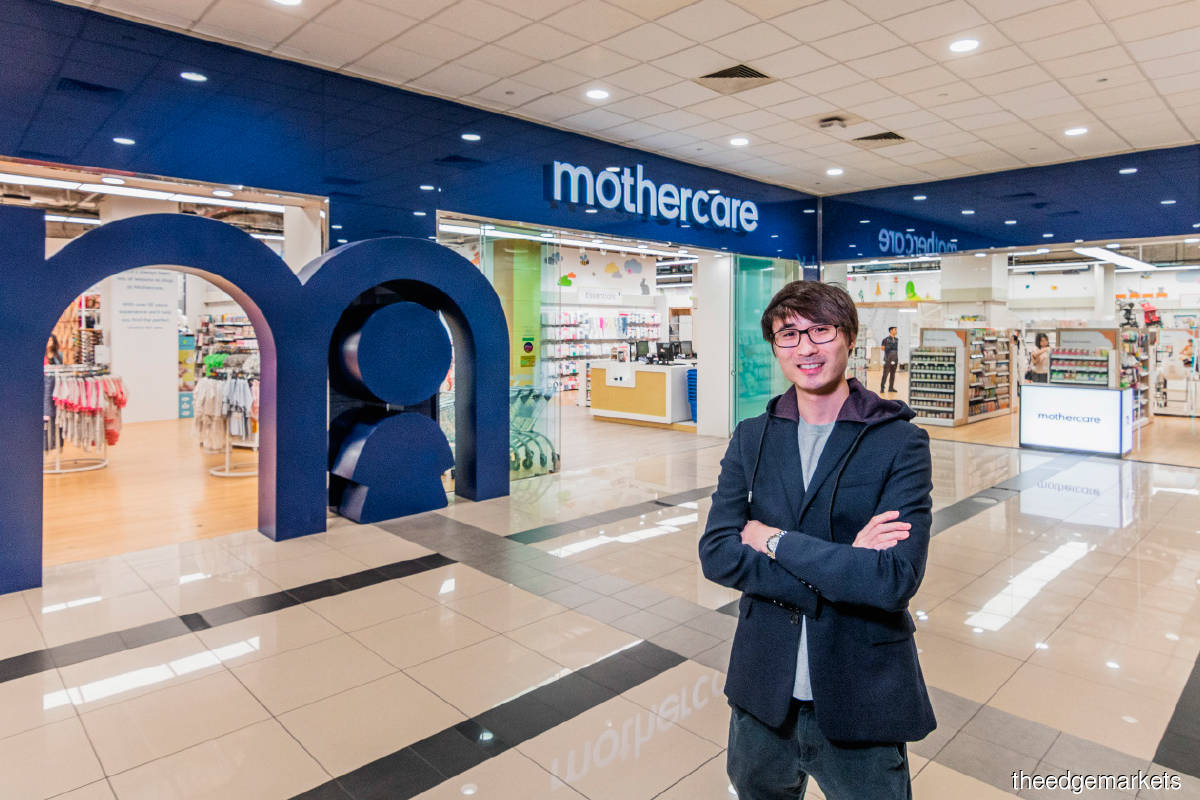 NOTWITHSTANDING the Covid-19 pandemic, ACE Market-listed Kim Hin Joo (M) Bhd is charging forward with expansion plans for its premium baby products and toys segments.
The maternity essentials and toys retailer's expansion plans will be carried out over the next 12 months.
First, it aims to boost same-store sales growth (SSSG). Currently, Kim Hin Joo has a 14% market share in the toys and baby segment, according to information technology company Dell's analytics software Statistica, which projects that the segment in Malaysia will be worth US$162 million (RM672.62 million) in 2020. "We envision a compound annual growth rate of more than 20% as we expand our business in the toy segment and capture a greater share of the premium baby market," Kim Hin Joo managing director Pang Fu Wei tells The Edge.
Fu Wei, who succeeded his sister, Pang Shu Ming, in July, also oversees Mothercare Singapore. He has made improvements in the product range and seen to the launch of the world's first Mothercare Experience Store in Harbourfront Centre in Singapore. He oversaw the organisation's digital transformation as well.
The company will also focus on "non-SSSG elements", augmenting its top-performing outlets, expanding its presence in second-tier cities, rolling out toys retailer The Entertainer outlets, as well as boosting online sales.
According to Fu Wei, the quarterly financial results of The Entertainer, which opened in Sunway Pyramid Shopping Mall in Bandar Sunway on June 19, has been "quite encouraging, with its exclusive products selling better than anticipated".
"We are working closely with The Entertainer United Kingdom for replenishment of these fast-moving items. We will be monitoring The Entertainer's performance closely over the next quarter as, once we get it right, it will allow us to scale quickly, confidently and accurately," he says.
Capitalising on opportunities
"While the Covid-19 crisis may threaten business in the short to mid-term, it also presents opportunities on which we intend to capitalise. For example, the availability of [retail] spaces means there are attractive rental rates over the next six to 12 months. We look forward to increasing our total store footprint in response to this," Fu Wei says.
Earnings for the six months ended June 30, 2020, sank 64.2% y-o-y to RM1.75 million, from RM4.89 million. Revenue was RM36.58 million, falling 26.7% y-o-y from RM49.89 million, on account of temporary store closures from March 18 to May 4 and delays in receiving goods from China in the first quarter.
"While it will be difficult to make up for the shutdown period, we are negotiating rental rebates with our landlords, says Fu Wei. The company pays a monthly rental base of about RM900,000. Negotiations  have allowed it to make about RM1 million in total rental savings in the last few months.
"In addition, we have renegotiated some of our upcoming leases and locked in lower rental rates. These savings will come through over the next 12 months," says Fu Wei.
Touching on Kim Hin Joo's outlook for Mothercare  Malaysia and The Entertainer Malaysia in 2H2020 and 2021, Fu Wei pushes back on concerns that the weakened economy has rendered toys a luxury rather than a necessity, stressing that the company is in the business for the long term.
He also refers to Mothercare's resilience to economic downturns, owing to the essential nature of its trade mix.
Addressing the company's unsold inventory from the lockdown period, Fu Wei says the company has adjusted its forward buys to manage slow-moving goods such as footwear. According to him, the company will have a higher markdown budget this financial year, but there will be no further write-down of its stocks, no more than in an ordinary year.
Currently, Kim Hin Joo has 20 Mothercare outlets in Malaysia and one The Entertainer outlet.
Mothercare Malaysia has an e-commerce website and its products are listed on Lazada as well.
"We plan on opening at least one Experience Store in Malaysia by 1H2021," Fu Wei says.
Mothercare's competitors include Anakku, a subsidiary of Main Market-listed Asia Brands Bhd (formerly Hing Yiap Group), and Modernmum Malaysia, and The Entertainer's are Hamleys and Toys "R" Us.
UK-headquartered The Entertainer is a toy retailer with over 170 stores in the country and a further 300 globally. Kim Hin Joo's launch of Malaysia's maiden The Entertainer outlet in Sunway Pyramid is part of its strategy to diversify into the toys sector to complement its existing maternity and baby products retail business.
Kim Hin Hoo's market reach was mainly children up to six years old but, with The Entertainer, the company has been able to widen its retail offerings by fulfilling a niche for toys catering for children up to 12 years old.
Even though the company froze employment during the Movement Control Order (MCO), it retained its 250-strong workforce in Malaysia and is now back on its recruitment drive.
Restructuring exercise
On challenges the company is facing in expanding Mothercare and The Entertainer — particularly the latter, given that its competitors have a more established presence in Malaysia — Fu Wei says there is bound to be some initial strain on its operations and the marketing team, as both businesses share the same back-end resources. However, its biggest challenge for now is recruiting talent to match the pace of growth.
As at June 30, 2020, the company had zero gearing and a cash balance of RM28.95 million.
Fu Wei says the company's cash reserves will be balanced against long-term competitive considerations, with a portion of the coming financial year's budget going to capital expenditure, including store expansion and renovations for the Experience Store concept, recruitment and new IT infrastructure.
A restructuring exercise is underway for the enhancement of departmental capabilities to address the company's growth plans.
A capital expenditure of RM2 million has been allocated for the overhaul of Kim Hin Joo's information technology ecosystem — including the retail website, which will be refreshed with better navigation and product information, and stock availability by location — as well as upgrades for its physical infrastructure and subscription licences.
"These were features that our old system could not fulfil because of the multiple data silos. The new website will also have an improved search function as well as new features such as the one-hour Click-and-Collect facility to expedite purchases, which is integral in the new corona-economy. We target to roll it out by 2Q2021," Fu Wei explains.
Owing to the Conditional MCO (CMCO), enforced for two weeks in Sabah, Selangor, Kuala Lumpur and Putrajaya from Oct 13 and 14, the opening of the first Mothercare and The Entertainer stores in East Coast Mall in Kuantan as well as Suria Sabah Mall in Kota Kinabalu has been postponed.
Kim Hin Joo has a dividend payout policy of up to 40% of its annual audited net profits. On Feb 27, it declared a second interim single-tier tax-exempt dividend of one sen for the financial year ended Dec 31, 2019.
Totalling RM3.8 million, the dividends were paid out on April 10.
"We will definitely reward our shareholders this [financial] year with a dividend that is in line with that policy," Fu Wei says.
So far this year, Kim Hin Joo's shares have risen 66.7% from 12 sen to close at 20 sen last Wednesday, giving it a market capitalisation of RM76 million.