This article first appeared in Digital Edge, The Edge Malaysia Weekly, on December 28, 2020 - January 10, 2021.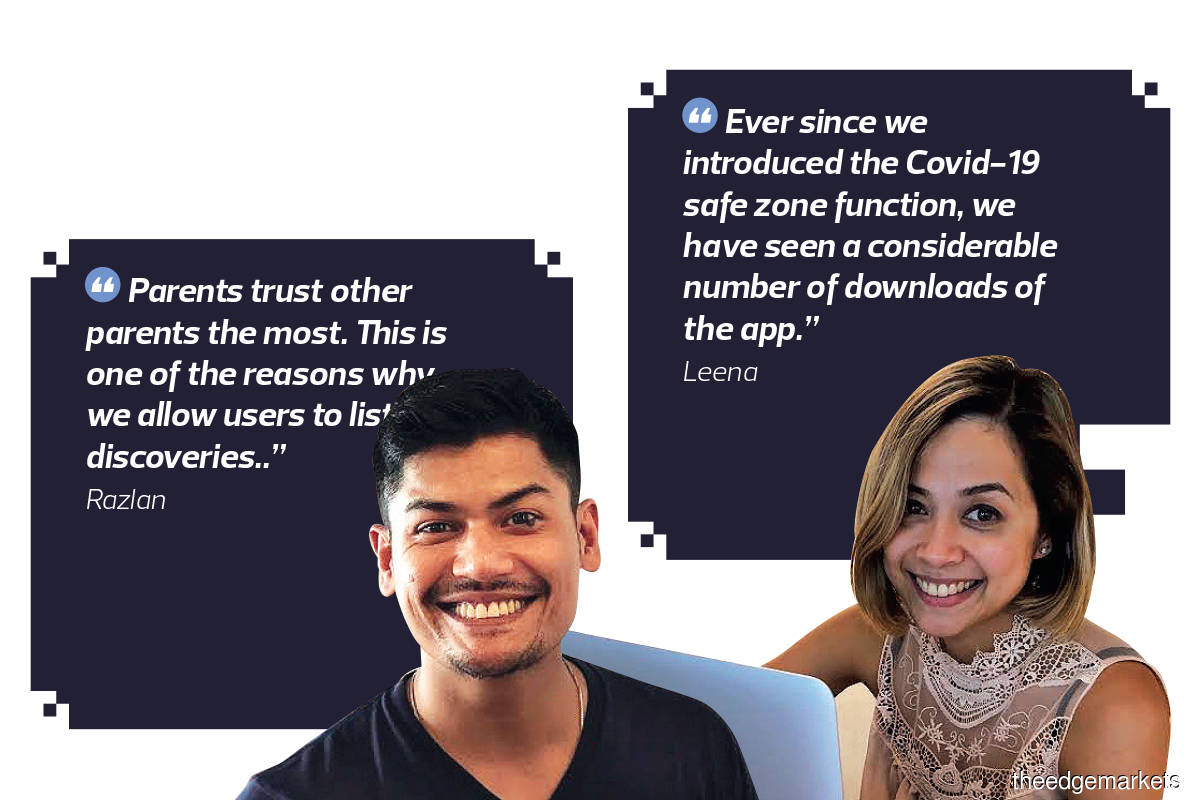 For a few years, ex-colleagues turned business partners Razlan Dawood and Leena Malini had been working on kidzdiretc., a real-time interactive community application that allows families to discover what's around them. The Google Maps-based app utilises geotagging and algorithmic functions to list local and popular family-friendly sales, events, classes and essential services nearby.
From a passion project to a full-blown, full-time focus, Leena and Razlan had chosen to launch the app in April this year after months of beta testing. But the launch had to be postponed indefinitely when the pandemic took the world by storm, forcing parents to keep their children safe at home.
Fearing that the app would not get any traction, the duo went into brainstorming mode. They thought about how to make parents feel safe when the world was panicking. "During that time, my wife asked me to go out and buy some essentials for the kids and I instinctively gravitated to the local supermarket," says Razlan.
This was in March when the Movement Control Order had just come into force and panic buying was rampant. "I had to queue for half an hour just to enter the building and when I finally got in, I realised that they were out of baby powder and baby shampoo, which I had come to buy."
Frustrated, Razlan called his wife and told her. She tutted in impatience, telling him that he should not have gone to the shopping centre in the first place. The small sundry shop near their house would have sufficed.
"When I went to the sundry shop, I found that she was right. Then and there, I asked Leena if we could pivot the app and tell parents to start putting in these kinds of information — anything that can help the community — such as where to buy baby essentials. The response was very good and we are seeing a lot of discoveries submitted by users," he adds.
Working swiftly, Leena and Razlan also decided to update the app to include the "safe zone" function. This allows merchants to provide information regarding the safety measures they take at their premises, including sanitisation and how often temperature checks are done among staff members.
"We found that the Covid-19 safe zone function is the key to our market penetration — this is something that parents take very seriously. Ever since we introduced this function, we have seen a considerable number of downloads of the app," says Leena.
The idea for kidzdiretc. came from both Leena and Razlan's frustration with not being able to find things to do with their children on their days off. It can be very difficult for parents to search for events or interesting activities near them, so they typically end up just killing time at shopping malls.
"Time is a parent's most precious com­modity. We want to optimise the time that we have with our children because they grow up so fast. Before we know it, they are already preparing to leave the nest," says Leena.
Currently based in the UK, Leena faces the problem of making the most of her time with her children whenever she comes back to Malaysia for a few weeks. She wastes a lot of time looking for suitable family-friendly activities other than the same old shopping and eating out routine.
"I am sure there are many things that we can do around the area. It is just not known to the public. For example, do you know that in 1 Utama, there is a pond at the mall's 'Rainforest' where you can feed fishes for RM1? This is the kind of information I wish I could access immediately when searching for family-friendly activities around my area."
Most of the time, when parents use online search engines to look for activities they can do nearby, their top search results will be the established tourist hotspots such as Genting Highlands, Sunway Lagoon and Legoland, which have paid a lot of money to appear in those spots. This, she adds, is why it is so hard to find art classes or play activities organised by smaller merchants.
kidzdiretc. currently lists over 300 merchants in its interactive directory list, mainly in the Klang Valley. The list can be filtered by the suitability of age (ranging from zero to 12 years old) and type of service or activity. Examples include family and recreation, science, child development, sports, health and nurseries.
How do they plan to monetise the app? Leena says this will happen at a later stage when the company charges transaction fees as it penetrates more markets. "This has always been the plan, which is why we built something that can be quickly replicated."
The app features four listing categories, namely discoveries, directory, events and promotions. Razlan explains that the discovery function allows kidzdiretc. users to upload their own hidden gems that would make for great family time. The discoveries last up to 90 days and can be rated by other users.
"Parents trust other parents the most. If I go to a birthday party and a parent told me that he found a great restaurant that is child-friendly, has clean baby chairs and a toilet wide enough to change a baby in, I would completely trust his recommendation despite not knowing him very well. This is one of the reasons why we allow users to list their discoveries," says Razlan.
It is also helpful for parents who are looking for classes that their children can enrol in, says Leena. "Not only is it difficult to locate these specific classes and tutors, but there is also no easy way to figure out whether they are good or not. Allowing the merchants to list themselves makes it very easy for parents to find them and see their ratings," says Leena.