This article first appeared in The Edge Malaysia Weekly, on April 16, 2018 - April 22, 2018.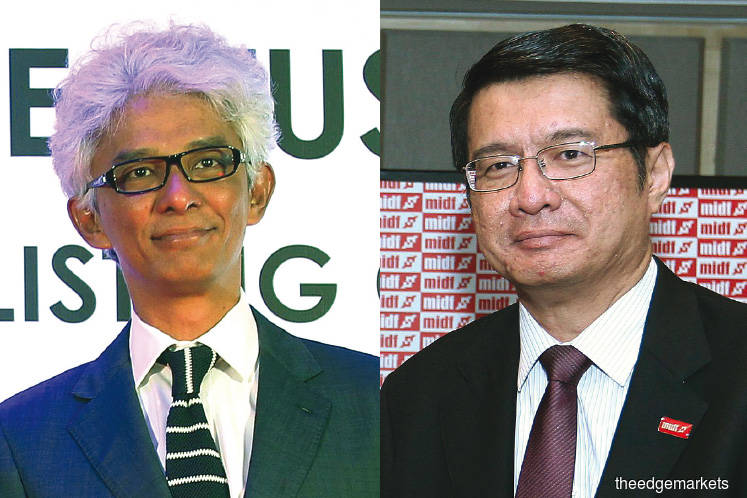 THERE is to be a change in leadership at Permodalan Nasional Bhd's wholly-owned development financial institution (DFI), Malaysian Industrial Development Finance Bhd (MIDF), with Datuk Charon Wardini Mokhzani hotly tipped to take the helm, sources say.
Charon, from Khazanah Nasional Bhd, is understood to have tendered his resignation recently as executive director in the managing director's office — a position he has held since November 2013 — and as managing director of Khazanah Research Institute (KRI).
KRI, in a statement issued to The Edge last Friday, confirmed that Charon is leaving, by mid-May.
Charon had previously been with CIMB Group Holdings Bhd for nine years, the last two as the CEO of its investment banking subsidiary, CIMB Investment Bank Bhd.
"He has the backing of PNB, but his appointment at MIDF will ultimately depend on Bank Negara Malaysia," an industry source tells The Edge.
If approved, Charon will replace Datuk Mohd Najib Abdullah, MIDF's group managing director and CEO of the investment banking subsidiary, MIDF Amanah Investment Bank Bhd. He is tipped to take on both the latter's roles.
Mohd Najib, 58, has held the group managing director's post for almost 12 years — since July 2006 — and is said to want to retire.
"Mohd Najib was to have retired when his contract, which comes up for renewal every two years, ended last year. He's staying on until they find a replacement," says another industry source.
When contacted, MIDF declined to comment. "As a matter of corporate policy, we do not comment on rumours or speculation in the market," it said via email.
Charon could not immediately be reached for comment.
Set up 58 years ago as the country's maiden DFI, MIDF's role was to ensure access to financing for local manufacturing-based companies. It has since transformed into a more diversified group with its key businesses today being investment banking, development finance and asset management.
The expected change in leadership raises an interesting question on what PNB's long-term game plan is for the DFI.
It is known that MIDF has been seeking an Islamic banking licence and is understood to be engaging with the central bank on the matter.
MIDF, once a listed entity before PNB took it private in 2007, is already doing some Islamic financing but there are limits to what it can do without a licence. It cannot collect retail deposits, for example — one of the cheaper sources of funding for regular banks.
MIDF is understood to be keen on taking the M&A route to clinch a licence. Back in 2015, it had tried to acquire Asian Finance Bank Bhd (AFB) for the latter's Islamic banking licence. However, it failed to strike a deal due to valuation issues. AFB was later acquired by Malaysia Building Society Bhd in a RM644.95 million deal.
In February last year, Mohd Najib told reporters that MIDF was on the lookout for M&A targets as it was seeking entry into the retail banking segment. He said the group would assess opportunities and hoped to make a decision within the next 18 to 24 months.
There are currently 16 Islamic lenders in Malaysia, including foreign ones like Kuwait Finance House Malaysia Bhd. MIDF is relatively small, with total assets of RM6.62 billion as at end-September last year.
Apart from MIDF, PNB — the country's largest fund manager — also owns a 48% stake in Malayan Banking Bhd and 59% equity interest in national reinsurer MNRB Holdings Bhd. A merger between Maybank Islamic Bhd and MIDF is highly unlikely if the latter wants to remain a standalone bank, analysts say.
PNB chairman Tan Sri Abdul Wahid Abdul Omar had last year acknowledged that an Islamic banking licence and a return to the stock market are possibilities for MIDF as part of the fund's larger plan to support the promotion of Islamic financial services in Malaysia.
"We have to have a new financial model, a new proposition altogether. So, this is currently being thought about," Abdul Wahid was reported as saying in a business daily last August.
In the last five years, MIDF's net profit peaked at RM131.68 million in FY2013 before trending downwards. Net profit came in at RM117.61 million in FY2014, RM106.91 million in FY2015 and RM91.58 million in FY2016.
It has yet to publicly release its financial results for FY2017. For the first nine months, however, it reported a 9.9% decline in net profit to RM40.52 million.
The group's earnings are driven mainly by the investment banking business. In FY2016, the business accounted for 60% of its profit. The asset management business has been loss-making. As at 9M2017, it incurred a loss of RM148,000.
Analysts say the injection of fresh blood at MIDF could be a positive development for the group, but they believe it will be a tough task growing it sustainably in the long run, given that it is a small player in the increasingly competitive financial services landscape, where capital requirements are also getting more onerous.
If appointed to MIDF, it would mark Charon's return to active banking. When he officially left CIMB Group in November 2013, he was the group deputy CEO of investment banking and CEO of CIMB Investment Bank.
Two months later, Tengku Datuk Seri Zafrul Aziz joined CIMB Group from Malayan Banking Bhd, replacing Charon, and later became the group CEO.
Charon was appointed the founding managing director of KRI, a not-for-profit organisation sponsored by Khazanah, on Jan 20, 2014.
KRI, in its statement, said an announcement on Charon's successor would be made in due course. In the meantime, the KRI board of trustees has set up an executive committee to oversee operations.
Save by subscribing to us for your print and/or digital copy.
P/S: The Edge is also available on Apple's AppStore and Androids' Google Play.