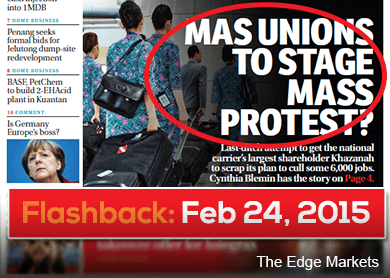 KUALA LUMPUR: Khazanah Nasional Bhd is under pressure to abandon a bid to lay off as much as one-third of beleaguered Malaysian Airline System Bhd's (MAS) workforce as one of its unions calls for a nationwide picket to protest the move.
According to documents seen by The Edge Financial Daily, the National Union of Flight Attendants Malaysia (Nufam), which represents about 3,500 cabin crew members, had sent out a notice of intention to the government to stage a picket in protest against plans by Khazanah to cut 6,000 MAS staff as part of a RM6 billion restructuring plan to revive the loss-making national airline after being hit by twin air disasters last year.
Khazanah took MAS private last year.
The notice was sent out last Friday by Nufam secretary-general Mohamad Akram Osman to the Human Resources Ministry, the Prime Minister's Office and MAS' Human Resource Department. 
At press time, at least one union had sent out a notice to the authorities to force the government to renegotiate the fate of the employees. There are at least nine worker unions and associations in MAS.
The Edge Financial Daily on Feb 24, 2015 reported that MAS union members were expected to stage a mass protest that may disrupt the country's air travel in a last-ditch attempt to get its shareholder Khazanah to scrap its plan to cut some 6,000 jobs from its 20,000 workforce.
The last time three unions — Malaysia Airlines System Employees Union of Peninsular Malaysia (Maseu), Air Workers Union Sarawak (Awus) and Air Transport Workers Union Sabah (Atwus) representing about 15,000 employees — threatened picket action was in September 2011, which had resulted in the unravelling of a share swap between MAS and AirAsia Bhd.
However, it is uncertain if Khazanah will bow to union pressure again or stick to its restructuring plan as some aviation analysts had in the past opined that it was best for MAS to "bite the bullet" and undergo a manpower right-sizing exercise as its network shrinks.
In its latest townhall meeting chaired by Khazanah early this month, it was revealed to the airline's managers and union representatives that there will be three components to the separation scheme planned for employees, said a source.
"Payout to the separation scheme will be made seven days after June 30, 2015," the source told The Edge Financial Daily, stating that in recognition of the cessation of business, all staff will be given a base payout.
The source also said the airline's products and services will be reviewed in order to avoid overlapping with low-cost carriers, and adopt a product bundling strategy.
"Its network will focus on key markets including domestic, Asean and regional, matching it to the fleet requirement," the source said, adding that the airline is also expected to undertake a 10% reduction in its aircraft capacity this year.
According to the notice by Nufam, Mohamad Akram was quoted as saying that: "... we have tried over the last few months to seek the cooperation and meetings from all sides within MAS and Khazanah over this huge employee termination and layoff exercise to be made in March.
"However, there seems to be no efforts coming from all parties concerned to meet Nufam to discuss the MAS restructuring plans.
"Therefore, we are left with no choice but to put MAS on notice of this picket to be held soon." 
He also voiced concerns that crew members have been kept in the dark and how they are deeply concerned about their future prospects with the airline, as they do not wish to lose their jobs in MAS, especially with the current economic challenges faced by the country.
Mohamad Akram also pointed out that any discussions or agreements made pertaining to the crew members are deemed as violations as such meetings should be held with the presence of Nufam, which did not take place, adding that Nufam is a lawful union representing the cabin crew employees in the country.
Although the documents did not state when the picket would be held, a source close to the matter said the union was looking at picketing during the week of the Langkawi International Maritime and Aerospace Exhibition (Lima). 
Lima is scheduled to be held between March 17 and 21 in Langkawi.
The Edge Financial Daily had reported recently that plans are afoot to finalise the termination letters for the MAS employees.
Khazanah in August last year unveiled a 12-point restructuring plan for the airline that would see its assets being moved to a new company by July 1 this year.
This article first appeared in The Edge Financial Daily, on March 16, 2015.