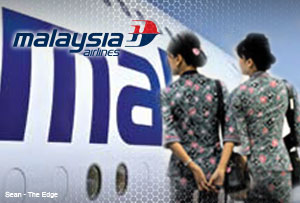 KUALA LUMPUR (Sept 18): Khazanah Nasional Bhd will set up a special centre to provide "outplacement support" to some 6,000 Malaysia Airlines (MAS) staff who will be made redundant as part of its restructuring process, according to a Bernama news report today.
The news agency, quoting a source familiar with the restructuring, said the focus of the outplacement centre (OPC) will be to extend all relevant professional, emotional and financial support to employees who would be leaving the national airline as they move on the next stage of their career.
Khazanah had, at the end of August, announced its 12-point plan to resuscitate the national airline which would see 6,000 jobs cut across the board and result in the emergence of a 'new' and leaner MAS come July 1, 2015 from its existing workforce of 20,000 employees.
The source said the OPC would help transition employees who have been identified under three categories – early retirees, job seekers and potential entrepreneurs.
The source also said the OPC would assume a crucial role in the restructuring process, not just for the 6,000 staff but also for the 14,000 employees who will move to the new MAS, where there will be assessment of employees who might be moving internally.
"Both sides of the fence will require support and counselling as they move to a 'different' work place and adjustments to be made within the different environments and requirements," he said.
The source also said that the 6,000 employees who will be made redundant are now being identified by human resource professionals who are currently looking into the job requirements post-restructuring.
"Having a third party to do this will eliminate biasness and favouritism, taking into account the proper principles of fairness, transparency and compassion," he said.
The news report said OPC, which comes under the auspicies of the Corporate Reskilling Centre (CRC), will cover areas such as financial and retirement planning, provision of career guidance and counseling, and linkages to possible recruiters as well as partnerships with potential statutory bodies.
It added that Khazanah and MAS have partnered with Scicom (MSC) Bhd and Sutherland Global Services to reskill MAS staff.