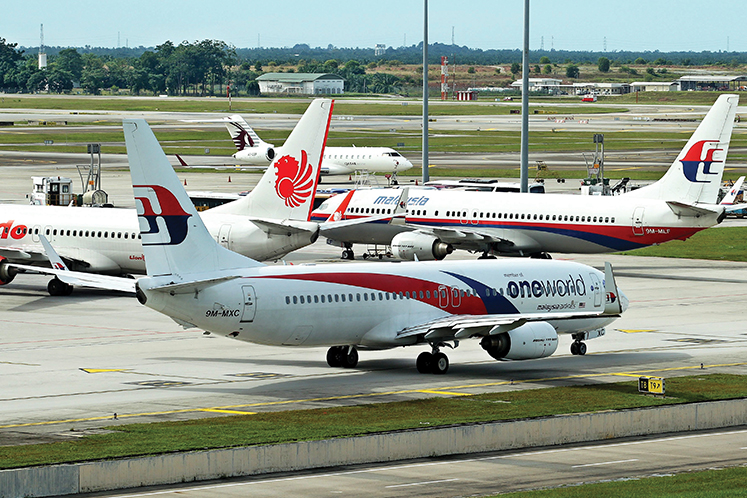 KUALA LUMPUR (June 11): Malaysia Airlines Bhd said it has not received any commitment by Khazanah Nasional Bhd for a RM5 billion funding as reported by Bloomberg earlier today.
"As we are currently realigning our long term business plan (LTBP) to the changing aviation landscape, we are in continuing discussions with Khazanah on the level of support needed moving forward," the national carrier said in a statement.
It was responding to Bloomberg's report, citing sources, that the sovereign wealth fund was considering providing as much as RM5 billion to Malaysia Airlines to see it through the Covid-19-induced slump in bookings.
To contain the impact of the crisis, Malaysia Airlines has embarked on measures including undertaking negotiations with aircraft lessors and vendors to manage payments and financial obligations, as well as offering unpaid leave and inducing salary cuts of between 10% and 35% among employees in order to sustain the airline's cash flow.
"We've also proactively removed capacity to manage our cost effectively.
"(These measures are) to protect those in the lower income bracket and to avoid possible job cuts in our effort to trim costs further," it said, adding that a number of business investments have been put on hold in view of the crisis.
It added that Khazanah, being its sole shareholder, has been supportive of its efforts to address and cope with the impact of the Covid-19 crisis to Malaysia Aviation Group Bhd, which houses Malaysia Airlines and its other entities including Firefly and MASwings.
The loss-making airline had flagged the possibility of going bust without government support as early as March amid travel bans and plummeting demand around the world. However, the airline said it was still in discussions with Khazanah on the financial support needed. The airline, which employs 13,000 staff, has held out on downsizing its workforce so far.
Read also:
Khazanah considers providing up to RM5 bil Malaysia Airlines aid — sources
Stay home. Get the news from theedgemarkets.com.