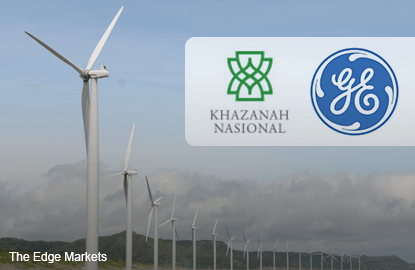 KUALA LUMPUR (March 31): Malaysian government investment arm Khazanah Nasional Bhd's wholly-owned subsidiary Cenergi SEA Sdn Bhd and US-listed GE signed a memoradum of understanding (MOU) today for a planned collaboration in the biogas industry.
In a statement, GE said today that it has signed the MOU with Cenergi to develop Malaysia's biogas industry.
"GE and Cenergi have been working together since 2013, with Cenergi running GE's Jenbacher gas engines using its palm oil mill effluent (POME) in their biogas projects. Cenergi has a combined generating capacity of 4,388 kWe, involving 4 units of Jenbacher gas engines for power export to the national grid.
"This collaboration will allow GE and Cenergi to further increase Cenergi's knowledge and expertise in handling the Jenbacher units [that] it owns and operates, by knowledge sharing, and technician training, allowing Cenergi to further improve the efficiency of its biogas plants and deliver better results to its customers," GE said.
Cenergi's chief operating officer Ezham Khalid said in the statement that the collaboration would establish Cenergi's position in the biogas market.
Ezham said the MOU formed a part of Cenergi's growth plan to position the company as a centre of excellence for biogas power plants in the country.
"We believe that this relationship with GE will provide us with the knowledge to further improve our customer offering and enable us to firmly establish ourselves as a key player in the biogas market.
"We foresee this collaboration to be the beginning of a mutually-beneficial relationship between us and GE," Ezham said.