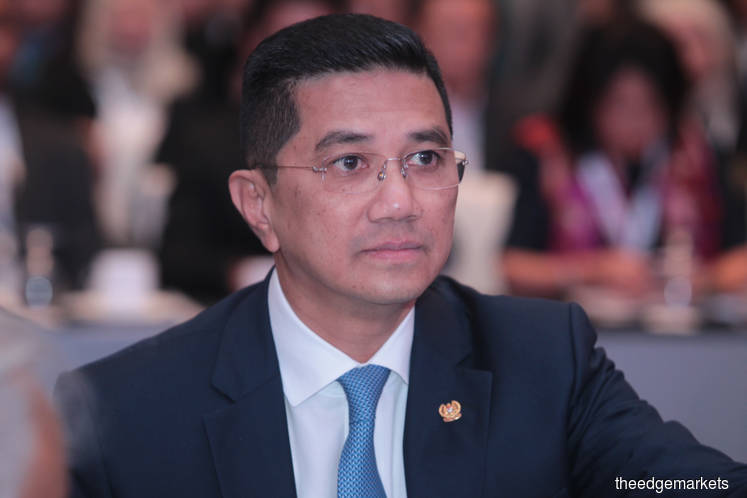 KUALA LUMPUR (Oct 10): During former Prime Minister Datuk Seri Najib Razak's rule, Khazanah Nasional Bhd had divested 84 assets between 2009 and 2018, when he was ousted in the 14th General Election.
Minister of Economic Affairs Datuk Seri Mohamed Azmin Ali told Dewan Rakyat that when Najib became the prime minister in 2009, Khazanah divested eight assets.
"In 2010, he divested seven assets; in 2011, eight assets; in 2012, 10 assets; in 2013, six assets; in 2014, six assets; in 2015, 10 assets; in 2016, nearing to election, he divested 13 assets; in 2017, 12 assets; and in first four months of 2018, Pekan divested four assets," he said during ministerial question time today.
Mohamed Azmin said divestments are ordinary business activities for Khazanah, as an investment fund.
"It is not something extraordinary. Divestments are also often done by other investment funds like KWSP and PNB. Divestments were done every year in the past, whether under the past management, or the new management appointed in December 2018," he said.
Mohamed Azmin said this is because Khazanah does not receive any external fund injection, and proceeds from divestments are the main source of funds for new investments.
"This is different from KWSP and PNB. Other than divestment proceeds, KWSP receives recurring contributions from employees, while PNB receives fund from investors in its unit trust," he said.
Mohamed Azmin said Khazanah will consider an asset divestment once an investment has achieved its financial targets, which are usually measured by profit from the business itself.
"Divestment also depends on the market condition, and the quality and credibility of the purchaser, this principle has been adopted in all divestments," he said.
Between May 2018 and June 2019, Mohamed Azmin said Khazanah has completed divestments amounting to RM18.8 billion, of which RM3.2 billion was from May 2018 to December 2018, and RM15.6 billion between January to June this year.
Mohamed Azmin said Khazanah is expected to register a more resilient financial performance for the financial year ending Dec 31, 2019 (FY19), as a result of the current management's restructuring effort.
"These initiatives include strengthening financial position, through reducing debts. After one year since we took over, Khazanah is successful in reducing debt by about RM8 billion from RM55 billion to RM47 billion, and expected to further reduce it to RM35 billion to RM40 billion in the medium term," he said.
"This is expected to be achieved through divestments done by Khazanah between 2018 and 2019. Part of the proceeds from divestments were utilised for debt repayments, while others were utilised for new investments. For FY19, Khazanah expected to register profit of about RM5 billion, versus loss of RM6.3 billion for FY18," he added.
Mohamed Azmin was responding to a question from Datuk Seri Ahmad Hamzah [BN-Jasin], who asked the government to state the current financial performance of Khazanah and the total disposal of shares, assets and other interests made since the Pakatan Harapan Government took over to date.