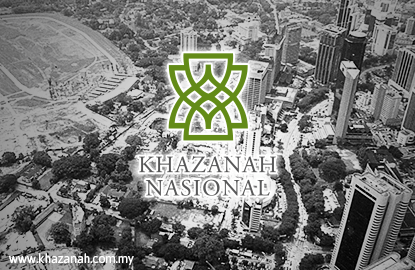 KUALA LUMPUR (Jan 13): Describing 2015 as a "roller coaster" year, Khazanah Nasional Bhd managing director Tan Sri Azman Mokhtar revealed that Malaysia's strategic investment fund's realisable asset value (RAV) rose by 3.2% to RM150.2 billion last year from RM145.5 billion in 2014.
However, given that the ringgit was among the world's worst performing currencies in 2015, Khazanah saw its net worth adjusted — RAV minus total liabilities — fall 1.6% to RM109 billion from RM110.7 billion the previous year.
"Our performance might be slightly worse than the FBM KLCI (which dropped by 1% last year), but we fared better than most of the reference regional markets," Azman told reporters at the 12th Khazanah Annual Review today.
In its presentation, Khazanah compared its investment portfolio against the KLCI, the Straits Times Index (which fell by 11.4%), the Jakarta Composite Index (-10.5%), the Hang Seng Index (-4%), Sensex (-3.7%), the Philippines Index (-2%), the Istanbul Index (-14.1%), the MSCI Emerging Markets (-14.9%), the MSCI Asia ex-Japan (-9.2%) and the MSCI AC World (-0.3%).
The sole index seeing growth in Khazanah's reference regional index was the Shanghai Index, which rose by 11.2% in 2015.
"The weak ringgit did have some effect on our foreign liabilities. Yes, we have US dollar-denominated assets like our shares in Alibaba Group Holding Ltd, which would have strengthened the asset value. On a net-net basis, the weak ringgit did have some effect on our investments, although not by much," Azman said.
Towards this end, he said Khazanah has capped its foreign liabilities to 30% of its investment portfolio, "when at one point, it was more than 50%".
Khazanah's RAV cover — the ratio of its RAV to liabilities — came to 3.1 times in 2015, down from the previous year's 3.7 times.
Khazanah's profit before tax also fell by 63.4% year-on-year for the financial year ended Dec 31, 2015 (FY15) to RM1.18 billion, from RM3.22 billion in FY14. This is the first time since the global financial crisis that Khazanah's annual profit fell, excluding FY12 because of PLUS Expressways Bhd's privatisation that occurred in FY11.
Despite weaker profitability, Khazanah increased its dividend payout to the government by 16.7% to RM1.05 billion in FY15, from RM900 million in the previous year.
"We might not be a listed company, but we want to have a dividend payout that is in line with major listed companies, where ideally you increase the payout gradually. And when there are years that you get a windfall, you declare special dividends," said Azman.
"It's not good to have a yo-yo pattern of dividends. The payout should have a steady progression," he added.
It should be noted that when Prime Minister Datuk Seri Najib Razak revised 2015's government budget last January, he called for government-linked companies and government-linked investment companies to increase dividend payouts to make up for the diminished oil-related revenue.
According to Azman, while Khazanah expects this year will be another bumpy one, the higher dividend payout and lack of profit growth last year would not affect Khazanah's fund, should it decide to make new investments this year.
"By other metrics, like our asset cover ratio, cash flow, liquidity, we have enough to take advantage of the market this year when there are opportunities," he said.
But this does not mean that Khazanah would not be careful with its investments this year, Azman said.
Looking at the first week of trading in 2016 when the world markets fell after Chinese stock markets had to be shut down in the two days of plummeting by 7%, he expects this year to see volatility continuing.
"We don't get funds coming in every month. It's not like a pension fund where there are new deposits coming in. We have to be careful with our investments," Azman said.
In 2015, Khazanah made 23 investments totalling RM8.7 billion and 10 divestments with gains of RM2.9 billion. To date, the fund has made a total of 144 investments worth RM74.7 billion, as well as 77 divestments with overall gains of RM22.3 billion.