This article first appeared in The Edge Financial Daily, on December 13, 2018.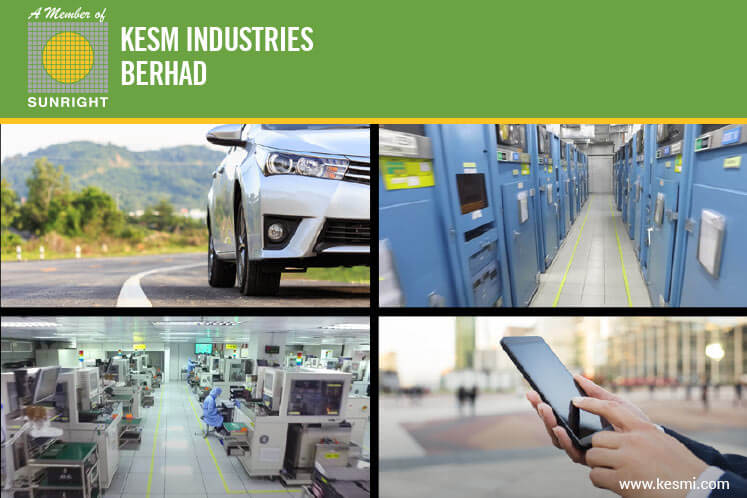 KESM Industries Bhd
(Dec 12, RM8.28)
Maintain hold at a target price (TP) of RM9:  We expect weak demand in KESM Industries Bhd's second quarter of financial year 2019 forecast (2QFY19F) due to ongoing inventory adjustment from its customers, but expect stronger demand recovery in the second half (2HFY19F). We cut our FY19F-FY21F earnings per share (EPS) by 7% to 8% to reflect lower utilisation and sales growth assumptions in China, which is directly impacted by the US-China trade war.
 
Retain "hold" with a lower TP of RM9. We prefer MPI.
We met up with KESM's management to discuss the group's outlook following weak earnings delivery in 1QFY19. We learnt that KESM's utilisation fell below 60% in 1QFY19 mainly due to inventory adjustment at its immediate customers in the light of the the escalating trade war. KESM was also impacted by higher raw material costs related to the electronics manufacturing services. The group expects flattish sales in 2QFY19 due to ongoing inventory correction by its customers.
In spite of the tepid near-term outlook, management is cautiously optimistic about a stronger 2HFY19 following healthy order visibility from its customers for February 2019. Nevertheless, it depends on the US-China trade war situation given that KESM's operation in China has felt the reduction in chip testing volume. Apart from that, we still expect stronger demand and adoption of electric vehicles to drive semiconductor component demand, which bodes well for KESM.
The group is guiding for lower capital expenditure (capex) of RM40 million in FY19F (versus RM48 million in FY18) in view of excess capacity following the last expansion in 2017. To recap, KESM incurred RM10 million capex in 1QFY19. In addition, management highlighted that KESM's depreciation expense has peaked and should gradually decline after FY19F. We gather that management could reduce operating expenditure by cutting staff costs, but it plans to retain all staff for now in anticipation of strong demand recovery in 2HFY19F.
We cut our FY19-FY21 EPS forecasts by 7% to 8% to account for lower utilisation in view of ongoing inventory adjustment by KESM's customers and lower growth projection in China due to the trade war. Meanwhile, we do not expect KESM to benefit from the ringgit depreciation given that the bulk of its transactions are denominated in ringgit.
We maintain our "hold" rating with a lower TP of RM9, based on a lower 12.8 times calendar year 2020F price-earnings ratio, which is a wider 20% discount to our sector target of 16 times in view of rising demand uncertainty following escalation in protective tariff environment.
Stronger-than-expected demand recovery in the automotive segment is a potential upside risk, while prolonged inventory adjustment due to the trade war is a potential downside risk. — CGSCIMB Research, Dec 11