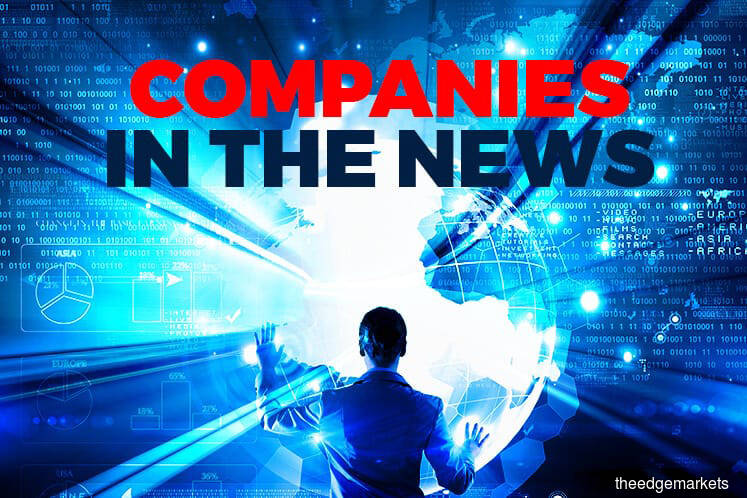 KUALA LUMPUR (Nov 22): Based on corporate announcements and news flow today, companies in focus on Thursday (Nov 23) may include: Kerjaya Prospek, Telekom, TSH, APFT, YTL Corp, IJM, Hovid, Econpile, KLK, China Stationery, Tambun Indah, TH Plantations, Genting Plantations and WCT.
Kerjaya Prospek Group Bhd's net profit jumped 35% year-on-year to a record RM34.41 million in the third quarter ended Sept 30, 2017, from RM25.49 million, driven by its construction segment which mitigated a slowdown in its manufacturing segment.
Quarterly revenue rose 20.7% y-o-y to RM229.94 million from RM190.47 million a year ago.
For the cumulative nine-month period, the group's net profit rose 30.4% y-o-y to RM96.16 million from RM73.75 million, while revenue jumped 23.4% y-o-y to RM703.36 million from RM569.88 million.
It also bagged a RM245.35 million contract to build an upmarket Triuni Condominium within "The Sanctuary" development in Batu Uban, Penang.
Telekom Malaysia Bhd's net profit for the third quarter ended Sept 30, 2017 rose 32.5% y-o-y to RM211.82 million from RM159.84 million, boosted by a foreign exchange gain.
Quarterly revenue inched up 0.6% y-o-y to RM2.94 billion in 3QFY17 from RM2.92 billion due to higher income from internet and multimedia services.
For the cumulative nine months ended Sept 30, 2017, TM's net profit rose 4.99% y-o-y to RM652.74 million from RM621.73 million, while revenue rose to RM8.89 billion from RM8.82 billion.
TSH Resources Bhd's net profit almost tripled to RM30.69 million in the third quarter ended Sept 30, 2017 from RM11.09 million a year ago on strong fresh fruit bunch (FFB) production growth, coupled with higher crude palm oil selling price of RM2,576 per tonne in the current quarter under review.
TSH reported a 20.4% y-o-y rise in 3QFY17 revenue to RM256.82 million from RM213.26 million.
For the first nine months of FY17, TSH's net profit rose 15.9% y-o-y to RM92.34 million from RM79.65 million, while its revenue grew 27.9% y-o-y to RM803.55 million from RM628 million.
APFT Bhd executive chairman Datuk Faruk Othman had resigned from his post on Nov 6 this year, because he is no longer the majority shareholder of the flight training provider.
APFT said Faruk also had a "disagreement with the executive director Edwin (Sylvester) Das".
YTL Corp Bhd's net profit slipped 5% to RM142.9 million in the first quarter ended Sept 30, 2017 from RM150.33 million a year ago, as the group paid more tax and booked higher costs of sales and finance.
In the quarter, taxation rose 57% y-o-y to RM130.53 million from RM83.15 million; cost of sales grew 11% y-o-y to RM2.79 billion from RM2.51 billion, while finance costs rose 37% y-o-y to RM419.92 million from RM306.62 million.
Revenue for the quarter, however, grew 13% y-o-y to RM3.93 billion from RM3.49 billion, on higher revenue contribution from all its business segments.
IJM Corp Bhd has bagged a RM1.5 billion (2,325 crore rupees) contract to develop the Solapur-Bijapur section of the new National Highway 52 between the states of Maharasthra and Karnataka in India.
IJM said it has accepted the letter of award from the National Highways Authority of India for the project, which will be on a design, build, finance, operate and transfer basis.
Work is expected to begin in mid-2018 and is scheduled for completion in 2021.
Hovid Bhd's managing director David Ho and private equity firm TAEL Two Partners Ltd, who have offered to take over the company, have lowered the acceptance condition threshold to 75% from 90%.
That means the offer is now conditional on the joint offerors receiving more than 75% of the pharmaceutical company's shares, including shares already held or acquired.
They also made a second extension to the cut-off date for the acceptance of the offer, to Dec 7 from Dec 4. The original deadline was Nov 20.
Econpile Holdings Bhd's net profit for its first financial quarter ended Sept 30, 2017 climbed 28.9% to RM21.19 million from RM16.45 million a year earlier, thanks to higher revenue.
Econpile said quarterly revenue jumped 48.1% y-o-y to RM168.90 million from RM114.08 million due to significant progress billings from larger-ticket projects, including works for iconic properties like Maju Kuala Lumpur, Oxley Towers KLCC and Pavilion Damansara Heights.
It declared a first interim dividend of 1.5 sen per share.
Kuala Lumpur Kepong Bhd (KLK) reported a 35.4% y-o-y drop in its fourth financial quarter's net profit to RM242.12 million from RM375.06 million, on higher tax expenses.
Revenue for 4QFY17 was 13.7% higher y-o-y at RM5.16 billion compared with RM4.54 billion previously, on higher revenue from its manufacturing sector, through higher sales volume and better selling prices. It declared a final single tier dividend of 35 sen per share.
For the full year ended Sept 30, 2017, KLK reported a 36.9% drop in net profit to RM1 billion from RM1.59 billion in FY16, while revenue was 27.2% higher at RM21 billion from RM16.5 billion.
Bursa Malaysia has directed China Stationery Ltd (CSL), whose share price hit an all-time low of 3.5 sen today, to have its financial report for the third quarter ended Sept 30, 2017 reviewed by its external auditors prior to its issuance.
CSL said the directive received from the regulator on Nov 21 states that the scope of the review by the auditors shall cover the assessment and verification of material litigations involving CSL's subsidiaries.
The review should also verify CSL's existing cash and bank balances, as well as its trade and other receivables and revenue.
Bursa also directed CSL to have its advertisement expenses amounting to RMB146.2 million (RM90.8 million) for financial year ended Dec 31, 2016 reviewed by the external auditors.
The regulator has directed CSL's board to announce on Bursa Malaysia by this Friday steps that will be taken by the company to address the issues above.
Tambun Indah Land Bhd plans to launch three new developments with a combined gross development value of RM213 million over the next 12 months.
On the same day, it announced its net profit for the three months ended Sept 30, 2017, fell 5.3% to RM23.89 million from RM25.23 million a year ago, on fewer ongoing projects and lower new property sales. Quarterly revenue dropped 16.9% to RM70.97 million from RM85.44 million.
It declared a first interim dividend of 3 sen per share.
For the cumulative nine months, its net profit declined 12.2% y-o-y to RM67.97 million from RM77.41 million, while revenue fell 20.6% y-o-y to RM221.56 million from RM279.08 million.
TH Plantations Bhd's third-quarter net profit slumped 40.27% y-o-y to RM11.45 million from RM19.18 million, due mainly to higher finance cost.
Revenue for the quarter ended Sept 30, 2017, however, improved 11.29% to RM189.54 million from RM170.31 million, on higher production and sales volume, as well as higher realised crude palm oil price. It declared an interim dividend of 1.6 sen per share.
For the cumulative nine months, net profit rose 52.23% to RM29.85 million from RM19.61 million a year ago. Revenue surged 30.28% to RM511.01 million from RM392.23 million previously.
Genting Plantations Bhd's net profit in the third quarter ended Sept 30, 2017 fell 19% y-o-y to RM76.51 million from RM94.16 million, on lower contributions from its Malaysian plantation operations and its property segment.
Quarterly revenue, however, rose 8% y-o-y to RM429.36 million from RM396.67 million, on higher FFB production in Indonesia, and higher sales of refined palm products, which more than compensated the lower FFB production in Malaysia and lower revenue recognition from the property segment.
For the first nine months of FY17 (9MFY17), its net profit rose 48% y-o-y to RM220.01 million from RM148.97 million a year ago, as revenue grew 32% to RM1.28 billion from RM966.67 million.
WCT Holdings Bhd's net profit for the third quarter ended Sept 30, 2017 grew 70.2% y-o-y to RM40.8 million from RM24 million, mainly on stronger contribution from its local construction division.
Quarterly revenue rose 13.4% y-o-y to RM469.8 million from RM414.4 million, its Bursa Malaysia filing showed.
For its first nine months of financial year 2017, net profit jumped 47% y-o-y to RM95.3 million from RM64.9 million, though revenue slipped 10.4% y-o-y to RM1.33 billion from RM1.48 billion.