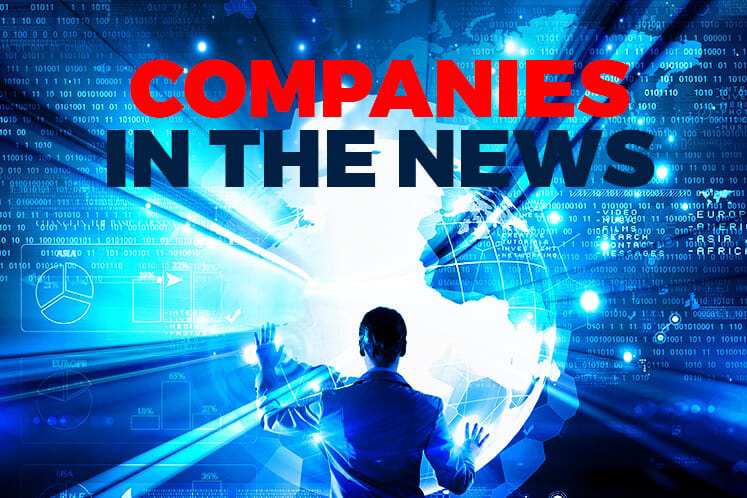 KUALA LUMPUR (April 16): Based on corporate announcements and news flow today, stocks in focus for Wednesday (April 17) may include the following: Kelington Group Bhd, Kumpulan Perangsang Selangor Bhd, BIMB Holdings Bhd, UEM Edgenta Bhd, Gadang Holdings Bhd, MCE Holdings Bhd, Brahim's Holdings Bhd, Ikhmas Jaya Group Bhd and Handal Resources Bhd.
Kelington Group Bhd has clinched several new orders totalling RM53 million, bringing the group's total value of new orders secured to RM146 million in the first quarter ended Dec 31, 2019.
It said these new contract wins were largely for specialised engineering works under the ultra high purity (UHP) segments for wafer fabrication in China.
Kumpulan Perangsang Selangor Bhd said its wholly-owned subsidiary Perangsang Packaging Sdn Bhd has proposed a selective capital reduction (SCR) and repayment exercise for industrial packaging firm Century Bond Bhd at RM1.75 per share.
The group said the proposed SCR allowed Century Bond's minority shareholders to monetise their investments in the company, which was taken private by Perangsang Packaging more than two years ago.
The entitled shareholders will receive a total capital repayment of RM2.15 million, which represents a cash repayment of RM1.75 per share.
BIMB Holdings Bhd's unit Bank Islam Malaysia Bhd aims to achieve an investment funds growth of RM800 million this year, driven by the launch of its enhanced Al-Awfar product, which includes new features and attractive offers for customers.
Chief executive officer Mohd Muazzam Mohamed said the bank is also looking to attract 230,000 new customers this year via the product, adding that Al-Awfar had been successful in attracting new customers since it was launched in 2009.
UEM Edgenta Bhd's unit Opus Consultants (M) Sdn Bhd has been named the project management consultant (PMC) by the Sarawak Government for its RM11 billion Coastal Road Network and Second Trunk Roads project.
Opus Consultants, which was recently awarded the first package of the project worth RM50 million, would be working with the Sarawak Public Works Department in providing overall project management and technical expertise.
This includes overseeing key deliverables within the project work scope such as preliminary and detailed designs of 20 work packages ranging from the development of new roads and bridges, including four iconic cable-stayed bridges and pavement rehabilitation works.
Gadang Holdings Bhd has bagged a contract worth RM38.52 million to build a tiered bridge connecting the northern and southern sites of Tun Razak Exchange Development (TRX) from TRX City Sdn Bhd.
Its unit Gadang Engineering (M) Sdn Bhd was awarded the contract to build the bridge, comprising a passage for vehicles, walkways for pedestrials, and a closed passage for utility installations on the ground floor.
The project is expected to commence on July 1 and is targeted for completion in the third quarter of 2020.
MCE Holdings Bhd is teaming up with two Taiwanese firms to manufacture and market camera and audio-visual related products for the automotive industry.
MCE said its wholly-owned subsidiary MCE Ventures Sdn Bhd (MCEV) has inked a Memorandum of Understanding with Fortechgrp Co Ltd and Weltronics Co Ltd (WTC) to establish a joint-venture. Fortechgrp will own a 51% stake in the JV, while MCEV and WTC will hold stakes of 29% and 20% respectively.
MCE said the three parties will leverage on each party's expertise, with Fortechgrp assisting in the manufacturing and assembly of camera and audio-visual related products.
MCEV, meanwhile, will assist in promoting camera and audio-visual related products, while WTC will provide technology for product development, technical assistance and information for manufacturing the camera and audio-visual related products.
PricewaterhouseCoopers (PwC), the external auditor of Brahim's Holdings Bhd (BHB), has made an unqualified opinion on the latter's financial statements, highlighting a material uncertainty related to the group's going concern.
The auditor pointed to Note 2 in the group's financial statements for the year ended Dec 31, 2018  which stated that Brahim's had incurred a net loss after tax of RM116 million and RM59.6 million at the group and company level, while liabilities had exceeded current assets by RM56.6 million and RM80.2 million respectively.
The auditor said Brahim's also did not meet certain financial covenants for a term loan as at Dec 31, 2018.
It said the losses incurred by the group, coupled with the net current liabilities, has indicated the existence of a material uncertainty that may cast doubt over the group's ability to continue as a going concern and therefore may not be able to realise the assets and discharge the liabilities in the normal course of business.
Separately, Brahim's executive chairman Datuk Seri Ibrahim Ahmad said the group is aiming to double the revenue contribution from its non-airline catering services in the next three to five years. Currently, its non-airline catering services only makes up about 1% to 2% of its revenue contribution.
Ibrahim said the caterer aims to maximise the capacity of its kitchen, which now produces about 45,000 meals per day for its in-flight catering services, compared with the optimal level of 65,000 meals per day.
Ikhmas Jaya Group Bhd has for the third time deferred the construction of its new prefabricated building system manufacturing facility in Teluk Panglima Garang, Selangor.
The piling specialist cited the same reason as before for the deferment — there has been no sufficient successful tenders for projects which could utilise the prefabricated building components.
The group had as early as October 2014 sought to convert the land use and set up the facility, and had projected to obtain the certificate of completion and compliance by end-February 2017.
However, it announced a deferment of the construction in March last year. In September, a further postponement of the project was announced.
Handal Resources Bhd today inked a share sale agreement that would pave the way for a reverse takeover (RTO) of the integrated offshore crane services provider by oil and gas (O&G) player Borneo Seaoffshore Engineering Sdn Bhd (BSOE) in a deal worth RM25.5 million.
Handal said it has signed a conditional share sale agreement with SeaOffshore Capital Sdn Bhd to acquire 408,000 shares or a 51% stake in BSOE, and that consideration would be satisfied via the issuance of 42.86 million new Handal shares and 26.06 million new irredeemable convertible preference shares (ICPS) in Handal at 37 sen each.
SeaOffshore Capital is already a major shareholder of Handal, holding a 14.85% stake. After the proposed acquisition, which is slated for completion in the third quarter of 2019, SeaOffshore Capital will hold a 31.55% – just short of the 33% threshold required to trigger a mandatory general offer.
But upon the completion of the exercise and assuming full conversion of the ICPS, SeaOffshore Capital's shareholdings will increase to 39.82%, which would then trigger an MGO.