This article first appeared in The Edge Malaysia Weekly, on March 1, 2021 - March 07, 2021.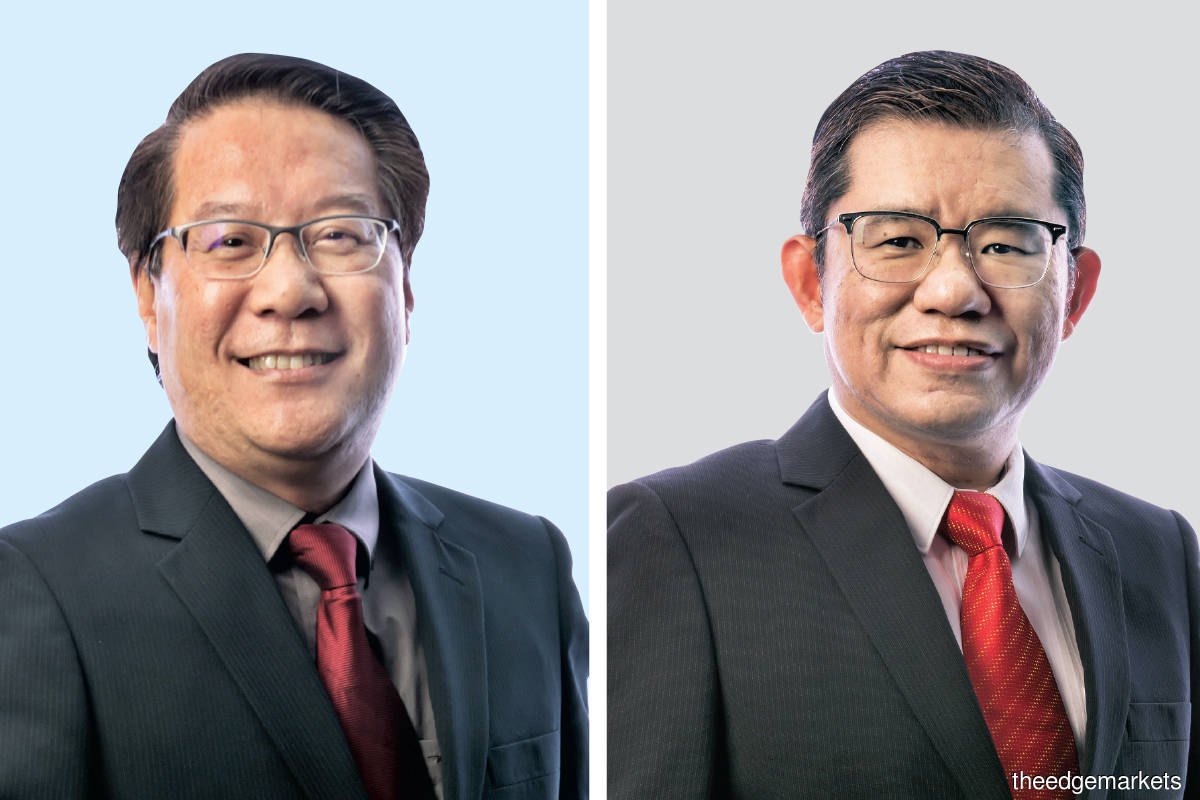 KELINGTON Group Bhd (KGB) has been providing ultra-high purity (UHP) gas delivery solutions to the electronics and semiconductor industry since it was founded in 2000.
Although it has diversified its businesses over the years into process engineering (PE) and general contracting (GC), while gradually expanding its clientele base to include non-semiconductor customers, the UHP business remains its bread and butter.
About two years ago, KGB ventured into the industrial and specialty gases business, which is said to be worth RM1.4 billion to RM1.5 billion in the Malaysian market alone. The segment is now anticipated to become the new growth engine for the group.
"As a group, our total order book (for all businesses) has been growing at a compound annual growth rate (CAGR) of 15%-18% over the past five years. Considering that semiconductor is on the upcycle, and we are expanding aggressively in the industrial gas business, I believe we should be able to maintain our growth momentum in the next couple of years," KGB founding executive chairman and CEO Raymond Gan Hung Keng tells The Edge in a virtual interview.
KGB was listed on the ACE Market of Bursa Malaysia in 2009, before migrating to the Main Market in 2012. Currently, the group has operations and offices in Malaysia, Singapore, China and Taiwan.
Gan, 57, is a major shareholder of KGB with 21.75% equity interest, 21.02% of which is held through Palace Star Sdn Bhd, a private vehicle co-owned by him, Steven Ong Weng Leong and a few other partners.
Ong, 53, is an executive director and chief operating officer of KGB. According to him, the group is set to ride the semiconductor boom as there are no signs of a slowdown in spending or expansion by multinational corporations (MNCs), despite the uncertainties brought about by the Covid-19 pandemic and the US-China trade war.
"Semiconductor players will always be our major clients. What we love about semiconductors is that the industry has to keep expanding as technology evolves. It is not the typical manufacturing industry where you build a factory and it could last for 20 years. For semiconductor firms, they have to keep investing in new wafer fabs, which means more projects for us. It is like a forever sunrise industry, because we are always chasing them," says Ong.
The UHP business contributes about 60%-70% of KGB's total revenue, with another 20% from the PE segment, and the remaining 10% from GC.
"Our PE division basically engineers and constructs mechanical and electrical systems that support industrial processes across various sectors, whereas our GC division is to support clients with our full-service range of contracting and construction management services. We build large-scale and small-scale plants for petrochemical and oleochemical companies. We also do civil and construction works for them," Ong explains.
Serving high-end customers
Going back to the UHP business, KGB serves mostly high-end customers, including wafer fabricators, TFT LCD players, as well as photovoltaic (PV) solar cell makers. These clients are in the upstream of the semiconductor value chain as they make integrated circuits (ICs) or chips, which is capital intensive.
Gan says semiconductor companies fabricating wafers and chips need to operate in an ultra-clean environment as dust and particles can short-circuit the ICs.
"They need an ultra-clean gas and chemical system to bring into their machines, so that there will be no contamination while they fabricate wafers and cut their chips. When there is a fault in their chips, their production yield will be affected. That's why wafer fabs have to ensure that the gas and chemical lines are super clean," he explains.
There are only three wafer fabricators in Malaysia, namely SilTerra Malaysia Sdn Bhd, Infineon Technologies, and X-Fab.
"Today, most of the major wafer fabs are in Taiwan and China, followed by Singapore, South Korea and Japan. Our prominent clients include Semiconductor Manufacturing International Corp (SMIC) of China, Taiwan Semiconductor Manufacturing Co (TSMC), Infineon, Seagate, and Micron in Singapore," says Gan, adding that the group established its business presence in China 18 years ago and has a strong customer base there.
"In December last year alone, we were still securing new orders from these MNCs, including SMIC, which recently asked us to expedite as much as we could. But one thing to note is that we do not depend on SMIC alone, although they are our single biggest client at the moment," Gan stresses.
"Fortunately, we had a clean sweep of all their (SMIC's) four projects in China last year. With our track record, we are confident of achieving the same this year," he says.
Meanwhile, Micron and GlobalFoundries are also reportedly expanding their wafer fab capacity in Singapore, which is positive news for KGB, Gan observes.  
"TSMC is actually our indirect client, but our exposure to the Taiwanese clients and market is still relatively small," he adds.
KGB's main competitors in the UHP business include Shanghai-listed PNC Process Systems Co Ltd, Shanghai GenTech Co Ltd, Kinetics from the US, and Marketech from Taiwan.
Gan acknowledges that major semiconductor MNCs are currently still cautious about spending, but he believes that once the pandemic is over, they will invest heavily and expand aggressively.
"We foresee that the industry will continue to experience an upcycle in the next one to two years. Despite the global chip shortage and regardless of the outcome of the trade war, we believe KGB will still be a beneficiary of the global semiconductor trend. It's going to be a busy year ahead for us," he says confidently.
New growth engine
Going forward, the industrial and specialty gases business is expected to be one of the main growth drivers for KGB.
"Our exposure to this market segment will probably be about RM20 million this year, which is very small if you look at the Malaysian market size of RM1.4 billion to RM1.5 billion, but that also means huge room for us to grow," Gan says optimistically.
In the industrial gas business, KGB's main competitor is The Linde Group. KGB's niche is liquid carbon dioxide (CO), which is widely used in the food and beverage (F&B) industry, including carbonated drinks. Ong says the group's plant in Kerteh, Terengganu, can produce about 50,000 tonnes of liquid CO per annum.
"We take the waste gases directly from the gas processing plant of Petronas, and convert them into our products. Currently, we are running at 50% utilisation rate. We will expand when we hit full capacity," he says.
Besides F&B players, KGB also sells its CO products to refillers of cylinders, which resells them to construction companies for welding purposes.
In addition, KGB operates a dry ice plant in Bukit Jelutong, Shah Alam. Dry ice is essentially liquid CO that is solidified and pressed into ice form.  
"We have been serving airlines such as AirAsia and Malindo, as well as in-flight caterer Brahim's, which are badly hit by the pandemic. We now serve mainly the ice-cream makers, including Baskin-Robbins, and funeral parlours," Ong reveals.
For this business, KGB's main market is Malaysia, followed by Singapore.
"We have yet to expand into China and Taiwan. In future, we might be able to serve the durian companies, as well as poultry and seafood companies," Ong remarks.
Year to date, shares of KGB have gained 35% to close at RM2.28 last Wednesday, which translates into a market capitalisation of RM732.8 million.
Commenting on the strong share price performance, Gan says it reflects the confidence of investors who believe in KGB's growth story.
"If you look at us as a high-tech company, our price-earnings ratio (PER) is still quite low. Some of the semiconductor supporting players are currently trading at about 60 times. We are still at 30 times (at the time of interview). We hope investors would re-rate us as a high-tech company, not a trading and services company," he says.
According to Bloomberg, the counter is currently trading at a historical PER of 39.9 times.
KGB saw its net profit decline 29.9% to RM17.11 million in the financial year ended Dec 31, 2020 (FY2020), as the group incurred some "unavoidable direct costs" and faced a "longer project timeline" due to the additional standard operating procedures across all key markets.
On its balance sheet, KGB remains healthy in a net cash position of RM73.6 million with total gross cash in hand of RM132.0 million, exceeding its total debt of RM58.3 million as at Dec 31, 2020.