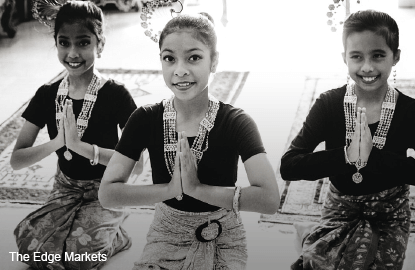 This article first appeared in The Edge Financial Daily, on 30 November, 2015.
FAZLIN Abu Hassan Shaari was a high-flying corporate lady who worked for big companies as a finance specialist at PwC, CIMB and Media Prima Bhd. For 15 years, she worked many hours a day, hardly having any time for her personal life. Until one day, she decided that she needed a break from the corporate world, so she quit her job and went on an extended vacation around the world. During her travels, she not only managed to rediscover her passion, but found herself interacting with children, whom she noticed were more in tune with their technological devices than anything else.
Fazlin discovered that often, young children are unable to hold a conversation with an adult, or even answer simple questions such as "What did you do at school today?" Inspiration struck when she met up with an old schoolmate, Nina Haslinda Umar, who noted that her shy daughter blossomed and gained confidence after being actively involved in performing arts. For Fazlin, who spent her high school years performing traditional Malay dances in school, the answer was clear as day — why not start a dance school that focuses mainly on traditional dance?
"People have this notion that traditional dance is inferior or isn't as serious as popular forms of Western dance such as ballet. What we're trying to do is to break these stereotypes by creating a structure for traditional dancing that is similar to that of ballet so that students can progress from one level to another, because there is currently no such thing in Malaysia," said Fazlin.
Fazlin, together with several old friends—Nina, Zuhaida Zulkifli and Safariyanti Mario Mahamud—decided to make their dream a reality. Earlier this August, they opened their dance school aptly named, Tunas Tari. The school currently has three studios: the main studio in Taman Melawati, and two others in Country Heights Damansara and Sri Hartamas.
Starting with a handful of part-time teachers, all of whom are dancers from the National Academy of Arts, Culture and Heritage, the school quickly expanded and hired two full-time teachers, Ayub Md Tshir, who is the head of studio operations and Nieza Yusoff, who is the assistant manager. Ayub started his career in the arts in 1987, and from 1990 to 2012, he was part of the Petronas Performing Arts Group (PPAG). Similarly, Nieza was also a member of PPAG until the group was dissolved in 2013.
Both Ayub and Nieza specialise in traditional Malay dance, while other part-time teachers such as Rizzie John, Wong Chi Ying, Fauzi Amirudin and Mohd Arif Nazri Samsudin also teach the students traditional Chinese, Indian, Sabahan and Sarawakian dance.
Fazlin believes that performing arts is one of the best ways to bring out confidence in young children, as they acquire a new skill that they truly enjoy, and perform in front of an audience. Tunas Tari showcases a year-end production, a culmination of what the students at the school learned throughout the year.
The founders have a vision of expanding Tunas Tari into an entity designated as an integrated children's activity centre, providing lessons in arts and crafts, languages and other performing arts, with particular emphases on local culture such as traditional dances, storytelling and book reading sessions focusing on cultural folklore and traditional games.
"We are already getting inquiries from outstation parents who are hoping that we'll soon open up branches in other states as well. Within a three-year period, I hope that we will have a standardised curriculum that incorporates all of the local traditional dances that we have so that we can expand. Our goal is to break the psychological barrier that we are separate because of our race, because first and foremost, we are all Malaysians, and that identity should come first," Fazlin elaborated.
Further down the line, she hopes that they would have come up with a recipe which would enable them to transform the school into a business that can be franchised so that Malaysians all around the country can benefit. One day, the school might see itself becoming so successful that it may succeed in entering other countries as well, starting with those that have a big Malaysian population.
Capoeira, a traditional Brazillian martial art that combines elements of dance, acrobatics and music, has today exploded in popularity — hundreds and thousands of dance schools around the world now offer capoeira classes, and it is Fazlin's hope that in the future, traditional cultural dances originating from Malaysia will enjoy the same sort of success. Dances like joget, inang, zapin and Mak Yong may someday become accessible to anyone who is interested to learn it, so these dwindling art forms may be spared from extinction all together.
This school holiday season, Tunas Tari has put together a comprehensive schedule for children which includes a host of dance classes like Mak Yong, joget, inang, zapin, asyik, Chinese, Indian, ethnic Sabah and Sarawak and music classes such as gamelan and kompang. Rosnan Rahman, Malaysia's Mak Yong maestro who is fondly referred to as the Malaysian Pak Yong will be coming on board as one of the special guest teachers to impart his knowledge on the art.
Classes for both children and adults are available for the Mak Yong dance. Additionally, there will also be arts and crafts classes teaching kids to make wau bulan, kits, doko and cucuk sanggul, ketupat and sirih junjung. These school holiday classes will run from now until Dec 27.
---
For further information on the classes offered as well as class schedules, visit www.tunastari.com or call (03) 4161 0002.