This article first appeared in Personal Wealth, The Edge Malaysia Weekly, on December 31, 2018 - January 06, 2019.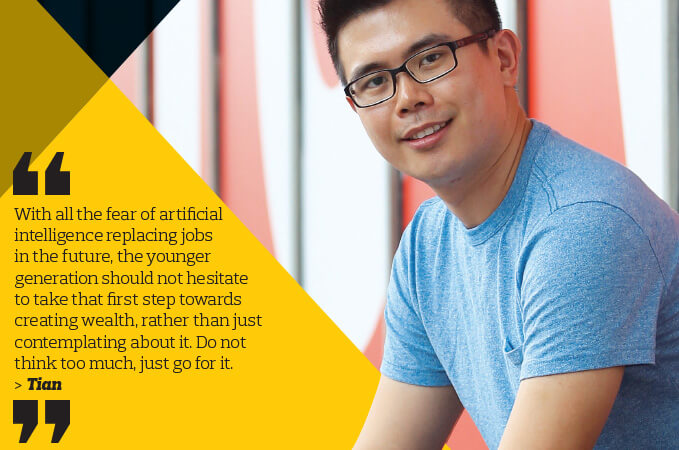 As the only child of his well-to-do parents, Venon Tian wanted for nothing when he was growing up. But one day, his mother told him that they could not afford to put him through college as the family business had failed.
So, Tian had to look for a way to fund his studies. He did some research and listed down ways he could make enough money to pay for his A-levels.
One of them was to dress up as a clown and perform to "earn up to RM400 per hour". But he eventually decided to start a business after looking at the various opportunities.
"I was lucky to be surrounded by people who were willing to help and guide me in setting up my first online business. Some of them provided resources too, so I learnt from there," says the 31-year-old.
His aunt, who was residing in Australia, told him how online shopping had become all the rage there. So, he started small by selling football jerseys, something he personally liked but had never owned. He bought his stock from the factory outlet stores in the Klang Valley at a discount and sold the jerseys at a price that was "slightly lower than the original retail price" to Australian customers.
"I started selling on eBay Australia when I was 18, and profit from the difference in currencies. When I could finally afford an original jersey for myself, I realised that it could be a good business opportunity," says Tian.
His business was a success. With the profit he made and the ang pow money he saved over the years, he had enough funds to not only pay for his A-Levels but also enjoy a comfortable lifestyle.
"I made good money, but I also spent a lot. I went clubbing and enjoyed making modifications to my car, which I could afford to. In hindsight, I should have saved more money so that I would be in a better position right now," says Tian.
The profit he made from the business also helped to fund most of his expenses when he was doing his law degree in the UK. "My parents helped out a little with their Employees Provident Fund (EPF) savings," he says.
After graduation, Tian worked in the UK for a few years at a retail chain that sold second-hand goods. "[While working there,] I decided to continue doing business because I thought I would be quite good at it compared with being a lawyer," he recalls.
Tian returned to Malaysia and joined a multinational corporation (MNC), focusing on e-commerce. Then, he was poached by local angel investor Tan Swee Yeong of SYT Capital Sdn Bhd to set up a business and again, he was bitten by the entrepreneurship bug.
"We ran a chain of coin laundromats, and along the way, SYT acquired venture builder Hermiso Ecommerce Sdn Bhd from Sumitomo Group of Japan. Prior to the acquisition, Hermiso was tasked to run a company that was a duplication of a Japanese grocery store in Malaysia, but the business did not do so well," says Tian.
"After taking over, we ran the business for a few months, but found that it was not a good fit. So, we shut it down in 2016 and used the remaining cash to invest in smaller start-ups.
In addition to being chief operating officer of Hermiso and head of operations at SYT Capital, he is also co-founder of eziPOD, which was launched last year. The business allows users to drop off and pick up their laundry at smart lockers in 25 locations across the Klang Valley. It is the first 24-hour dry-cleaning service, as well as the first fully-automated, full-service laundry locker system, in the country.
"I chose to start eziPOD as I already had experience in the laundry business. While the previous coin laundromat business catered for the lower-income segment, we are targeting the middle and upper-middle-income market with this service," says Tian.
On the business model, he says investors can take up an eziPOD licence for RM18,888. "Licensees get a 25% share of the revenue. Basically, eziPOD collects 75% of the revenue from them, which covers production and logistics costs."
Tian has been quoted in the media as saying that eziPOD's revenue has been increasing steadily at about 25% month on month as it gains a larger footprint with more licensees signing up. The business aims to increase its revenue by providing deliveries.
Tian's vision is to build the largest locker network in the country — taking a cue from Japan, where logistics companies install lockers for users to pick up their parcels, thereby doing away with problems such as the need for redeliveries.
He attributes his achievements as a serial entrepreneur to the financial hardship that his family went through. "I had no choice but to learn how to make money. Eventually, I learnt that entrepreneurship was something that I could pick up easily," he says.
Wealth has always meant cold hard cash and other real assets to Tian, unlike other millennials who also consider their experiences as wealth. "I learnt through the hardship that with money, you can do a lot of things. And to create wealth, you must work hard, spend more time focusing on things you are good at and eventually 'get there'," he says.
"My philosophy is to find something that you want or is close to your heart, work hard to find opportunities and then see how you can start a business out of what you like."
Now that Tian has a more comfortable life, generating wealth means clearing the path to financial freedom, rather than trying to be rich. But he admits to having an ambition to become a millionaire when he was younger.
"That involved glamour, ego and pride. But now that I am a grown-up, it is more about making sure everyone in the family is fed well and they are happy," he says.
Moderately aggressive investor
Tian first tried his hand at investing at the age of 20, when he placed some money in a unit trust with CIMB Wealth Advisors. His investment only lasted a year as he cashed out before leaving for the UK to further his studies.
"Being a typical millennial, I wanted instant gratification. There were no movements in the investment so I thought it was a bad one, even though it was only a year old," says Tian, who now knows better than to give an investment just 12 months to get a good return.
Upon returning from the UK, he set his sights on two types of assets to become more financially healthy — insurance and real estate. "I chose to get insurance because when I was in the UK, I had the national insurance plan. So, if anything untoward happened, I could have just gone to a hospital without having to pay for anything," he says.
As for real estate, Tian managed to afford the down payment of a property with the money he earned in the UK. "I lived in that house for a few years when I was working with the MNC. But I sold it last year as I was able to get a good price," he says.
Despite describing himself as a conservative investor, Tian has invested in and traded cryptocurrencies. "I managed to catch that wave and went with the millennial mentality of aiming for quick returns. So, after investing in them late last year, I decided to buy the dips and sell the peaks," he says.
"Trading is more rewarding, but it requires a lot of time and focus, which I do not really have. So I did that for a few months before backing out."
Tian says that for any kind of investment, he sets a cap for the amount he is willing to lose. This approach, he believes, makes him a moderately aggressive investor.
"In terms of my current asset allocation, I have some properties, some equities, insurance savings plans and fixed deposits. I also put money in my EPF account consistently," says Tian.
However, he adds that he has been on the safer side of things when it comes to investments as he has had to focus most of his time and energy on growing eziPOD.
On wealth creation, his advice to the younger generation is: "With all the fear of artificial intelligence replacing jobs in the future, the younger generation should not hesitate to take that first step towards creating wealth, rather than just contemplating about it. Do not think too much, just go for it. You have time on your side. If you fail, you will still have time to recover and be successful."