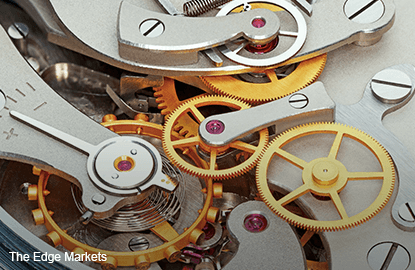 This article first appeared in The Edge Financial Daily, on December 3, 2015.
IT has been at least a decade or two since anyone living in the industrialised world has needed a watch to tell the time. With the rise of mobile phones, iPods and laptops, we've been able to know, with very little effort, the exact time of day. Nowadays, with a simple touch of a phone's screen or a casual glance at a car's dashboard while driving, we can decide whether we're going to be late, or if we still have ample time to accomplish whatever we are doing.
According to the people whose lives revolve around the watchmaking industry, watches are no longer a necessity — they have become a novelty. People no longer buy watches because they need to know the time while on the go, they buy watches because of the emotional value that a finely-crafted piece of engineering holds.
During the quartz revolution that took over the world by storm in the 1970s and 1980s, mechanical watches' popularity plunged, hundreds of celebrated Swiss watchmakers that had enjoyed a near-monopoly of the market disappeared altogether, and cheap, digital watches started to dominate the market. It was then that traditional mechanical watches found their niche amongst wealthy collectors. These sought-after timepieces were valued for their elaborate craftsmanship, aesthetic appeal, and complications such as tourbillons, moon-phase displays and minute repeaters.
Today, independent watchmakers enjoy a small but powerful market that demands the highest quality, most intricate designs and complications that one can find in a little watch. Collectors are willing to spend hundreds of thousands of dollars to own one of several dozen watches; safe in the knowledge that they will probably not encounter someone else walking down a street who is wearing the exact same thing.
The appeal of watches made by independent watchmakers is two-fold — firstly, they are rare owing to the fact that they are never mass-produced, and secondly, they usually hold more of an emotional value for the designers and creators that do not have to bow to the pressures of a huge customer base nor a board of directors that curb their ideas and imagination.
We had the rare opportunity to peer into the fascinating world of watchmaking last week by interviewing Thilo Mühle (Mühle Glashütte), Peter Speake-Marin (Speake-Marin), Christine Hutter (Moritz Grossmann), Manuel Emch (Romaine Jerome) and Franc Vila (Franc Vila), all of whom were in Kuala Lumpur to be part of A Journey Through Time, Asia's premier watch and jewellery showcase, held annually at Starhill Gallery.c
Franc Vila: Founder, Franc Vila
What is it about your brand that resonates with the fans?
My brand is very popular with collectors because when I started this company, I was a collector myself. It's like having a watch from a collector to other collectors — a collector's watch made by a collector. I emphasise features on watches that I know collectors are looking for in a high-end watch. I actually started making my own watches because I couldn't find a watch with all the things that I wanted on the market. At the time, the watches with contemporary designs and the complications that I wanted were of classic styles — I love those watches, but they are not the type of watches that I would wear. It's like collecting antique cars — they are nice to own, but you wouldn't drive around in them.
Tell us about your brand.
I wanted to make a contemporary watch that is a representation of the contemporary lives that we are living. What's really important for me is that our watches are creative and original. A watch for us is a tool to differentiate ourselves, so we are not interested in mass-producing watches. Exclusivity, technology and innovation are important parts of our brand. When we first started out, the industry was very classical, so we decided to experiment with new materials and technologies to incorporate into our watches. Nowadays, a lot of my clients start out as clients, and then become my friends. I call them "friend-clients", because we end up with great personal relationships.
Which is your best-selling model, and which is your favourite piece?
My bestselling-model was always the sport-watch case which I call "Cobra", it's a case made with carbon fibre, titanium and steel. I have a lot of favourite pieces — I love my tourbillons; they are the most emotional complication that we can ever wear, because we can see the heart of the watch beating. I also love the five-minute repeater, a sport-repeater watch, and right now I have a new prototype that's a fully carbon fibre version. I also love our diver's watch that goes down to 300m. The bold design and clean dial I really do love. But I actually love all my watches — I only make watches that I would wear myself.
Where do you get your inspirations?
I am inspired by the past — I try to link the designs of the past with the future, to make an evolution in design. I don't feel the need to create new complications because I love the feel of a classical complication. What I want to do is interpret them in a different way. I get inspiration from art, architecture, bikes, planes, everything.
Where do you see the watch industry heading in the future, seeing as people don't need them anymore?
I have always seen watches as a scientific instrument. A watch is a luxurious scientific instrument today, and advances in technology have given more freedom to the watch. The moment the mobile phone started to become popular, watches became an item of luxury — you don't need it, but you want it. It's something for your spirit — it's a rare object of art.  
Manuel Emch: CEO, Romain Jerome
Tell us about the history of your brand.
We're a pretty young company, founded about 10 years ago. When we started the company, we had two options – either revive some old, dead watchmaker and make him look young, or create a new brand. We decided to create a new brand with a strong concept — create history in a watch and make the owner of a Romain Jerome watch a part of history. Our first concept watch, the Titanic, quickly gave us visibility because of the attention that we got.
What are the hallmark elements of your brand?
Contemporary. Innovative and creative — really creative, not just creative for the sake of being creative. Positive provocation — kind of like how we did a watch with a video game inside; it's a provocation. To use an Icelandic volcano and the Titanic, these are all provocative. What we are is a contemporary, avant-garde watch making company.
Tell us about your presence around the world.
We came into the Malaysian market seven years ago; Malaysia was actually the first Asian country where we started retailing our watches. Asia represents only 5% of our sales, which is good and bad. For me, it is important to be strong in our own territory—Europe—before we can be strong in other territories. We are now in Malaysia, Singapore, Philippines and Hong Kong.
What are some of your most popular pieces?
We make about 2,000 pieces a year, of which one-third are Titanic, one-third Moon, and one third collaboration. Some of our most popular collaboration products are the video game watches and Batman. Our watches appeal to not only collectors, but young people in their 20s or 30s, who have money that's self-made. For example, our video game watches (Pac-Man and Tetris) are very popular with that age group because while they were growing up, these games were all the rage, so our video game watches appeal to them.
What is it about your brand that resonates with fans?
We appeal to people's emotional side. For example, our Volcano watch was inspired by the eruptions at Eyjafjallajökull in Iceland, which in 2010 grounded hundreds and thousands of flights across Europe. Six months ago, I sold a pair to a couple who just got married, and they had met at the airport while the volcano was erupting. Instead of exchanging wedding rings, they exchanged our watches instead. Our watches are personal, emotional works of art. It shows me that when you believe, you can do a lot of things. You have to take risks to make it work. The three watches that I love most are not the most complex nor are they the most beautiful, but they talk to me. Whenever I look at them, they remind me of a story.
Christine Hutter: CEO, Moritz Grossmann
Tell us about yourself and the history of your brand.
I'm a trained watchmaker, and I moved to Glashütte in the 1990s, working for other companies and that's when I learned about the name Moritz Grossmann — a 19th century watchmaker who came to Glashütte in 1854 and opened a workshop producing pocket watches, pendulum clocks and measuring instruments. He also wrote a lot of books and essays, so he tried to share his knowledge of watchmaking with future generations. In 1878, he founded the German watchmaking school, but he died in 1885, at the age of only 59. For more than 120 years, his company didn't exist anymore, until my family and I tried to secure and protect the brand and name rights. We started in Glashütte literally from a kitchen table, and from there, we set up our whole manufacturing process over the following years. We did movement, design, and bought machines, tools, and set up everything from the ground up. In 2013, we finally started with new lines of our collections. Today, we have a team of 45 and we produce 85% of movements in-house.
What are the hallmark elements of your brand?
We try to include a very high value-addition and craftsmanship to our watches, which from the outside are very classical, but what you see is that we have very fine hands. When you turn the watches around, the value of a Moritz-Grossmann watch is really the movement you see from behind. You can see that it's a German movement, and the decorations are hand-engraved – these are all traditional. We use natural materials such as German silver, steel, gold and bronze. Every single part of the movement is completely hand-finished.
Which is your favourite piece in the collection?
My favourite is of course, the Benu Tourbillon, because it's a nice complication with a completely new style. We worked on the movement with a bit of wood and we also put a brush inside, which is unusual. But of course, I like all my watches because they are all my babies. This year, we introduced a ladies' watch, and I'm very pleased with it.
What are the challenges of being an independent player in the industry?
It's definitely not easy being an independent watchmaker, because we're working in a niche market and we do not have the money that the big groups do. So, we have to go slower, work harder, but if we produce pieces that are high quality, then the market responds well to us. However, because we're independent, we are flexible, and can make decisions much quicker.
Peter Speake-Marin: Founder, Speake-Marin
Tell us about yourself and the history of your brand.
The most influential period of my life was when I worked for Somlo Antiques, where I developed a workshop and a small infrastructure for the restoration of antique, vintage watches. I stayed there for nearly seven years, and I saw the development of watch companies since their inception. That's where I discovered my love of watches — I liked them beforehand, but that's where I discovered what I was really passionate about. I would take apart these watches and see things that people haven't ever seen before, well at least for a hundred years. In 2000, I started my own company and spent my time developing my own watches and working for other companies until 2008. From 2008, I concentrated purely on my own watches because I'd become more well-known as 'Peter', and not 'Speake-Marin'. Now, Speake-Marin has become more of a brand.
Where do you get inspiration for new designs from?
It all varies. We're now doing the second series of the Dong Son, and it's based on a Vietnamese drum. The wonderful thing about it is that all the motives and drawings that are hammered onto this drum are representation of the culture of Vietnam. Their culture is their life. Watches are about reading time as it passes by. So when you combine culture and the life of a country in a watch, you produce something that is very unique. I make a lot of watches that are inspired by culture. Like European art, there is always a significance or meaning behind it.
What are the hallmark elements of your brand?
I think that I have developed something, which despite being contemporary, original and highly identifiable as Speake-Marin, has a classicism about it which looks like it could've existed for the last 50 years, and in the future. The reason that it is so important is that very few modern companies have an iconic image that has longevity. That only comes from the big guys who've been around for a very long period of time. My watches have a lot of 'wrist time' — people might not fall in love with them straightaway, but they're 'growers'. I think it's better to have something that's a grower, than something which has a limited lifespan.
Where do you see the watch industry heading in the future, seeing as people don't need them anymore?
People buy watches today for the same reason they buy virtually everything, which is emotion. It's all down to what drives us, and what brings quality to our lives. The industry today is not the same as it was 50 years ago, or pre-quartz revolution. It's a very young industry which has only been around since the 1980s and 1990s, because it 'died' in the 1960s and 1970s. I think, even though we don't have the market segments of the 'big guys', I think we're hurting them because people become a bit disenfranchised by the sheer volume that they produce. We have small numbers of a very real, authentic product and it makes people think and reflect.
Thilo Mühle: CEO, Mühle Glashütte
Tell us about the history of your brand.
Our family is one of the original ones from Glashütte in Germany; Glashütte is the most famous German watchmaking city, and our family has been living there for hundreds of years — from the 13th century. My great-great grandfather founded the company in 1869, producing measurements for the watch industry, and in the 1920s, we produced speedometers and car clocks for cars and motorbikes. The very first BMW produced in Bavaria had speedometers made by us. I'm very proud of my family's history, because it's real, not just a marketing tool. After WW2, the Russians closed our company, and in 1945, my grandfather restarted the company, which was unfortunately taken away by the East German government in 1972. Finally, after the Berlin wall fell, my father founded the company once again, now called Nautische Instrumente Mühle Glashütte.
What are the hallmark elements of Mühle Glashütte?
Our DNA is in instruments, as our history will show. It is important to us that they are easy to read. The first thing that you will always see on our watches is the time. There are some watches where you need a book to read the time, or have really good eyes to see. But what's typical of German brands are that they are very clean: form follows function. We are dependable and recognisable; for instance, the Porsche 911 has been around for decades, but today they are still instantly recognisable.
Where do you see the watch industry heading in the future, seeing as people don't need them anymore?
I think it's important for every man to have a timepiece, it's an emotion and a life-standard. When the Apple Watch was released, people in the watchmaking industry were crying, wondering what they would do, but to me, I don't understand it. Why should I need to look at the news on my watch? I hope that in the future, people find that there are more important things in life than to have all this information in real time. Slow down a little bit, find a balance between work and leisure. What I want my end consumer to experience when they look at my watch is to slow down for one or two seconds while looking at it, and take the time to think, "Wow I have a nice timepiece". I want them to like looking at the time because they have a timepiece that they enjoy looking at.
What are the challenges of being an independent player in the industry?
There are advantages and disadvantages. The good thing is that I can design by myself; I don't have to ask anyone for permission or input, but I'm responsible for my company's success, and also the problems. If you're in a big company and you have problems, you can always leave and find another job. But for independent brand makers, that's not an option. It's also a bit difficult with retailers who are more familiar with big watchmakers.