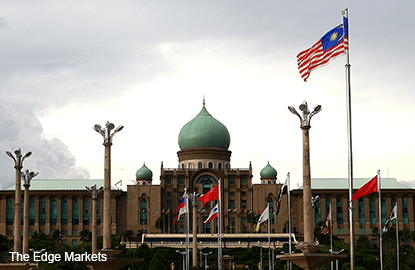 (Aug 19): Improving the country's economy requires the government to keep public institutions such as Bank Negara Malaysia and the Malaysian Anti-Corruption Commission (MACC) free, says G25.
The group of retired Malay civil servants said Malaysia should not point fingers at outsiders for the country's economic woes, but should instead focus on strengthening its institutions.
"An improvement in institutional quality raises gross domestic product directly as well as promotes closer integration into the global economy, enabling the economy to benefit from international trade and foreign investment flows," the group said in a statement today.
It said the action taken against several MACC officers and moves to create doubts about the central bank undermined the institutions.
"In today's circumstances, Malaysia cannot blame external parties and owes it to itself to quickly correct the situation.
"An important aspect in any corrective action is to allow institutions to continue their work, even though results may not favour the government leadership," the group said.
It proposed six corrective measures to protect institutions and allow them to work without hindrance.
One was for MACC to report only to Parliament, and be given prosecution powers as well as have its investigative powers strengthened.
G25 also proposed greater safeguards on the appointment and dismissal of the attorney-general, and called for the separation of its government advisory role from that of public prosecutor.
The group added that it supports recommendations to transfer prosecution powers to an office of the Director of Prosecutions.
On political funding, it proposed reforms in legalising contributions to parties, in line with existing principles set by the Organisation for Economic Cooperation and Development (OECD).
"[Apply] regulations to require declaration of assets by politicians and senior civil service officers; the declaration is made to a independent audit firm, which is able to take measures to verify, including checking against bank accounts," said G25.
It added that religious institutions like the Department of Islamic Religious Development Malaysia (Jakim) must end its moral policing of personal sins and focus only on education, research and its advisory role.
"In the area of corruption, Jakim can use its advisory role to urge condemnation of corruption and influence development of a culture of zero tolerance for corruption through khutbahs (sermons) delivered at Friday prayers, for example," said the group.
It also urged the government to implement proposals for an Office of the Ombudsman, as recommended in the report the Cabinet had commissioned in 1990/1991. – The Malaysian Insider