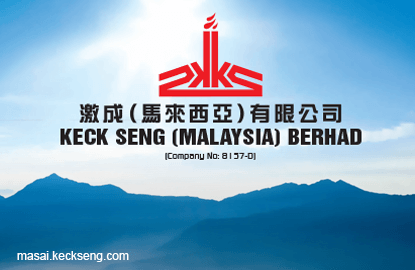 KUALA LUMPUR (Feb 28): Keck Seng (M) Bhd was back in the black for the fourth quarter ended Dec 31, 2016 (4QFY16) with a net profit of RM75.5 million compared with a net loss of RM53.4 million a year earlier.
This was mainly due to a forex gain and a lack of impairment compared with 4QFY15, the group said in a filing.
Revenue for the quarter grew 17.5% to RM321 million from RM273.1 million in 4QFY15 due to higher selling price of refined oil sold.
For the full financial year, Keck Seng's net profit fell by 16.4% to RM112.9 million from RM135.1 million in FY15, driven mainly by a lower appreciation of the US dollar and Singapore dollar against the ringgit which resulted in a lower forex gain on the foreign currencies on hand in FY16.
Revenue increased 9.5% to RM1.05 billion from RM958.2 million in FY15.
Keck Seng said its manufacturing segment recorded a profit in FY16 mainly due to the forex gain.
Its share investments division also saw a higher profit in FY16 due mainly on the impairment of a quoted investment recognized in FY15.
The group said that the plantation and manufacturing segment will be affected by higher operating costs following the implementation of the minimum wage of RM1,000 effective from July 1, 2016 while its manufacturing segment will be affected by the volatility of the exchange rate.
The property division will face a challenging market environment as the weak property market is expected to persist in 2017, with the weakened ringgit to result in higher material and construction costs as well as stringent lending conditions by banks making it more difficult for purchasers to get loans.
Keck Seng said in its property investment, Menara Keck Seng is expected to maintain its occupancy rate at a relatively high level. Nonetheless, the operating environment will be very challenging especially for the residential building of the group, Regency Tower at Kuala Lumpur with an oversupply of new residential apartments as well as the impact from the downsizing of the oil and gas industry.
Keck Seng remains cautiously optimistic of its hotels and resorts segment. It said the International Plaza Hotel in Toronto, Canada will continue to improve as the depreciation of the Canadian dollar encourages Canadians to travel domestically while making it attractive for inbound tourists from US to visit Canada.
"We expect Hawaii's hospitality industry to continue to be healthy in 2017. As such, the Doubletree Alana Waikiki Hotel is expected to maintain its high occupancy and room rates in 2017," it added.
While the Group's exposure in New York could face some pressure from AirBnb, affecting existing room rates for SpringHill Suites hotel, New York's overall hotel occupancy remains very resilient.
The Group's Tanjong Puteri Golf Resort is also expected to show improvements for its first quarter results in 2017 with the patronage of Korean Winter golfers and a few long-term stay contracts.
Keck Seng's share price edged higher by 0.2% to RM5.04 today, with 32,000 shares traded, giving it a market capitalization of RM1.81 billion.