This article first appeared in The Edge Financial Daily, on August 24, 2018.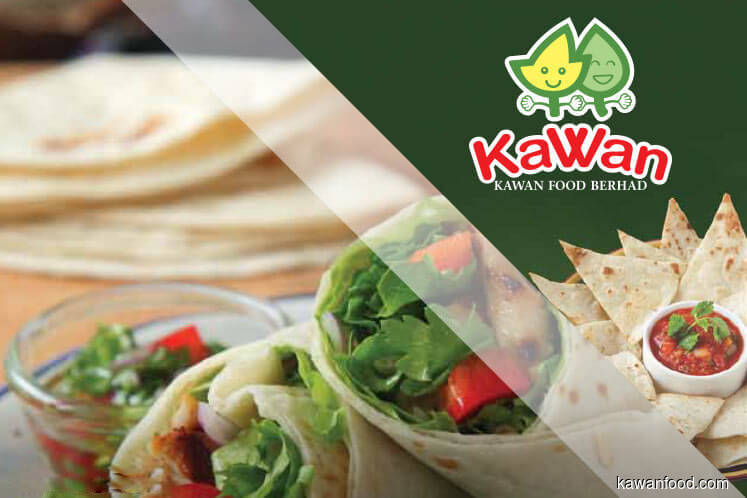 Kawan Food Bhd
(Aug 23, RM2.30)
Maintain add with a lower target price of RM2.76: Kawan Food Bhd's first financial half ended June 30, 2018 (1HFY18) revenue fell 3.8% year-on-year (y-o-y) to RM98.7 million mainly due to weak US export revenue (offset by strong domestic revenue), higher promotional costs and the average US dollar to ringgit exchange rate in 1HFY18 (RM3.86 versus RM3.07 in 1HFY17).
 
Exports contributed around 60% of the group's overall revenue in 1HFY18, mainly denominated in US dollars.
Kawan's 1HFY18 US revenue fell 26.9% y-o-y to RM21.7 million. The lower US revenue was due to operational issues of its US distributor and the US dollar to ringgit exchange rate.
The weak US revenue was partially offset by strong domestic revenue, which grew 6.6% y-o-y in 1HFY18. We understand from management that the US distributor's issues have since been resolved and US sales started to recover from the start of 2HFY18.
Kawan's balance sheet was RM28.3 million (including investments in unit trusts) net cash or 8.1 sen net cash per share as at end-June. Management has indicated that once the new factory is stabilised, the company could look to pay higher dividends to shareholders. In FY17, the company paid a 1.9 sen dividend per share and had a 1:3 bonus issue.
Kawan said its new factory in Pulau Indah, Selangor, started commercial operations from July 2018. This was positive news for the company as the commercial launch of the new factory had been delayed by 18 months.
Also, the company has already moved lines from the existing factory to the new factory, which can produce three to four times more roti paratha and chapatti, compared with the existing plant in Shah Alam.
Kawan's new factory also has a new cooking line to produce ready-to-eat (RTE) foods, such as nasi lemak, rice vermicelli and cooked roti paratha, in a bid to target the domestic RTE market. We also expect it to launch a new snacks division over the next few months.
We have cut our FY18 earnings per share forecast by 31.5% to reflect delays in the commercial launch of the new factory from June to July this year, and also assumed RM5 million start-up costs for the new factory. We have also cut our FY19 to FY20 forecasts by 9.3% to 12% to reflect expected higher marketing costs to boost top-line growth. — CGSCIMB Research, Aug 22