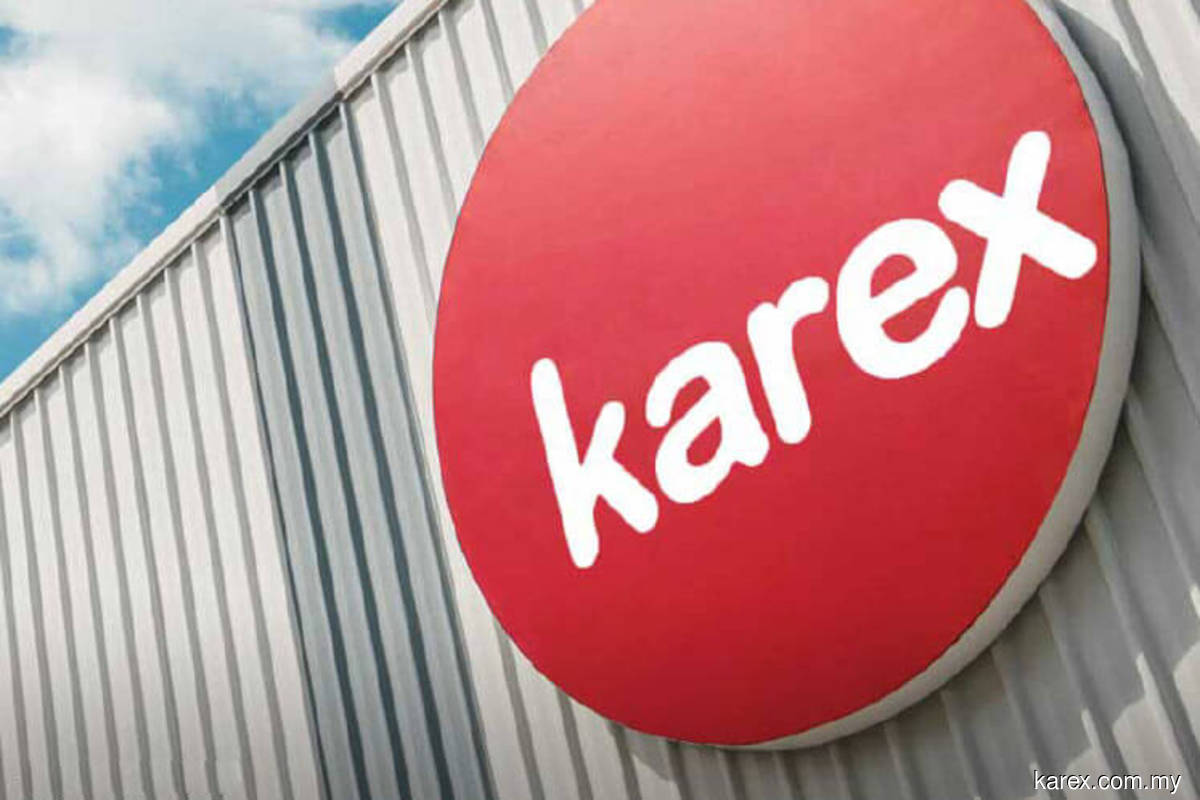 KUALA LUMPUR (Nov 23): Karex Bhd reported a net profit of RM4.46 million for the first quarter ended Sept 30, 2020, compared with a net loss of RM167,000 a year earlier, underpinned by favourable sales mix and improved cost control initiatives.
Revenue rose 6.27% to RM101.73 million from RM95.73 million, driven by condom sales from the sexual wellness segment and record-high contribution from the medical segment, the group said in a filing with Bursa Malaysia.
"Despite the challenges in navigating global supply chain disruptions arising from the Covid-19 pandemic, condom sales to the Americas region in particular continued to expand and contributed positively to the profitability during the current quarter.
"A favourable sales mix during the quarter, coupled with improved cost control initiatives such as incorporation of automation, led to better operating efficiency resulting in a profit before tax of RM7 million and profit after tax of RM5.2 million for the quarter," said Karex.
Compared with the preceding quarter, the first quarter net profit was up 212.6% from RM1.43 million, while revenue rose 11.7% from RM91.09 million.
"As manufacturing operations begin to return to the new normal and logistic networks continued to reopen, condom sales lead to a recovery in revenue from the previous quarter," the group said.
"The heightened emphasis on hygiene also resulted in an increased demand for medical products such as probe covers and catheters during the quarter. This contributed to an improvement in revenue, and combined with a favourable sales mix during the quarter, led to an improvement in profitability," it added.
Karex said the pandemic has presented a unique challenge to the sexual health and medical devices industries, causing widespread disruptions to operations and supply chains.
"Along with the emphasis on social compliance, this has caused consolidation in the industry and a disruption to the supply of condoms globally," it said.
In spite of this, it said condoms remain an essential tool for family planning, as well as preventing the spread of HIV and other sexually-transmitted infections.
"The group remains confident that we are uniquely poised to overcome the aforementioned operation hurdles, in order to take advantage of potential opportunities presented by the renewed global emphasis on hygiene and disease prevention.
"Our manufacturing experience, cost competitiveness and breath of offerings are compelling competitive advantages that will allow us to capture orders within the condom space that has been shifting from a government-subsidised model to one that is more commercial in nature during recent times," it added.
Karex's share price closed 0.5 sen or 0.57% lower at 87.5 sen today, valuing the group at RM877.08 million.