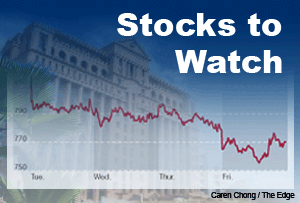 KUALA LUMPUR (Oct 2): Based on news flow and corporate announcements today, the stocks that may be in focus tomorrow (Oct 3) could include the following: Karex Bhd, KSL Holdings Bhd, Xingquan International Sports Holdings Ltd, Redtone International Bhd, Malaysia Airport Holdings Bhd, SKP Resources Bhd and Tecnic Group Bhd.
Condoms manufacturer Karex Bhd has entered into a conditional agreement to acquire a 55% stake in Global Protection Corp (GP), a condom distributor in the US, for RM21.5 million cash.
The owner of the 55% stake is one Davin Wedel. Karex had in August signed a memorandum of understanding with Wedel for the acquisition.
In a filing to Bursa Malaysia, Karex said it has also entered into a license, manufacturing and distribution and selling of GP's products. Karex closed one sen lower at RM2.87, bringing its market capitalisation to RM1.17 billion.
Johor-based property developer KSL Holdings Bhd has proposed a one-for-one bonus issue of up to 487.1 million shares, on the basis of one bonus share for every one existing KSL share held.
The one-for-one bonus issue would increase the group's share capital to RM487.1 million comprising 974.3 million shares of 50 sen par each, from RM194.3 million comprising 388.7 million shares of 50 sen par each as at Sept 30, 2014.
It has also proposed to implement a dividend reinvestment plan (DRP) to enhance trading liquidity and capital management.
KSL shares closed down 15 sen, or 3.28% to RM4.43 today, giving it a market capitalisation of RM1.72 billion.
Chinese national Xie Zhidong has disposed of 8.1 million shares or 2.4% equity interest in shoe manufacturer Xingquan International Sports Holdings Ltd over the past two months after emerging as a substantial shareholder in May.
Xie has been disposing stakes in Xingquan between Aug 7 and Sept 25 after emerging as a major shareholder in Xingquan with an estimated 9% stake on May 16.
Xingquan's counter dropped 1.83% to 53.5 sen today, giving it a market capitalisation of RM182.55 million.
ACE Market-listed Redtone International Bhd managing director Datuk Wei Chuan Beng has acquired 1.16 million shares in the broadband player from the open market today, raising his holdings to a direct interest of 25.34 million shares or a 4.93% stake, and an indirect interest of 4 million shares or 0.77%.
Wei's purchases came after a recent Redtone announcement that its external auditors, Messrs Crow Howath, had expressed a qualified opinion on the company's audited financial statement for the financial year ended May 2014, in respect of a debt owing by a third party.
Redtone dropped 0.5 sen to close at 78 sen today, giving it a market capitalisation of RM400.52 million.
Malaysia Airport Holdings Bhd (MAHB), which holds a 60% stake in Istanbul Sabiha Gokcen International Airport Investment Development and Operation Inc (ISG), is now mulling a second offer of right of first refusal (ROFR) to TAV Havalinmanlar Holding AŞ's offer to acquire a 40% stake in both ISG and LGM Havalimani Letmeleri Ticaret Ve Turizm AS for €285 million (RM1.17 billion).
In a filing to Bursa Malaysia this evening, MAHB said the 40% stakes in both companies are held by Limak and Limak Yatirim and that it has 10 business days from Oct 2 to accept the offer.
MAHB closed 13 sen lower at RM7.34 today, giving it a market capitalisation of RM10.09 billion.
Plastic products maker SKP Resources Bhd will be buying the entire business of smaller rival Tecnic Group Bhd for RM200 million, which will be satisfied with RM100 million cash and the issuance of 172.4 million new shares in SKP at 58 sen per share.
In a filing with Bursa Malaysia, SKP said it has entered into a conditional share sale and purchase agreement with Tecnic, for the entire issued and paid-up share capital of three of the latter's wholly-owned subsidiaries - Plastictecnic (M) Sdn Bhd (PSB), Sun Tong Seng Mould-Tech Sdn Bhd (STSM) and Bangi Plastics Sdn Bhd (BPSB).
Shares of both SKP Resources and Tecnic have been suspended since 9 am on Sept 30. Prior to that, SKP Resources and Tecnic were trading at 71 sen and 5.1 sen, with a market capitalisation of RM639 million and RM205.22 million respectively.