This article first appeared in The Edge Financial Daily, on December 3, 2018.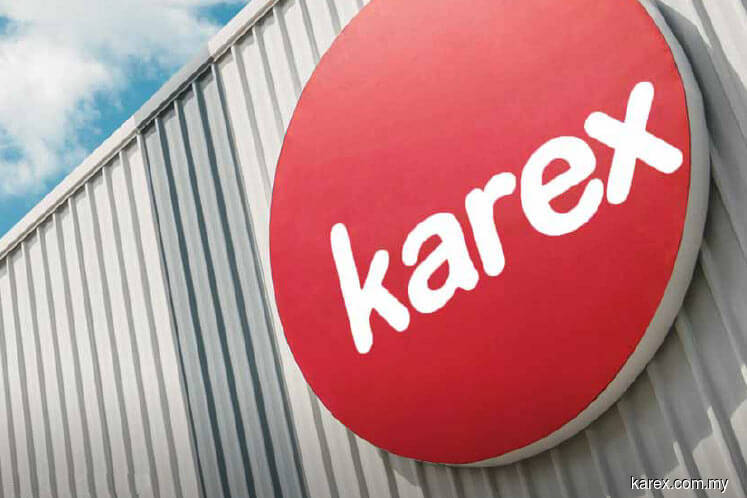 KUALA LUMPUR: The world's largest condom maker Karex Bhd is seeing an improved operating environment amid lower raw material prices that, coupled with soon-to-be-launched new high-margin products, could drive the company's near-term earnings growth.
According to its chief executive officer Goh Miah Kiat, the company's financial year 2018 (FY18) ended June 30, 2018 was challenging due to escalating raw material prices and unfavourable currency fluctuations, both of which ate into the group's bottom line.
In FY18, the price of latex touched a peak of RM8.18 per kg on Jan 31, 2017, before averaging out to RM5 per kg for the full year. The latex price has since fallen. At the time of writing, it was trading at RM3.66 per kg after touching an all-time low of RM3.60 earlier on Nov 28.
As for currency exchange, that too has been moving in Karex's favour, with the ringgit weakening against the US dollar again. Last Friday, it was trading at 4.1842 against the greenback. The local note, which touched 4.4862 in end-2016, gained on the US dollar throughout 2017 and early 2018, and strengthened to 3.8620 in April this year, before it started weakening. Year to date, the ringgit has declined 4% from 4.0195.
"I [have] always [been] positive about the company's outlook. I think demand for condoms is still growing and raw material prices are leaning towards the way we want. Hopefully, the company will be more profitable," Goh told The Edge Financial Daily last week.
Nonetheless, Goh said raw material prices remain volatile and a major concern for the company. For the last one year, he said Karex has had to struggle to adjust prices of its condoms to keep pace with rising commodity prices, which resulted in the company having to absorb most of the cost pressure.
To offset that volatility, Karex plans to roll out more higher-margin products, like ultra-thin condoms, and condoms with new flavours and more texture. Karex is also exploring the use of a raw material other than latex, according to Goh, but he did not elaborate.
On the expansion front, the company is targeting to venture into Singapore and Thailand by end-FY19. Those ventures are pending regulatory approvals.
Meanwhile, Karex wants to grow its business online, like by selling tailor-made condoms via an e-commerce platform. Recall that Karex, in January 2016, acquired US custom-fit condom maker TheyFit LLC, which produces condoms of 66 sizes.
"E-commerce just breaks the boundaries. We had a successful launch in the US with regard to tailor-made condoms, which we think are a huge opportunity, given the fact that the one-size-fits-all condom actually only fits 12% of men comfortably. So there are still 88% of men we need to make feel comfortable when using condoms. The question is, how do you get over 60 sizes of condoms on the shelves? Obviously, no one is going to do that. So, e-commerce is the only mode that allows us to deliver condoms of the right size to these men," Goh said.
On capital spending, Karex has allocated RM30 million for FY19, mainly to facilitate its move towards automation, and to upgrade its factory facilities, which are important considering that the industry is still labour-intensive. As Goh has pointed out, an increase in minimum wage policy starting January next year will have a negative impact on its business.
The company has cut its manpower from a peak of over 3,000 people to 2,800 now. It is now on a five-year plan, started November last year, to halve its labour costs, which account for about 20% of the company's production costs.
On Nov 26, Karex announced that its net profit sank 53% year-on-year (y-o-y) to RM1.98 million for the first financial quarter ended Sept 30, 2018 (1QFY19), from RM4.21 million on lower sales. Revenue fell 14% to RM92.16 million from RM107.59 million.
Goh said budget cuts by government bodies and intensifying pricing competition had negatively impacted the profitability of the company, as well as the overall industry. This has also led to the industry starting to rationalise their capacity as businesses from the government decline.
"The consolidation is good for [business in the] long term. Meanwhile, the average selling price for the tender market has started to recover. So with the average price [of condoms] moving upwards and raw material prices now in our favour, it is not difficult to think the future [of Karex] will be better," Goh added.
Karex's condom business currently comprises three market segments, namely original equipment manufacturing, tenders (where it bids for contracts from mainly government and non-governmental organisations) and original brand manufacturing (OBM).
However, CIMB Research expects Karex's earnings to remain weak in the near term, citing ongoing headwinds like low tender volumes and pricing competition, in addition to higher advertising and promotional expenses needed to drive sales of its OBM segment. In a note on Nov 26, it maintained its "reduce" call on Karex, with a lower target price (TP) of 47 sen versus 50 sen previously.
Affin Hwang Capital Research similarly maintained its "sell" call on Karex, with an unchanged TP of 40 sen a share, saying profitability had yet to bottom out as Karex's 1QFY19 earnings came in below expectations. "Although management guided that the weak performance was due to delays in shipping several tender orders, we believe demand for the tender market remains lacklustre. As such, we [have] cut our FY19 to FY21 earnings [forecasts] by 1.2% to 6.9%," it said in a Nov 27 note.
"Based on our estimates, assuming that the orders were fulfilled during 1QFY19, we believe that earnings would be uplifted by around 5% to 8%, which is still insufficient to reverse the current year-on-year decline in profitability. Management would need to grow revenue more aggressively to deliver sustainable earnings growth," Affin Hwang Capital added.
It went on to conclude that Karex's short-term outlook remains challenging due to both the weak demand in the tender market and the elevated cost from the OBM segment.
Karex shares fell 3.5 sen or 6.2% to close at 53 sen last Friday, valuing it at RM531.26 million. Year to date, the counter's share price has fallen near 59%.