This article first appeared in The Edge Financial Daily, on December 2, 2019.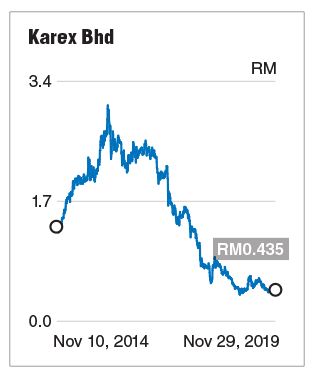 KUALA LUMPUR: Karex Bhd group chief executive officer (CEO) Goh Miah Kiat sees the current financial year ending June 30, 2020 (FY20) as a recovery year for the condom maker after slumping to a loss in the last two quarters.
"I am optimistic about this year's financials. I generally believe it will be a recovery year, with things getting back on the right track," he told The Edge Financial Daily after the group's annual general meeting last week.
Karex reported its second quarterly loss last Thursday, posting a net loss of RM167,000 for the first financial quarter ended Sept 30, 2019 (1QFY20) compared to a RM1.98 million net profit in the same period a year earlier.
According to Goh, the challenging conditions for both Karex and the overall condom manufacturing industry have been present for the last two-and-a-half years following a three-decade-long boom fuelled by governments putting HIV/AIDS prevention policies in place, prioritising the deployment of male rubber condoms.
However, changes in government policy globally, with foreign aid budgets for HIV/AIDS being slashed, have impacted the industry in recent times. This has resulted in a price war in the global condom market.
In addition, condom makers like Karex have to contend with a greater scrutiny of social compliance, thus increasing costs.
On its part, Goh said Karex will continue to ensure that it can increase its operational efficiency to mitigate these challenges. This includes automation, a process being accelerated by a freeze on hiring of foreign workers since January.
The group will also look into its supply chain and will continue to innovate its products, he added.
He noted that Karex has set up its own compounding division in Thailand, helping in product yield improvements.
The group is moving beyond providing new textures and flavours for its condoms and towards a focus on manufacturing condoms using other raw materials besides rubber. It spends 2% of its yearly revenue on research and development — focusing on the development of new products as well as machines manufacturing such products.
"Like it or not, condoms are not just a safety product, but also about providing pleasure.
"Today, the industry is still dominated by male rubber condoms, but there are other materials [available]. They are still rather expensive and not so accessible but we hope to change that," said Goh.
On social compliance, he said it has now become a selling point for Karex.
"There are a lot of areas where we have been educating foreign governments and buyers over this. Being transparent over the issue has been very helpful for Karex."
Karex's original brand manufacturing (OBM) accounted for 21% of 1QFY20 revenue of RM95.73 million, while original equipment manufacturing accounted for half of the group's volume.
On prospects, Goh said Karex is looking at expanding its sexual wellness segment, including its personal lubricant business. Currently, 92% of its revenue is derived from the sexual wellness segment.
"There is a lot more room to grow our personal lubricant business," he noted.
In the same vein, Goh also said the group has a medical device business, including items such as probe covers.
Meanwhile, he said Karex sees global geopolitical issues such as Brexit and the US-China trade war as challenges.
Foreign currency movements are also expected to have an impact on its business. "Half of our operations are in Thailand. Currently, we are hit by the weakening of the greenback against the baht. And if the ringgit appreciates further, where will we stand as an exporter?" said Goh.
Global regulatory developments also pose a challenge to Karex, as regulators look to tie loose ends to ensure products like condoms are not a risk to consumers.
CGS-CIMB Research analyst Walter Aw believes that Karex is likely to return to the black from 2QFY20 onwards on expectations of a recovery in condom orders, mainly from the tender market, a decline in latex prices and lower social compliance costs.
"While margins in the tender and commercial segments are likely to remain low, tender segment volumes are typically high, which will allow the group to achieve better economies of scale from a higher average utilisation rate.
"We also expect its OBM to record stronger results, with higher sales contributions and better cost-control efforts," Aw wrote in a note to investors last Friday.
Still, CGS-CIMB is maintaining a "reduce" call on Karex, with a 29 sen target price (TP).
Affin Hwang Capital Research has cut its TP for Karex to 25 sen, from 30 sen previously, while maintaining a "sell" call.
Analyst Ng Chi Hoong said the research house has also cut its earnings per share forecasts for FY20-FY22 by 22.5%-65.1% respectively as it believes that Karex's production costs will likely remain elevated, taking at least six to 12 months to pass on the higher costs.
"We were expecting Karex to turn profitable in 1QFY20, but the increased competition in the tender market has impacted its profit margin negatively," he said in a note.
Bloomberg data showed all six analysts covering Karex have placed "sell" calls on the stock, with a consensus TP of 33 sen.
Shares in Karex closed 3.33% or 1.5 sen lower at 43.5 sen last Friday, bringing it a market capitalisation of RM436.03 million. Its five-year high was on Jan 11, 2016 when it settled at RM3.06, while it hit a five-year low of 38 sen on Jan 31.