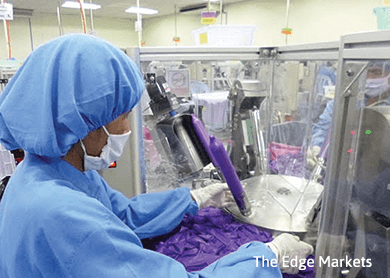 This article first appeared in The Edge Malaysia Weekly, on February 1 - 7, 2016.
THE ringgit's depreciation over the past year has given Karex Bhd's share price a spectacular boost. By early January, it had risen over 82% to a high of RM4.70, and at last Friday's close of RM4.09, the condom maker was being valued at almost 43 times earnings.
Having tested the 4.40 level against the US dollar, the ringgit appreciated 5.62% to 4.145 against the greenback last Friday, which could mean the rally in Karex's shares may not have much steam left in it.
After all, crude oil price, which is one of the determinants of the ringgit's value, has less room to move down than it does to move up. Note that crude oil has rebounded some 22.5% in the past two weeks to more than US$34 a barrel.
From an investor's perspective, the volatility in crude oil and the ringgit is something to watch when it comes to investing in Karex.
The condom maker's net profit grew 74% in its first quarter ended Sept 30, 2015, to RM22.29 million. However, this is largely due to foreign exchange gains, which boosted earnings by RM12.12 million.
Stripping out the forex gains, the group's profit before tax contracted 7% year on year to RM14.5 million in 1QFY2006 (see chart).
"The weak ringgit play on exporters is over. Much of the upside from the ringgit's depreciation has already been factored in. Investors who had bought in earlier will be fine. But at these valuations — over 40 times earnings — the risk for Karex is on the downside. The company will be hard-pressed to generate earnings growth that can justify such valuations even if the ringgit stays weak," explains a fund manager.
By last Friday, Karex had already dropped 13% from a high of RM4.70 recorded on Jan 11. But the share price was still a solid 121.1% higher than the company's initial public offering of RM1.85 back in 2013, not including dividends of 4.1 sen in that period. Last Friday's close was also 10% higher than last year's rights issue price of RM3.90.
Note that Karex is not alone in this. Other export-oriented counters have shared the same fate, if not worse. In the past week, glove manufacturer Kossan Rubber Industries Bhd saw its shares fall by 21.4% to close at RM7.11, Top Glove Corp Bhd by 19.3% to RM5.42 and Supermax Corp Bhd by 11.87% to RM2.97, valuing the three glove makers at 24.44 times, 18.65 times and 18.67 times price-earnings ratio (PER) respectively.
So far, the most resilient one has been Hartalega Holdings Bhd, which fell only 9.1% to close at RM5.40 last Friday. Interestingly, Hartalega is also the most expensive among the glove manufacturers with a PER of 37.91 times. Still, that is not as expensive as Karex's 43 times.
In fact, the world's biggest condom maker is trading at a higher premium than the world's largest glove manufacturer, Top Glove.
Certainly, Karex's fundamentals are intact amid the anticipated resilient demand for its products. The market probably has very high expectations of the company's prospects and hence the hefty premium on its valuations.
Karex is, after all, the largest manufacturer of condoms in the world by volume, producing about four billion pieces a year. 
Global demand for condoms was estimated at 29.5 billion pieces last year and is expected to grow at a compound annual growth rate of 9% to over 38.24 billion pieces by 2018.
Stripping out the forex gains (and losses), Karex's core pre-tax profit for the trailing 12 months (ended September 2015) is only RM62.66 million — up 7.29% y-o-y. However, a large factor driving the group's profitability is lower raw material prices. Note that revenue, not adjusted for forex gains or losses, grew only 4.6% in the same period.
Karex cannot rely on contract manufacturing to improve profit growth. So, it has been investing heavily in developing its own brand of condoms — ONE — that was launched in the US, Canada and here in December last year.
Karex has a 55% stake in US-based Global Protection Corp — the company that ONE is parked under.
Last week, Karex also acquired TheyFit LLC for US$1.3 million or RM5.6 million, an acquisition that will supplement ONE. TheyFit owns the patents, trade names and trademarks for condoms manufactured, marketed and sold under the TheyFit brand.
Uniquely, TheyFit offers condoms in 95 different sizes (14 different lengths and 12 different nominal widths). Furthermore, TheyFit holds a patented measurement kit (FitKit) for consumers to customise their condom sizes. TheyFit's markets include the UK and Europe.
"Overall, we are positive on the proposed acquisition as it is in line with the group's strategy to expand its higher margin OBM (own brand manufacturing) segment, which historically contributed less than 10% to condom sales," writes TA Research in a report.
Nonetheless, the research house has downgraded Karex from a "buy" to a "hold" with a target price of RM4.50.
OBM is expected to produce higher margins than contract manufacturing as an original equipment manufacturer. Interestingly, Karex plans to sell its condoms at a 10% to 15% discount to competitors like Durex, which is one of the market leaders in Malaysia.
Historically, OBM contributed less than 10% to group revenue. But with the launch of ONE, the group hopes OBM grows to make up 20% of its revenue by 2020.
Note that Karex will be launching ONE condoms in Singapore and Thailand this year.
On a bright note, Karex has a strong balance sheet with RM92.1 million cash remaining out of the RM158 million raised in the rights issue last year, putting the group in a net cash position.
Capital investment, however, takes time to translate into earnings. Meanwhile, the movement of crude oil prices and the ringgit will continue to play a big role in Karex's share performance.