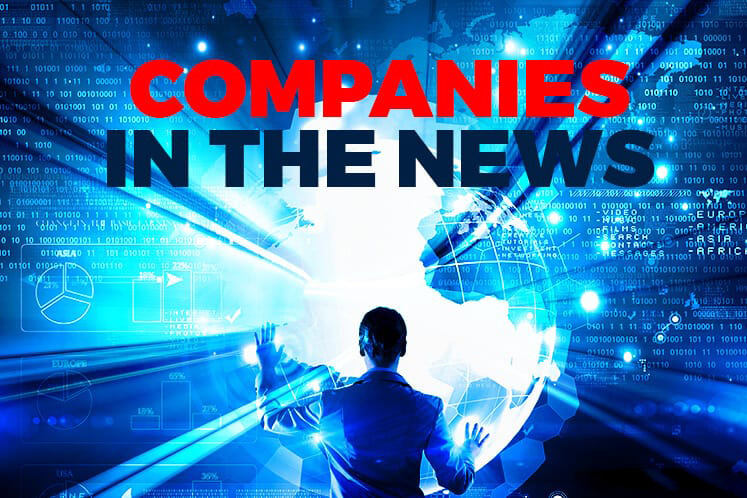 KUALA LUMPUR (Sept 22): Based in corporate announcements and newsflow today, stocks in focus tomorrow may include: Kanger International Bhd, Asdion Bhd, Pasukhas Group Bhd, KESM Industries Bhd, Widad Group Bhd, Malakoff Corp Bhd, Notion Vtec Bhd, Axiata Group Bhd and Iconic Worldwide Bhd.
Kanger International Bhd has inked a proxy agreement with Shenzhen Public Health Technology Co, Ltd (SZPHT) to get the rights to distribute a COVID-19 vaccine developed by China National Pharmaceutical Group Corp (Sinopharm). Under the agreement, SZPHT will get dealership status from Sinopharm, following which Kanger would get the right to distribute the vaccine in Southeast Asia.
Asdion Bhd and five of its directors have been reprimanded by Bursa Malaysia for breaching ACE Market Listing Requirements, with the five directors being hit with a collective fine of RM145,000. The five were: former non-executive chairman Datuk Seri Maglin Dennis D'Cruz (who resigned on March 20,2020), executive director Razmi Alias, independent non-executive director Datuk Zulkifli Alias, independent non-executive directors Selva Rasan A/L Datuk Puspa Da (who resigned on March 20,2020) and See Poh Yee (who resigned on May 31,2018).
Asdion was found to have failed to have carried out a limited review on its quarterly report for the financial periods ended March 31,2018 and June 30,2018, with its board accused of failing to look at the competency in its finance and accounting resources and ensuring proper procedures for financial reporting. Other offences included the failure of its directors to attend required training, as well as a 107.5% deviation between its unaudited loss after tax and minority interests and audited figures for the financial year ended March 31, 2018.
Pasukhas Group Bhd has signed a partnership agreement with BB Energy Sdn Bhd to extract river sand for the export market. BB Energy has been granted a concession and temporary occupational licence for Sungai Miang, Mukim Pekan, Pahang, by Pengurusan Pasir Pahang Bhd (PPPB). Under the agreement, Pasukhas will have the exclusive rights to access, extract, dredge, sell and distribute the river sand originating from Pekan, Pahang. The contract will last for a year, with the option to extend for another year — involving 200,000 cu m of sand production per month.
KESM Industries Bhd's fourth quarter ended July 31,2020 (4QFY20) net loss widened to RM3.28 million, from RM3.02 million in 3QFY20. Quarterly revenue fell 14.71% q-o-q to RM46.26 million, from RM54.24 million previously. Y-o-y it fell into the red, from the RM2.29 million net profit posted in 4QFY19. Quarterly revenue declined 34.76% to RM46.26 million from RM70.91 million, amid lower volume from its burn-in, testing and electronic manufacturing services.
FY20 net profit slumped by 98.47% y-o-y to RM96,000 from RM6.28 million in the previous financial year, as revenue declined 21.6% y-o-y to RM240.98 million from RM307.37 million. It is proposing a final dividend of six sen, subject to shareholder approval at its AGM on Jan 7, 2021.
Widad Group Bhd is collaborating with IAQ Solutions Sdn Bhd to develop and supply solutions and services for indoor air quality solutions, particularly to prevent and control airborne diseases. The collaboration is expected to enhance its end-to-end facilities management offerings.
Malakoff Corp Bhd is to acquire a 71ha piece of land in Alor Gajah, Melaka for RM150 million for future renewable energy projects. The land could be used for large scale solar, waste to energy, biomass and biogas power plants. The land is currently an oil palm plantation with a tree-age profile of 13 to 19 years that has produced 710 tonnes of fresh fruit bunches (FFB) over the past three years.
Notion Vtec Bhd has secured a sales contract to supply nitrile gloves to a European firm for RM337.8 million. However, it did not supply the identity of the firm in question, the amount of gloves to be supplied, or how it would be supplying the gloves given that it does not have any rubber glove production facility at present.
Axiata Group Bhd president and CEO Tan Sri Jamaludin Ibrahim will be retiring as chairman of the group's mobile arm Celcom Axiata Bhd on Oct 15, while Datuk Izzaddin Idris will take over the chairmanship effective Oct 16. Izzaddin is currently the executive director/deputy group CEO and group CEO-designate of Axiata, and a director of the board of Celcom Axiata. Axiata said the transition is a decisive step forward and part of a smooth and seamless leadership succession plan at Axiata.
Jamaludin, whom Axiata announced in January has had his contract as president and CEO of Axiata that expired on March 2 extended till year end, will continue in these roles until end-December.
Iconic Worldwide Bhd has proposed a private placement of up to 97.11 million shares, representing not more than 30% of its issued capital, to raise up to RM47.59 million for its personal protective equipment (PPE) business. Of the proceeds (which are based on an indicative price of 49 sen apiece), RM46.59 million would be used to fund part of its planned RM155.51 million investment into its PPE business, which would involve buying land for a new production facility and the installation of glove dipping and face mask production lines there. The remainder would be funded through a combination of internal funds and borrowings.