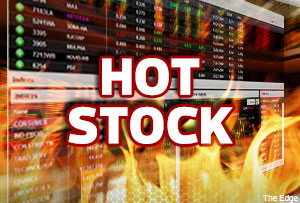 KUALA LUMPUR (Oct 24): The recent rally in the share price of the China-based sports shoes manufacturer K-Star Sports Ltd (K-Star) came to a halt today, as the counter saw a 3.57% decline in its share price in the afternoon session.
As at 3.24pm, K-Star was traded at 13.5 sen, down 0.5 sen or 3.57% with 2.62 million shares having been traded, giving it a market capitalisation of RM35.96 million.
The stock had earlier climbed to its intraday of 14.5 sen, before giving up its gain to settle at the current price.
Yesterday, the counter rose as much as 11.54% to its six-month high in afternoon trade.
"We are not convinced that K-Star Sports's 33% price gain since last Monday is sustainable," said The Edge Research, in a report today.
By noting the company's underlying business of designing, manufacturing and distributing sports footwear is very competitive, The Edge Research said the persistent excess inventory in China's sportswear industry has also forced the company to implement tighter credit controls, when accepting orders.
"This has, in turn, put pressure on revenue, which has halved since 2010 to just RMB329 million (RM176.3 million) in 2013. K-Star fell into the red in 2012, with losses widening to RMB82.6 million (RM44.26 million) last year," it said.
"There is yet evidence of a turnaround. Net loss totalled RMB18.5 million (RM9.91 million) in first half financial year 2014 (1H14), bigger than the RMB6.9 million (RM3.7 million) loss in first half financial year 2013 (1H13)."
The Edge Research said whilst the stock is trading at price-to-book of only 0.2 times, investors should note that the company's net asset value has been falling — as has its cash pile.
Net cash is now down to RMB44.7 million (RM24 million), from RMB192 million (RM102.89 million) at end-2011. Investor confidence in China-based companies, in general, remains poor, it added.