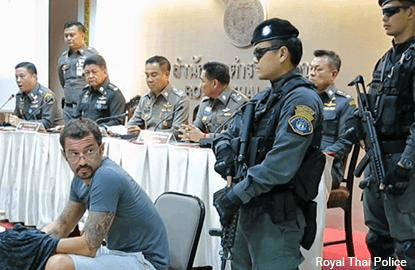 (Aug 17): Former PetroSaudi International (PSI) employee Xavier Andre Justo was today sentenced to three years in jail by a Thai court for blackmailing his former employer with information on debt-ridden 1Malaysia Development Berhad (1MDB), Singapore's The Straits Times reported.
The Bangkok South Criminal Court ordered the Swiss national's jail term to start from June 22.
Court officials said Justo's sentence was halved after he had confessed to the crime, which under Section 338 of the Thai Penal Code carries a jail term of one to 10 years and a fine of between 2,000 baht (RM222) and 20,000 baht.
It is not known if Justo will appeal as his lawyer declined to speak to the media, reported The Straits Times.
Justo, 49, confessed to taking information about 1MDB from PSI, an energy company.
Both were joint venture partners in a deal in 2009, which allegedly cheated Malaysia of US$1.83 billion.
Justo then tried to sell the data to a group of people whom he claimed intended to use it to topple Malaysian Prime Minister Datuk Seri Najib Razak.
Justo arrived at the court with his legs shackled, and entered the courtroom which was closed to the media.
He refused to answer questions from reporters after his conviction and was led away from the courthouse by officials around midday.
While in custody, Justo also admitted to handing the stolen documents to a "prominent Malaysian businessman" who turned out to be The Edge Media Group chairman Datuk Tong Kooi Ong, as well as Sarawak Report editor Clare Rewcastle-Brown.
Justo said a deal on the sale of the stolen data was reached in Singapore in February, and named those involved in his 22-page confession to Thai police.
Both The Edge and Sarawak Report have carried exposes on 1MDB, and have been censured by the Malaysian government.
The Home Ministry has suspended two newspapers under The Edge for three months since July 27, and blocked local access to Sarawak Report. – The Malaysian Insider