This article first appeared in The Edge Financial Daily, on June 27, 2018.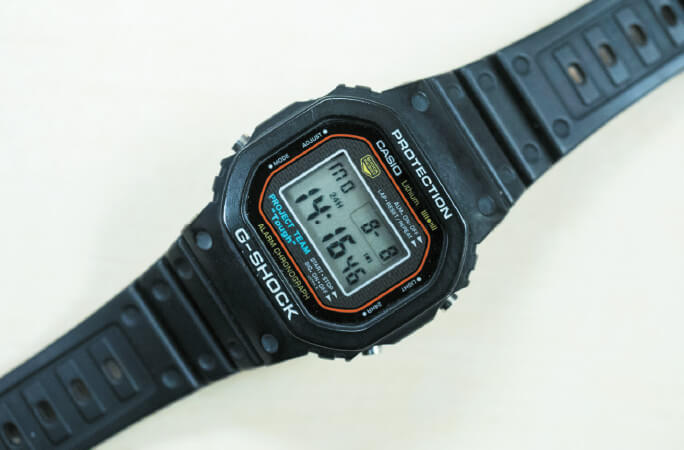 The Casio G-Shock GMW-B5000TFG-9 Full Metal is something totally new for the Japanese watch brand.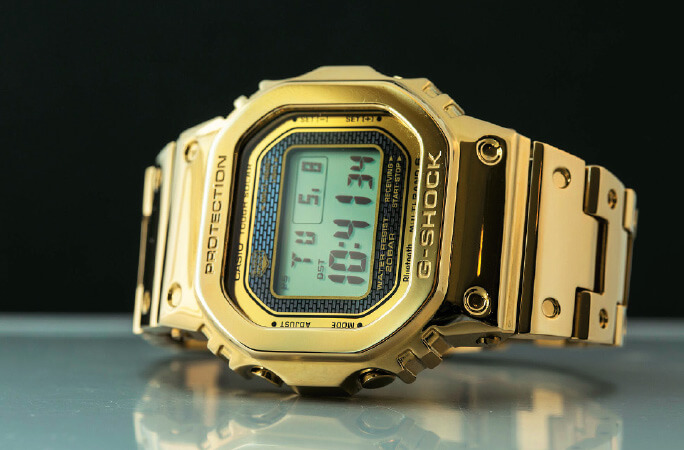 The very first G-Shock, property of Kikuo Ibe himself.
When I first heard about this watch in the midst of Baselworld and all its associated craziness, I kind of did not believe it. An all-gold, all-metal G-Shock? Why? But then I saw it and I immediately understood exactly why. It all boils down to one word: fun.
It is easy to forget in the competitive world of horological one-upmanship that ultimately, in the 21st century, watches are about nothing more than pleasure.
The Casio G-Shock GMW-B5000 Full Metal is one such watch and this spring it was the breath of fresh air I needed to get excited about watches all over again.
What makes a G-Shock a G-Shock
Over the last three and a half decades, G-Shock has become something of a cultural icon. The watches are so well-known that at times they can end up feeling ubiquitous or like commodities, though they are actually an extremely impressive feat of engineering that made a huge impact on the watch world. The entire project was the brainchild of one Kikuo Ibe, an engineer working at Casio who had a mishap with a mechanical watch. The goal was simple: make the most durable and reliable watch on planet Earth.
In 1983, after a few years of development, the DW-5000 was released and the G-Shock was officially born. There were a number of key innovations in its construction, many of which survive in the watches to this day, including the idea of having the timekeeping module essentially suspended inside the outer case with only a few points of contact in order to made the entire case into a giant shock absorber. The watches were 200m water resistant and could withstand falls of up to 10m — Ibe even ran a few over with his car as an additional test and they survived just fine.
Since then, G-Shock has evolved in two major ways: in terms of design and in terms of technology. The Japanese brand has been quick to embrace things like solar power, Bluetooth connectivity, and GPS to make its watches even more functional than they used to be. And there have been many different series of G-Shock watches introduced over the years, including some with analogue hands, some with different case shapes, and, of course, some with brightly coloured cases and dials. If you want to see a collecting community full of diehards, just go dig into G-Shock forums.
The full metal
And that brings us to this watch. Its full name is the Casio G-Shock GMW-B5000TFG-9 Full Metal, but collectors have luckily been calling it just the "Full Metal 5000", which makes all of our lives a lot easier here. The watch is every bit a modern G-Shock, just with a different case and bracelet treatment, which gives it a distinctive personality. This year marks the 35th anniversary of G-Shock as a brand, and while neither this watch nor its non-gold sibling are explicitly anniversary watches they do have a bit of that special vibe about them.
The case
What exactly does Casio mean when they say "full metal" here? Each G-Shock has four main exterior components — the case, bezel, caseback and bracelet — and with this watch they are all rendered in solid stainless steel. This is a first for a G-Shock. Previous models have had metal components before, but there has never before been a model that used steel for all four of these basic building blocks. The result is a watch that has none of the brightly coloured plastic that you might typically associate with G-Shock, so you get a similar profile with with a totally different feel. One thing to note for G-Shock nerds is that in between the bezel and main case is a slim layer of special resin that allows the watch to be just as tough as its more flexible/shock-absorbent brethren.
In addition to being made of solid steel, this watch features a gold coating that covers basically every visible surface of this watch other than the caseback, which has a dark colour to it instead. The coating is not real gold, but rather an ion plating treatment in a bright yellow gold colour. It might have been trendier to do something in a shade of rose gold, but honestly I love the old-school charm of a really warm yellow gold. The finish is near mirror-like, and I assumed it would be a total scratch-magnet. However, even after a full week of wearing it the watch emerged with almost no visible marks.
This watch is pretty physically hefty too. The case measures 43.2mm vertically, 49.3mm across, and 13mm thick. the domed caseback makes it sit a little high up on the wrist. The weight is just shy of six ounces in total, including the bracelet. It is not at all uncomfortable, and the slightly rectangular form factor does help it look right at home, even on a smallish wrist.
The bracelet
A lot of how this watch wears, physically and aesthetically, comes down to the bracelet. Also made entirely of stainless steel and with that same yellow gold colour IP coating, the bracelet completes the look. There are little circular indentations in the metal at the edges that mimic those on the head of the watch, continuing that motif all the way around. All of this terminates in a pretty simple folding claps that locks firmly in place and feels secure enough to hold up to the beefy watch.
I would call it a fully integrated bracelet, despite technically being removable, because it fits to the watch with two special end links that essentially act as extensions of the case itself rather than as traditional bracelet links. They do not fully articulate, instead sticking at a particular angle from the side of the case with very little play. Here you can really see what I mean:
The end result of this is a watch that is a little less comfortable than it could be. If these links moved, even just a little bit more, I think I would be able to give this watch a top score in that department. Otherwise, the links are well-sized and the flow smoothly around the wrist. I understand that this design allows for the watch to look a certain way on the wrist, I am not sure the comfort sacrifice is worth it for me personally.
The dial and app
This is still a 5000 series G-Shock, so it has all the usual functionality. The dial is a special liquid crystal display (LCD) screen called a "super-twisted nematic" (STN) LCD, which provides better contrast and viewing angles. By default it shows the time (hours, minutes, seconds), the day of the week, and one additional function (the date). Using the buttons around the perimeter of the case you can activate things like alarms, stopwatch functionality, timers, and more. There is also of course a light-emitting diode (LED) backlight available with a single button push, and it pleasantly fades in and out instead of abruptly turning on and off.
Around the perimeter of the LED screen you will see the familiar "brick" pattern, which is more than decoration. It is actually the solar cells that allow the G-Shock to be self-sufficient. A single day in the sun will keep the watch running for months, so pretending like I could have tested the battery life in any meaningful way would be a joke.
Most of the timekeeping functions are controlled and regulated by a multi-band radio receiver in the watch, however this model also has Bluetooth connectivity that lets you access additional functions through a mobile app. I honestly did not find myself using these at all during my test, but if you really want a more advance world time interface for additional alarm options, they are there for you.
On the wrist
I am not typically a "big gold watch" kind of guy. I am the sort of person who aggressively seeks out products without logos on them and I spend most of my days wearing small, often old watches made of humble stainless steel. But sometimes everyone needs to loosen up a bit and have a little fun. These are just watches we are talking about, after all, and sometimes a little bling can be good. There will be those who will give this watch another demerit for being quartz, and yet another for being digital. And to those people, I have but one thing to say: chill out, OK?
When I first strapped this watch on, I was immediately struck by the weight. This is some serious hardware we are talking about. The first two days I wore it, I occasionally found myself taking it off just to give my wrist a reprieve. However, after that little spell, I got used to it and was able to make it whole days without any discomfort. If you already wear larger watches, I do not think you will notice anything out of the ordinary at all.
I mentioned it a little bit above, but I found myself wearing the G-Shock almost as if it was just a time-and-date watch. This is not unique to this model — I rarely use chronographs either. That said though, the watch performs admirably as such. Even if you are not going to use all the additional bells and whistles (literally), I do not think you get a worse G-Shock experience. It is actually one of the things I like most about G-Shocks in general —they are there to perform for you, not the other way around.
One thing I did have a hard time adjusting to was how much attention I got while wearing this watch. I caught people checking it out on the subway, I notice wandering eyes at bars, and I had more than one friend exclaim "Whoa! What the hell is that!?" during my few days with the Full Metal. Again, I am used to flying a little more under the radar than this. Counterintuitively, I do not think twice about wearing a vintage Rolex on the train home, but for some reason I found myself pulling my sleeve down over this guy. Ultimately though, everyone I talked to about the watch really seemed to like it and it was one of those talking pieces that put smiles on faces immediately. For a watch like this, I think that is a good bar to clear.
The competition
Comparisons are always hard, but this one really got me. A gold G-Shock is a gold G-Shock — there is not really anything else quite like it. But, in the interest of keeping things interesting, I was able to pinpoint to very different watches that represent different approaches to where this watch falls in the greater horological landscape. And when I say very different, I mean very different.
Mido Commander Shade: This watch gives off a totally different vibe, but it is still an all gold-tone watch, albeit a coppery shade of rose gold instead of the pure yellow of the G-Shock. The standouts here are the retro dial with the dual day and date windows at three o'clock, the sunburst finish, and the integrated mesh bracelet. US$1,070 (RM4,301.40); shopmido.com
Audemars Piguet Royal Oak "Jumbo" In Yellow Gold:  If what you are looking for is a gold-coloured watch with an integrated bracelet that is sporty and can take a bit of a beating, does it get any better than a gold jumbo Royal Oak? Sure, you could buy gold G-Shocks for all your friends and still have money left over before you would get anywhere near the price of this watch, but the fact remains that they are not all that different in certain ways. US$55,400; audemarspiguet.com
Final thoughts
The Casio G-Shock GMW-B5000 Full Metal might appear to be a rather complicated watch, with four buttons, an app, and various display modes for its LED screen. It is solar powered, it is Bluetooth connected, and it is tough as nails. But when you boil it all down, this is actually a very simple watch. It is exactly what it looks like — a somewhat large, somewhat shiny, gold watch that makes no apologies for what it is. It is a watch that is about having more fun than those around you, revelling in the watch's slightly brash attitude, and remembering that watches are, above all else, about having a good time and taking pleasure in the little moments.
The Casio G-Shock GMW-B5000 Full Metal is a limited edition and is priced at US$600 (RM2,412).  — Bloomberg
This article was originally published by Stephen Pulvirent on Hodinkee.