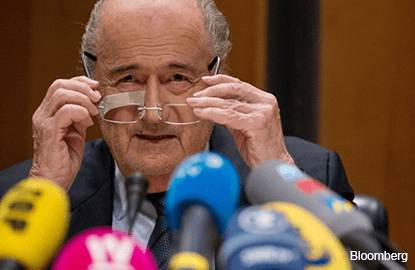 This article first appeared in The Edge Financial Daily, on December 23, 2015.
THE ethics committee of soccer's global body brought down the hammer on president Sepp Blatter, banning him for eight years for making a US$2 million (RM8.62 million) payment that looked an awful lot like a bribe. But do not expect Blatter to go gently into the night, if his post-suspension press conference is any indication.
After the ban was announced Monday morning, Blatter gave a blustery press conference in which he vowed to fight the penalty. Showing not an ounce of contrition, Blatter went on a bizarre rant in which he compared himself to Nelson Mandela and likened the investigation to the Spanish Inquisition.
"I am really sorry," he said — but not for abusing his power or for overseeing decades of corruption and bribery schemes. He is sorry "that I am still somewhere a punching ball ... I am sorry for Fifa. I am sorry for football. I am also sorry about me. How I am treated in this world." As if that did not make him enough of a cartoon villain, he concluded by promising, "I will be back."
The committee banned European soccer federation president Michel Platini for eight years as well, over a 2011 payment of US$2 million that Blatter approved to Platini. The so-called "disloyal payment" — one that works against the interests of the association — represented a conflict of interest and abuse of power.
Platini had refused to cooperate with the ethics hearings, saying they are politically motivated, a pretext for his likely appeal to the Court of Arbitration of Sport.
Blatter insisted at the press conference that the investigation and punishment were nothing more than sour grapes by the United States over not being selected to host the global tournament.
"If we had awarded the World Cup in 2022 to the USA, we would not be here," he said. (When it was pointed out to him that most of the ethics committee members are Europeans with no ties to the US, he claimed that someone "inside Fifa" has an agenda against him and Platini.)
Since May, the US and Switzerland have conducted joint probes into widespread corruption at Fifa, centred around the controversial awarding of the 2018 tournament to Russia and the 2022 tournament to Qatar. It is alleged that Russian and Qatari soccer officials orchestrated a system of bribery in order to secure their successful host bids.
But the US has more at stake in weeding out Fifa corruption than supposedly exacting revenge — namely, exposing the American banks and media companies believed to have played an enormous role in the machinations. Swiss authorities, meanwhile, have identified at least 53 transactions at Swiss banks thought to be money laundering.
Neither Blatter's nor Platini's appeals are expected to succeed, meaning both these men will likely end their long soccer careers in disgrace. The judgment will have an immediate impact on the search for Blatter's replacement. Platini had been seen as a favourite to succeed Blatter, but if his ban is upheld, he cannot enter February's election.
Blatter, meanwhile, reportedly wants to fight the ban in part so he can be named an honorary president, which would permanently entrench him in Fifa's power structure, running completely counter to the objective of having him step down in the first place.
This is an enormous step in ending corruption that has plagued the sport for decades, but given how deep the web of bribery runs, it certainly does not end with these two men.
The next shoe to drop could come from the Swiss investigation into the 2018 and 2022 World Cup bidding processes. Authorities have zeroed in on 133 instances of "suspicious financial activity." Platini was a major champion for Qatar's bid for the 2022 tournament; after he cast his vote, his son was given a job at Qatar Sports Investment, an arm of the Qatari government.
And now, amid allegations of corruption, the Royal Dutch Football Association is investigating the failed joint bid between the Netherlands and Belgium for the 2018 World Cup.
The Fifa probe seems to have been focused on Blatter and Platini and Russia and Qatar, but the deeper investigators go, the clearer it becomes that soccer corruption knows no borders. — Bloomberg View