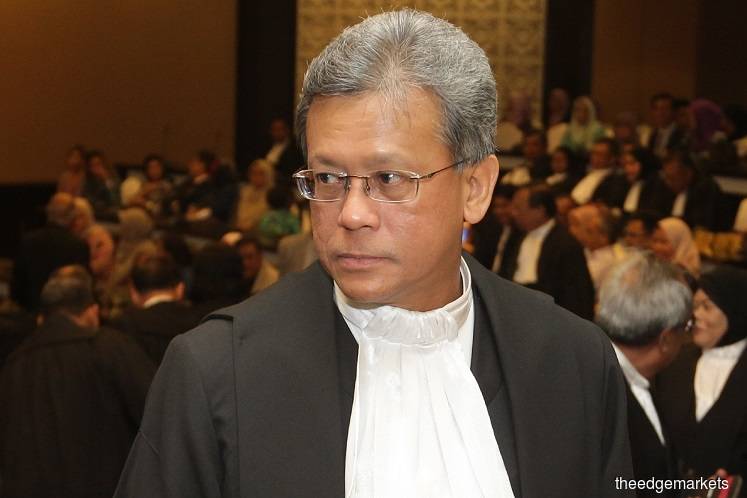 KUALA LUMPUR (Jan 8): 1Malaysia Development Bhd (1MDB)-Tanore trial judge Collin Lawrence Sequerah said he would not entertain any more postponements with regard to the proceedings as he fixed more dates for the trial.
Justice Sequerah fixed Feb 18 and 21, March 2-6, 9-13, 19-20, 23-27, 30-31, the whole month of April, May 4, and the whole month of June until October, including Fridays until 12:30pm, with the exception of weekends and public holidays for the 1MDB-Tanore trial.
Justice Sequerah informed the prosecutors and Najib's lawyers that after discussing with High Court judge Mohamed Zaini Mazlan, the latter did not want to vacate next week's dates for the 1MDB audit tampering trial.
Hence, Justice Sequerah said he has decided to resume the 1MDB-Tanore trial on Feb 18 and 21 as these dates do not clash with the SRC International Sdn Bhd trial.
"This case is progressing slowly and I want the case to resume as scheduled," he said.
Najib's lawyer Rahmat Hazlan pointed out that on some of those dates lead counsel Tan Sri Muhammad Shafee Abdullah has to attend the hearing of Cradle Fund chief executive officer Nazrin Hassan murder case, which involves his widow Samirah Muzaffar.
Rahmat also said Shafee will also be involved in his money laundering and tax evasion trial before Judicial Commissioner Datuk Muhammad Jamil Hussin, scheduled on March 9 to 13, March 30 to April 2, May 12 to 14, and May 18 to 21
Similarly, Deputy Public Prosecutor Ahmad Akram Gharib informed that the 1MDB-Tanore prosecution team will also be involved with Najib's wife Datin Seri Rosmah Mansor's graft case at Justice Zaini's court next month.
Justice Sequerah said Shafee should write in to Shah Alam High Court judge Ab Karim Ab Rahman, who is the trial judge in the Cradle Fund CEO murder case, to have those dates vacated.
"I had previously vacated some 1MDB dates to accommodate for that case, and the same can be done here," Sequerah said, adding that this applies to Shafee's money laundering and tax evasion case as well.
On the prosecution informing Justice Sequerah they will be tied up with Rosmah's case, the judge said that is something they have to work out as only two days in February has been fixed for the 1MDB-Tanore trial.
Najib is facing four charges of abuse of power and 21 charges of money laundering involving a sum of more than RM2.28 billion of 1MDB funds.
Former 1MDB CEO Datuk Shahrol Azral Ibrahim Halmi, who is the ninth prosecution witness, was being cross-examined by the defence when the trial adjourned on Nov 13, 2019.