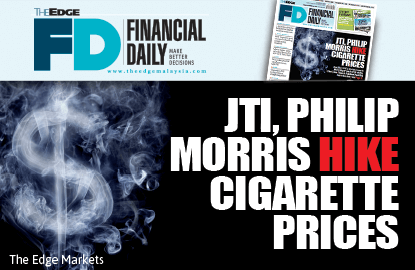 This article first appeared in The Edge Financial Daily, on November 13, 2015.
KUALA LUMPUR: JT International Bhd (JTI Malaysia) and Philip Morris (M) Sdn Bhd (PMI) have raised prices of their cigarette brands by as much as RM3.20 or 23.2% per pack of 20 sticks, following in the footsteps of a price hike on tobacco products by their bigger counterpart British American Tobacco (M) Bhd (BAT) last week.
The new price structure for the two tobacco companies came into force last Friday. The hikes followed an excise tax increase on tobacco products announced by the government on Nov 3, which saw an increase of over 40%.
BAT was the first to react to the excise duty hike, raising prices across its cigarette portfolio by as much as RM3.20 per pack last Wednesday.
"I can confirm that we have raised our prices, effective last Friday, and the quantum of increase is RM3.20 across all our products," JTI Malaysia director of corporate affairs and communications Azrani Rustam told The Edge Financial Daily.
"The reason for the increase is due to the recent excise duty hike," he added.
According to PMI's new price list seen yesterday, a pack of Marlboro cigarettes (20 sticks) now costs RM17, up RM3.20 from RM13.80 previously.
A pack of L&M now retails at RM15.50, RM3.20 more than RM12.30 previously, while Sampoerna Avolution cigarettes go for RM15.30, up RM2.50 from RM12.80.
Sampoerna A Red and A Menthol cigarettes now retail at RM14.50 per pack, up RM2.50 from RM12 previously. Prices of Sampoerna U cigarettes, meanwhile, are now priced at RM12, up RM2.50 from RM9.50.
The market and analysts were taken aback by the quantum of the excise and BAT's price hikes last week, both of which they said were unprecedented.
AmResearch noted that previous excise duty hikes had averaged at 12%, with the last biggest increase (+36%) reported in 2005. Cigarette pack price increases have averaged at 8% since 2000.
In a report dated Nov 4, HLIB Research said while it didn't discount an off-budget excise duty hike, it did not anticipate the increase to be of this magnitude.
"The quantum of the increase in [BAT] prices is magnanimous; premium brands will be raised by 23.2% (RM13.80 to RM17), while value-for-money brands will have a larger price hike impact of 26.1% (RM12.30 to RM15.50)," the research firm added.
HLIB Research believed that this development will decimate the legal industry volume, which was down 11% year-on-year in the month of September.
"We expect the volume to decline further against the challenging economic backdrop and diminishing consumer spending power," it said.