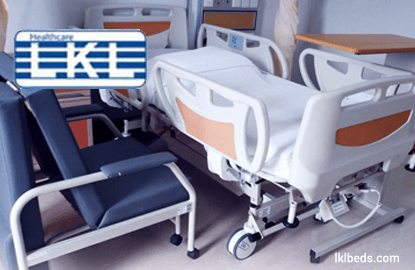 KUALA LUMPUR (May 4): JPA Apex Securities has valued ACE Market-bound LKL International Berhad (LKL) at 26 sen, giving it a 30% upside its current initial price offering (IPO) of 20 sen.
LKL International is tentatively set to be listed on May 16.
LKL International is forecast to have an earnings per share (EPS) of 1.88 in the FY17, small compared to the healthcare player average due to its ACE listing status and relatively small market capitalisation (cap).
LKL, via its subsidiary LKL Advance Metaltech Sdn Bhd, has the current position as market leader with 40.5% of market share in 2014, said JF Apex Securities.
The research house said it has the potential to reach peak price earning range for small cap stocks. Sector outlook remains positive, with demand for healthcare services remaining resilient.
An IMR report published on the dominance of foreign players in "medical bed, peripheral and accessory" decreasing from 86.7% to 40.5% from 2008 to 2014, gives JPA reason to believe that the group has a high chance of further cementing is market share.
JPA speculates LKL will benefit from a government target to increase the medical bed ratio to 2.3 per 1000 population, from the 1.9 beds per 1000 population in 2014. Unexpected growth could arise were the government to decide to put Malaysia's medical bed ratio on par with the world average of 3.0 beds per population.
However, risks arise due to the Group's reliance on foreign workers in its manufacturing operations, as well as the volatility of prices in its raw materials. JPA also points out its lack in long-term contracts.