This article first appeared in The Edge Malaysia Weekly, on December 17, 2018 - December 23, 2018.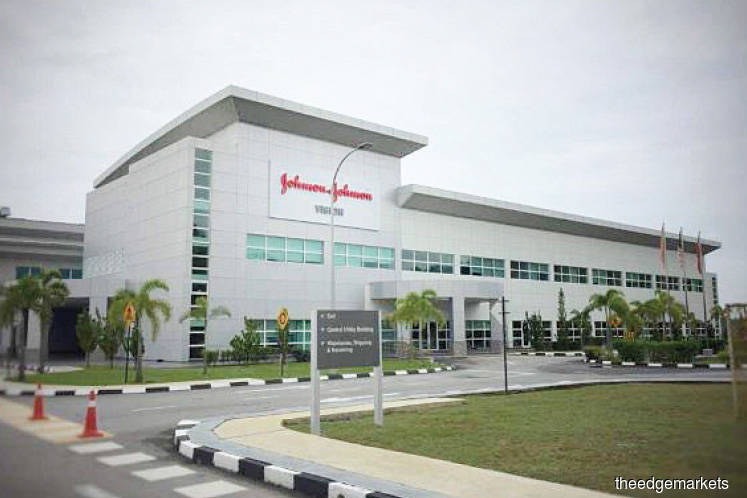 FOLLOWING an assessment of its global manufacturing businesses, American multinational company Johnson & Johnson (J&J) has decided to shut down its plant in Kulim, Kedah, which manufactures optical lenses, and placed the industrial asset on the site up for sale. Sources say all the employees will be retrenched.
The asset — the Johnson & Johnson Vision plant — is located in the Kulim Hi-Tech Park (KHTP). It is learnt that the plant, which is barely three years old, is owned and operated by JJSV Manufacturing Sdn Bhd.
"Johnson & Johnson Vision has made the difficult decision to close the Kulim, Malaysia, manufacturing facility. This decision was made after carefully assessing our global manufacturing network and considering the utmost value to our patients and customers," says Jim Brinckman, J&J's senior manager for enterprise supply chain communications, in an email response to The Edge's queries.
"We remain highly committed to the Malaysian market and will continue to have a presence in the country after the Kulim plant ceases operation. These actions are intended to enable Johnson & Johnson to focus on the resources, technologies and solutions necessary to manufacture and supply our product portfolio of the future. We expect the steps we take will continue our leadership role in setting a new standard of care for patients and consumers around the world, who depend on our products every day."
The Johnson & Johnson Vision plant manufactures acrylic intraocular lenses (IOLs) that are implanted in the eye to treat cataracts and myopia.
It is understood that the plant was "inherited" from another US healthcare company — Abbott Laboratories — when J&J bought the latter's wholly-owned subsidiary Abbott Medical Optics in September 2016 for US$4.325 billion. In April that year, Abbott announced the opening of its US$60 million manufacturing plant to produce IOLs. It was its first investment in Malaysia.
Abbott had said then that the 500-strong facility was built to use the same process, equipment, materials and quality standards as its IOL manufacturing facilities in the Netherlands and Puerto Rico. The plant was designed to produce more than four million lenses a year, and the first batch was ready in the second half of 2016.
Formerly known as Abbott Manufacturing Malaysia Sdn Bhd, the company was renamed JJSV Manufacturing after the merger. A search on the Companies Commission of Malaysia (SSM) website indicates that in its financial year ended Dec 31, 2015 (FY2015), the company posted a revenue of RM47.29 million and a profit of RM13.66 million. However, it slipped into the red in FY2016 with a loss of RM4.05 million.
Interestingly, an online JobStreet advertisement suggests that J&J had initially planned to expand its medical optics division in Malaysia after buying Abbott's business and had placed ads to recruit staff. However, its plans have since changed.
As for the industrial facility put up for sale, J&J has hired real estate agent CBRE | WTW as its exclusive marketing agent to look for a buyer. The facility, with a total built-up area of 150,000 sq ft, sits on 21 acres and has sizeable land left for future expansion. Sources say the factory and the land may be worth between RM35 million and RM45 million. The closing date for the submission of expressions of interest is Jan 16, 2019.
KHTP, where the asset is located, was opened in 1996 and is managed and developed by Kulim Technology Park Corp Sdn Bhd, a wholly-owned subsidiary of Perbadanan Kemajuan Negeri Kedah.
According to its website, 4,400 acres have been developed, housing more than 37 multinational companies. A further 7,000 are earmarked for development. Other companies with factories in KHTP include Germany-based Osram, BASF and DB Schenker; the US-based Intel and Air Products and Chemicals, Inc and Canada's First Solar.
It is learnt that Johnson & Johnson Vision's 300 or so employees were notified in September that the factory would be shutting down and that the staff layoff would be conducted in phases between October 2018 and June 2019. As at press time, The Edge did not receive a confirmation from Brinckman, who is based in New Jersey, the US, on the number of staff being let go and when exactly the facility will shut down.
Globally, J&J is also a pharmaceutical and consumer packaged goods manufacturer. In Malaysia, Johnson & Johnson Sdn Bhd operates a manufacturing facility in Petaling Jaya, Selangor, and it is understood that this factory manufactures baby products.
A search on the SSM website reveals that Johnson & Johnson Sdn Bhd was set up in Malaysia in 1960. Its nature of business is described as manufacturer and distributor of baby and healthcare products, and distributor of pharmaceutical and medical products. In its financial year ended Dec 31, 2017, the company posted a revenue of RM606.34 million and a net profit of RM30.14 million. As at Dec 31, it had an accumulated profit of RM333.7 million and total liabilities of RM134.15 million, of which RM130.82 million were current.
Save by subscribing to us for your print and/or digital copy.
P/S: The Edge is also available on Apple's AppStore and Androids' Google Play.