This article first appeared in The Edge Financial Daily, on November 29, 2017.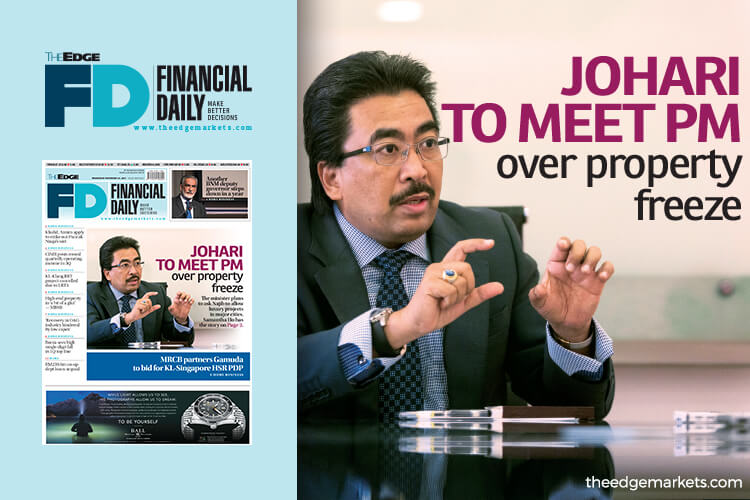 KUALA LUMPUR: A week after highlighting the government will not make a U-turn on its blanket ban on luxury property developments with units above RM1 million, Second Finance Minister Datuk Seri Johari Abdul Ghani says he will ask the prime minister to allow such projects in major cities.
On the sidelines of an annual dinner hosted by the Real Estate Development and Housing Association yesterday, Johari said he would discuss with Prime Minister Datuk Seri Najib Razak allowing, on a case-by-case basis, such projects in areas such as Kuala Lumpur, Penang and Johor.
He said property developers have appealed to the government, arguing that costs of land in these major cities are too high.
He also explained the freeze is aimed at weeding out property developers "looking to make a quick buck". "Some of these are companies which are not serious property developers," Johari said.
As example, he cites companies with core businesses in other industries but have bought land with extra cash holdings, and are now only "looking to make a killing" by venturing into property development. The proliferation of such companies could kill serious developers, Johari added.
On Nov 20, Johari said the ban, effective from Nov 1, was nationwide, and that the decision was taken by the cabinet following Bank Negara Malaysia's recent report concerning an oversupply of high-end properties.
However, on the same day, his colleague Works Minister Datuk Seri Fadillah Yusof was reported as saying the ban was not absolute, and that approvals would still be given on a case-by-case basis, prompting headlines that the government had taken a U-turn on the issue.
A day later, Johari stressed there was no U-turn on the decision and that the freeze would remain until it was deemed unnecessary.
Separately, Johari said some government agencies are building homes to fulfil key performance indicators rather than meeting the public's needs.
"Unfortunately, we see this happening with many government agencies such as PR1MA (1Malaysia People's Housing Programme) and SPNB (Syarikat Perumahan Negara Bhd)," he said, while noting the affordable homes being built now appear to be in locations where people do not want to buy homes.
Thus, Johari urges private developers to work closer with the government instead of leaving the issue of developing affordable housing solely to federal agencies.
He also suggests property developers engage in strategic collaborations with financial institutions to improve the financing of home purchases for buyers.