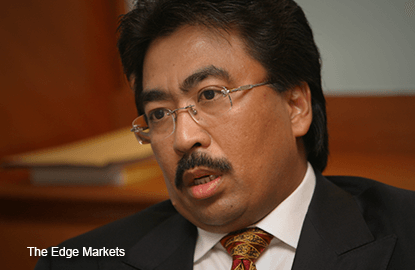 KUALA LUMPUR (March 28): Bank Negara Malaysia (BNM)'s administrative action against 1Malaysia Development Bhd (1MDB) relating to the repatriation of US$1.83 billion (RM7.76 billion) does not amount to a criminal offence, Deputy Finance Minister Datuk Johari Abdul Ghani said today.
Johari said the central bank had carried out investigations and found that 1MDB did not comply with the bank's administrative procedures.
"I was informed that the BNM will forward the findings to the Attorney-General (AG) and the AG will look into this," he told Dewan Rakyat when wrapping up the Finance Ministry's response on the Supplementary Supply (2015) Bill 2016.
"This could lead to a fine against 1MDB," he said, adding that the amount would be decided by the AG as BNM does not have the power to decide on the amount.
Johari said the action taken against 1MDB was administrative and not criminal in nature, as it involved 1MDB changing the money for a purpose other than that approved by the central bank.
"As far as BNM is concerned, it is administrative, it is not criminal," he said.
Last week, BNM governor Tan Sri Dr Zeti Akhtar Aziz said the central bank was in the process of pursuing appropriate administrative enforcement actions against 1MDB for failing to substantiate the reason it gave as to why it could not repatriate the US$1.83 billion.
Replying to a question by DAP secretary-general Lim Guan Eng, Johari said 1MDB would be paying the fine, and not any individual from the company, as the investigation was carried out against the company.
Lim had asked who would pay the fine, pointing out that if it was to be paid by 1MDB then indirectly it would be the people who were paying as 1MDB was owned by the Malaysian government.
Lim, who is the member of parliament for Bagan, felt that the fine should be paid by the appropriate company official.
The central bank has revoked three permissions granted to 1MDB under the Exchange Control Act 1953 for investment abroad amounting to US$1.83 billion. It also issued a directive under the Financial Services Act 2013 to repatriate the money to Malaysia.
This was done after the central bank concluded that the approval was obtained based on inaccurate or without complete disclosure of material information relevant to the bank's assessment of 1MDB's application.