This article first appeared in The Edge Financial Daily, on April 15, 2020.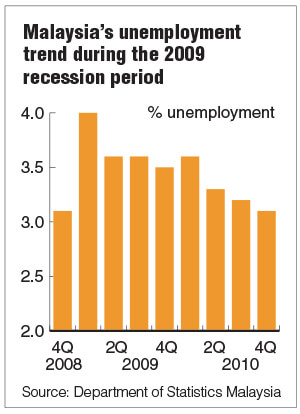 KUALA LUMPUR: Malaysia's unemployment rate in February stood firm at 3.3% from a year ago, meaning the country's jobless rate has been below 3.5% for 28 months. However, jobs could be on the line in the coming months as businesses cut costs to survive, according to economists.
The International Monetary Fund (IMF), in its recent World Economic Outlook April 2020, launched yesterday, projected Malaysia's unemployment to spike to 4.9% this year, before easing to 3.4% in 2021.
Statistics Department chief statistician Datuk Seri Dr Mohd Uzir Mahidin said the Covid-19 pandemic, resulting in a nationwide movement control order (MCO) from March 18 to April 28, is expected to result in job losses as soon as last month.
He said the unemployment rate in February was still unaffected by the Covid-19 pandemic. Month-on-month, however, the unemployment rate rose from 3.2% in January.
In February, the number of unemployed accounted for about 525,200 persons, up 2.6% against the previous month.
The labour force grew 2.1% to 15.87 million people in February 2020 from a year earlier, while the labour force participation rate increased 0.2 percentage points to 68.7% from a year earlier.
Sunway University Business School Economics Professor Dr Yeah Kim Leng said he expects hiring to have been put on hold in March.
"There will also be an uptick in unemployment in March and more job losses in April when the MCO is in effect the entire month," Yeah told The Edge Financial Daily.
Bank Islam chief economist Dr Mohd Afzanizam Abdul Rashid concurred that the jobless rate is expected to creep up starting March, noting that the outlook on the labour market will really depend on the duration of the MCO.
"Our baseline 2020 gross domestic product (GDP) forecast is -1.5% which corresponds to an unemployment rate of around 3.8% (for 2020)," he told The Edge Financial Daily.
MIDF has also revised its unemployment rate forecast to 3.8% this year amid the slowdown in both domestic and global economies. Nevertheless, it said Malaysia's unemployment rate will be maintained under a state of full employment for 2020.
"We think the current external headwinds will affect the labour force as of 2Q20 with the imposed MCO that has thundered many companies particularly small businesses.
"However, we are confident the jobless rate to remain below 4% and operating at full-employment condition for the whole year of 2020 as some of the stimulus measures announced by the government may moderate the pressure," MIDF wrote in a report yesterday.
Both these unemployment projections are lower than Bank Negara Malaysia's (BNM) forecast of 4% for 2020.
During the global financial crisis, Malaysia's unemployment rate was at 3.7% in 2009, while during the Asian financial crisis in 1998, the unemployment rate was at 3.2%.
On a quarterly basis, however, Bank Islam's Mohd Afzanizam noted that Malaysia's unemployment rate rose up to as much as 4% in the first quarter of 2009.
In BNM's 2009 annual report, it said labour market conditions had weakened considerably in the first quarter as firms in the manufacturing sector reduced operations. Total retrenchments increased to a seven-year high of 25,064 persons in 2009, with half of those workers retrenched in just the first quarter.
However, labour market conditions subsequently improved in the following months as firms started to hire new workers, it said.
Mohd Afzanizam said the situation for the manufacturing sector now could be worse given that many factories and businesses are halted during the MCO period.
"The sooner MCO measures are lifted, the quicker our economy can get back on track. Risks of a potential Covid-19 relapse should be entirely wiped out. Otherwise it will affect confidence among the consumers and businesses as well as investors," he said.
While the unemployment rate is expected to increase in the coming months with job losses likely to be experienced in the lower-end category as well as middle management roles, Yeah said the government's wage subsidy programme should help ease the impact on businesses and employees, among various other financial measures announced.
He does not believe the overall impact would be as bad as previous recessions experienced in Malaysia, adding that a gradual recovery in the unemployment rate can be seen from the second half of the year onwards.
"Most firms have indicated they can survive two to three months, so I think we will see some firms rightsizing their workforce on loss of business and income. But there will be gradual recovery this year, though it depends on when the MCO is lifted" he said.