This article first appeared in The Edge Financial Daily, on January 22, 2019.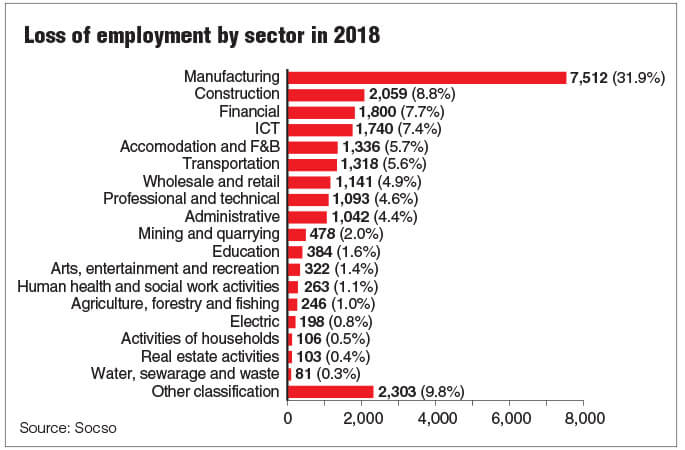 KUALA LUMPUR: While reports of lay-offs by various companies in the past year have caused some anxiety in the job market, economists say they are not yet of alarming proportions. They believe that is part and parcel of the evolving labour market.
"If downsizing is persistent and spread out across different sectors and industries, then it will be a cause for concern of a more pronounced than anticipated slowdown of the overall economy," Sunway University Business School economics professor Dr Yeah Kim Leng told The Edge Financial Daily.
"But so far, the downsizing appears to be specific to industries facing more challenging operating conditions such as rising business competition or production costs," he said.
Yeah also said the cause of retrenchment varies across firms and industries.
"These would include excess capacity, rising inventories, minimum wage increase, a weak ringgit, declining export or domestic sales, entry of new players and disruptive business models rolled out by new start-ups," he noted.
In its 2019 Market Outlook Report released last Thursday, Randstad Malaysia highlighted that bulk hiring activities have slowed down in the construction and property sector since May last year as the government reviewed big-ticket infrastructure projects such as the Kuala Lumpur-Singapore high-speed rail, the East Coast Rail Link and the mass rapid transit Line 2.
"Companies will not need to mass hire people to complete the project within a relatively short period of time. With the extended deadlines, companies can hire fewer people for the project, spreading the manpower cost across a longer period," its manager of the construction, property and engineering team Alex Sin said.
"Unfortunately, this means that retrenchments will likely take place in the first half of 2019," he said, adding that junior-level workers who have less than two years' experience will be most affected by the retrenchment exercises.
The public sector was not spared from job cuts last year. The change of government from Barisan Nasional to Pakatan Harapan after the May 9 general election saw several agencies with overlapping roles dissolve such as the Land Public Transport Commission, the National Professors Council, the Special Affairs Department, the Residents' Representatives Committee and Malaysian External Intelligence Organisation.
Despite pockets of retrenchments and downsizing, Sunway University's Yeah opined that the overall labour market is holding up well.
He said with the current unemployment rate hovering at around 3.3% to 3.4% it suggests that job growth is at par with the increase in the workforce. There is also a moderate wage growth of 5% to 6% on average, he said.
"A hopeful sign is the sharp pickup in investment approvals last year would translate into higher employment creation expected over the next two to three years, including 2019 when the projects are implemented," Yeah added.
On Dec 3, 2018, Finance Minister Lim Guan Eng had announced that total approved foreign direct investments in the manufacturing sector from May to September 2018 hit RM35 billion, a 379% increase from RM7.3 billion in the same period of 2017.
UOB Bank Malaysia senior economist Julia Goh concurred, deeming the job losses as being "cyclical and structural".
"It could also be a reflection of a cautious global outlook and concerns about demand conditions," she added.
Goh pointed out that this is not the first time that Malaysia has gone through a cycle of lay-offs and voluntary separation schemes (VSS).
Malaysia had experienced this in 2015 and 2016, when the plummeting global oil prices spurred massive lay-offs across the industry.
"Malaysia has gone through a cycle of lay-offs and VSS back in 2015. The unemployment rate rose to 3.5% then and private consumption growth also slowed," she said.
Luckily, this time there's EIS
The difference then was that retrenched workers did not have the support of the Employee Insurance System (EIS) which exists today.
"There was no EIS back then. With the EIS in place now, it could help to cushion the downside risks from the retrenchments," said Goh.
"Unless a major economic shock or global crisis hits, we expect the domestic labour market to remain relatively stable," she added.
A year has passed since the EIS was introduced on Jan 1, 2018, of which to date has seen some four million employees and over 400,000 employers registered for the scheme.
The financial scheme, managed by the Social Security Organisation (Socso), requires employers and employees to contribute 0.2% each or 0.4% in total, of an employee's monthly salary. It is aimed at helping employees who have lost their jobs to gain monetary funds that would help them get back on their feet for up to six months.
According to Socso, between Jan 1 and Dec 31, 2018, the agency received about 23,525 applications for interim assistance, of which October saw the highest number of 5,006 applications.
"From this, Socso has to date paid out interim benefits amounting to RM17.3 million," its chief executive Datuk Seri Dr Mohammed Azman Aziz Mohammed told The Edge Financial Daily in an email response.
He added that those who lost their jobs during this period are eligible to receive an interim financial assistance of RM600 per month for a maximum of three months.
Additionally, from Dec 1, 2018, workers who lost their employment and have contributed at least 11 months, will now be eligible to claim full-fledge EIS benefits such as job search allowance, early reemployment allowance and reduced income allowance.
Under the EIS, all types of loss of employment are covered except for retirement, voluntary resignation, expiry of fixed term contract and dismissal due to misconduct.
In the first month of being retrenched, the insured worker can claim 80% of his assumed wage. For the next five months, the insured worker can claim 50%, 40%, 40%, 30% and 30% respectively.
Based on data provided by Socso, the breakdown of loss of employment (LoE) by occupational categories showed that clerical and support workers recorded the highest LoE of 4,291 (18.2%), followed by services and sales workers at 4,001 (17%) and professionals at 3,982 (16.9%).
"Most of the workers who lost their jobs earned RM2,000 and below per month, whereas a small percentage earned above RM10,000 a month," said Mohammed Azman.
Looking at the demographics, more than 50% of workers who lost their employment are from the Klang Valley, with 6,470 people or 27.5% from Selangor, and 5,376 people or 22.9% from Kuala Lumpur. This is followed by Johor (2,792 people or 11.9%) and Penang (1,412 people or 6%).
Sector-wise, the manufacturing sector recorded the highest number of LoE with 7,512 people or 31.9%, followed by the construction sector with 2,059 people or 8.8% and the financial sector with 1,800 people or 7.7%.
Mohammed Azman also said that Socso does not make projections on retrenchments in the country, but he noted that based on labour statistics, the number of retrenched workers below 3,000 a month is considered a norm.
Last month, Human Resources Minister M Kula Segaran was reported as saying that the rate of employee lay-offs plunged by half in the first nine months of 2018 from 31,945 in the same period in 2017.