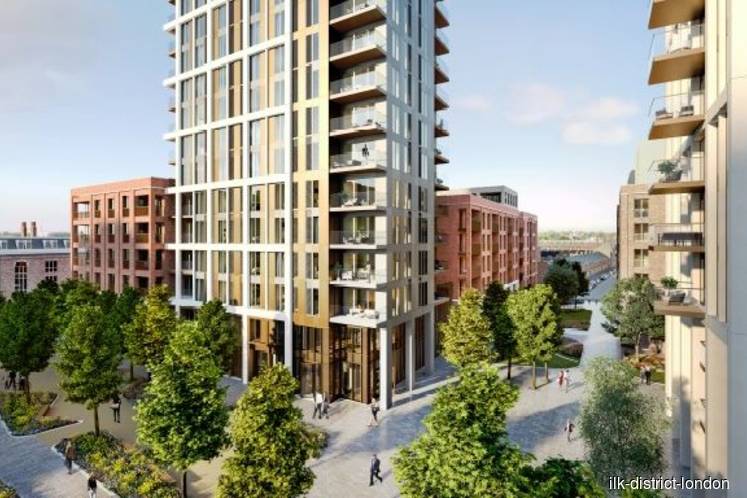 KUALA LUMPUR (Apr 16): London-based property developer Mount Anvil, in a joint venture with London and Quadrant Housing Trust (L&Q), a housing association in the UK, will unveil a new collection of design-led homes in London's Whitechapel, E1.
Dubbed The Silk District, the project features two towers of 20 and 25 floors respectively, as well as a series of subtle low-rise buildings and will be launched on April 21 and 22 at Shangri-la Hotel Kuala Lumpur.
Prices at The Silk District start from £445,000 for a studio apartment.
"The Silk District has been designed to reflect both the height and scale of the surrounding period architecture, echoing Whitechapel's towers, from the nearby Christ Church Spitalfields to the neighbouring Tower House. (The) buildings are interwoven through a patchwork of landscaped courtyards and gardens and internal streets, which encourage movement and energy into its very core," said international real estate agent JLL in a statement today.
"With either a private balcony, winter garden or terrace, The Silk District enjoys views across the local area and the broader cityscape," it added.
JLL said The Silk District residents will also enjoy good connectivity, thanks to its interchange with the district of Hammersmith, and city and overground lines.
"The Jacquard will be delivered in the first phase, and will provide over 100 homes within a tower."
JLL said each apartment benefits from plentiful natural light, as well as a full suite of amenities that support a modern lifestyle, including flexible workspaces with Wi-Fi and comfortable seating — ideal for working from home, to a rooftop terrace, a 24-hour concierge, and a fully equipped gym with dedicated spin studio.
A cinema room with a private bar is also available, which can be hired for private gatherings.
In addition, The Silk District offers more than 35,000 sq ft of café and office spaces and up to one acre of public space ensuring maximum integration with the local area.
"The Silk District represents a unique opportunity to buy into that movement, with its choice of pop-up bars, trendy restaurants, traditional pubs and art exhibitions on the doorstep," Mount Anvil sales director Jon Hall said.
"The imminent arrival of Crossrail at Whitechapel station enhances the area's appeal still further, making it both the best-connected place to live in London, as well as opening the door to capital growth opportunities for owner-occupiers long term.
"With the area's entrepreneurial spirit, we expect The Silk District to attract a range of buyers, from the financiers who work in the surrounding City fringe, to the tech and creative professionals who now work across the East End. Accessibility is critical, and Whitechapel has it in abundance," added Hall.
"An ultimate residential destination for Londoners, Whitechapel has long since held wide-ranging appeal among those living in the capital. Known for its rich tapestry of cultural delights, the area is ahead of the curve when it comes to all manner of leisure pursuits," said L&Q sales and customer service's director for the eastern region Tony Harker.
"The Silk District represents another hub in which the community can sew its seeds and flourish," he added.