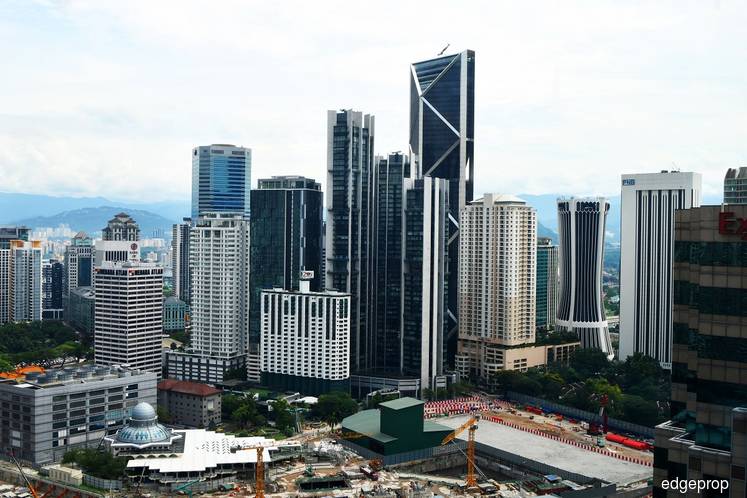 PETALING JAYA (Feb 7): JLL Property Services (Malaysia) Sdn Bhd expects gross rents of Kuala Lumpur's CBD offices to stabilise by the end of this year, as more major new buildings come onstream, despite higher projected vacancies.
Meanwhile, gross rents of offices in the KL fringe locations are expected to rise by end-2018, said the firm in its Greater Kuala Lumpur Property Market Monitor Research Report 4Q 2017.
According to the report, 4Q17 saw the completion of two major buildings: JKG Tower in Kuala Lumpur city centre and KL Eco City Tower 3 (DBKL Tower) in the Kuala Lumpur fringe area, raising vacancy levels by 2.4% in 4Q from the previous quarter.
"The positive economic sentiment on 4Q17 coupled with the growth of diverse business sectors were not sufficient enough to offset the additional office supply. As a result, the average vacancy rate has risen from 11.9% in 3Q to 12.7% in 4Q.
"However, for buildings with good specifications, the average gross rent has remained stable at RM6.20 psf per month.
"Meanwhile, as demand for office space was stronger in KL CBD, the impact of JKG Tower on the vacancy rate was lower and the average gross rent continued its uptrend to RM2.26 psf per month," said the report.
On the outlook of the retail sector, JLL expects capital values of retail properties to remain steady over the next few years on the back of limited supply and steady demand.
"The gross prime rent in 4Q17 just had a minimal increase of 0.1% as there was no significant factor that would affect the rents, such as the addition of newly completed retail space. Likewise, capital values have remained unchanged in 4Q17 and expected to hold up better in the coming years," the report said.
This year, only one mall is expected to open in the city centre this year — SHOPPES at the Four Seasons Place, which will offer 206,000 sq ft of space.
JLL also foresees food and beverage businesses to continue being the main drivers of leasing demand, followed by fast-fashion retailers, pharmaceuticals, personal care and variety stores.
In the residential segment, property values of prime high-rise homes have declined slightly by 2.32% to RM830 psf, while rents have likewise contracted by 0.85%, albeit at a slower pace, on the back of an oversupply in stock.
"Landlords and owners have lowered their expectations to be in-line with the market's situation," said JLL.
However, demand for homes improved during 4Q, likely owing to improved employment figures and the general economy.
Looking ahead, a further 5,130 units are slated for completion this year, adding to the current tally of 38,978 units.