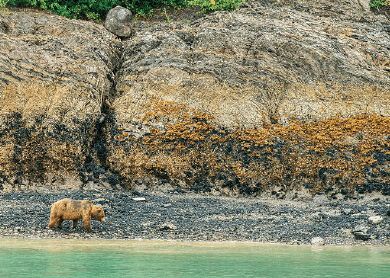 IN maintaining the long term commitment between Jaeger-LeCoultre and the United Nations Educational, Scientific and Cultural Organization (Unesco) and the luxury timepiece brand's on-going contribution to worldwide environmental protection, each year the brand pays tribute to one of the marine sites on the United World Heritage List. This year, Jaeger-LeCoultre has picked the Glacier Bay National Park and Preserve in the US.
Covering more than three million acres (1.21ha) of rugged mountains, dynamic glaciers, temperate rainforest, wild coastlines and deep sheltered fjords, Glacier Bay National Park is a highlight of Alaska's Inside Passage and part of a 25-million acre World Heritage Site — one of the largest international protected areas.
Jaeger-LeCoultre's passion for marine life and the underwater world can be traced back to 1959 when the Manufacture presented its first diving watch, the Memovox Deep Sea. The brand's commitment to preserve the natural treasures for generations to come is founded upon its profound attachment to the ocean and awareness of the fragile balance of the marine ecosystems.
Jaeger-LeCoultre worked with award-winning photographer, Mark Kelly, who has been photographing the places and faces of Alaska for the past 40 years, to come up with beautiful images of Glacier Bay. Located on the Canadian border of Alaska, it was declared a national monument in 1925 and was a scientific research site even before its inscription on the Unesco World Heritage List in 1992. It shelters some of the last glaciers left on earth, non-polar ice fields, forests and fjords and is home to some mammals and species at risk including porpoises, seals, sea lions and, several species of whales as well as the sea otter.
Prior to a research programme initiated in 2005, that resulted in the onsite inspection of all boats entering the park, humpback whales that came to feed here during migration suffered near fatal and sometimes deadly injuries due to collisions with cruise boats. Today, strict policies and allowing the marine life to live in harmony and the humpback whale and other endangered species like the sea lion to find sure refuge.
During the 45th Earth Day anniversary last month, Jaeger-LeCoultre unveiled a video of the Glacier Bay National Park at its New York boutique. The video retraces the history of the site and recognises the work of the scientists and project managers that preserve the site, reasserting the partnership between the brand and Unesco.
This article first appeared in The Edge Financial Daily, on May 5, 2015.